You might recall that when UConn re-hired Randy Edsall two weeks ago, one of this website's concerns was that the move represented a lack of ambition from the administration in Storrs, and/or an admission that the school was unwilling to make the proper commitment to compete in a forward-thinking, upwardly-mobile football conference.
I guess we can consider that concern addressed.
UConn announced Wednesday night the hiring of Auburn offensive coordinator Rhett Lashlee to serve in the same position under Edsall, in what can only be described as a total game-changer.
Lashlee, 33, is by all accounts a bright and up-and-coming offensive mind who has been the offensive coordinator for the past four seasons under Gus Malzahn, his former coach and mentor. He was a finalist for the Broyles Award (best assistant coach in the country) in 2013, and helped Auburn rank in the top 40 in FBS offense in each season (including 32nd this season, according to Football Outsiders' S&P+ metric). He seems to be on a track to be a future head coach somewhere — this is entirely speculation, but it would not be surprising to hear that Lashlee is next in line to be UConn's head coach if the program turns around under Edsall and his staff — and he is willingly taking a $250K pay cut (in base salary at least) in order to have the opportunity to be responsible for his own offense.
In short, it's a stunning hire that immediately makes the 2017 UConn football season infinitely more interesting than it was yesterday. It feels like there's a plan here, something that I couldn't honestly say after an abrupt Boxing Day firing of Bob Diaco, an immediate announcement of donor-favorite Randy Edsall, and earlier assistant coach announcements that felt like a mid-2000s Edsall reunion tour.
- Advertisement -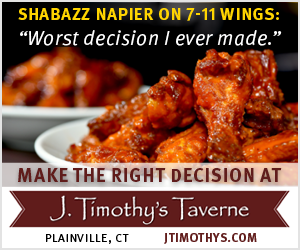 So: well done to AD David Benedict, who seems to have made the most of his connections from his time as the COO of Auburn's athletic department in order to make this deal happen. This is a big-time move that allays so many of my fears from two weeks ago.
Two fundamental reasons to be overjoyed:
1) From a #narrative perspective, Benedict needed to hit a home run here.
UConn finished last in FBS in scoring offense in 2016. The Huskies haven't averaged more than 21 points per game since 2011, have been below 5.0 yards per play every season since 2009, and they haven't averaged 4.0 yards per carry since 2010. Despite producing a pair of NFL receivers in the past four seasons, that side of the ball has been a disaster for UConn for far too long.
The school's two most recent offensive coordinators A) were inexperienced (one hadn't coached at the FBS level for four years, while the other was in his first FBS coaching job) and B) had never called plays before being appointed by Diaco.
Lashlee checks both of those boxes, brings instant credibility to the program, and is likely to install an offensive system similar to the one that has helped Auburn reach two national championship games in six years. He is the best possible hire UConn could've gotten, a name that made football people sit up and take notice.
All in all, it's the best PR the football team has earned in a long time — probably since Bob Diaco's introductory press conference, with the bonus that Lashlee is far more proven in his role at UConn than Diaco was in his.
2) A less sexy reason, but way way way way way way more important: recruiting.
I will continue to beat the point into the ground, but while UConn can have successful seasons while recruiting under-the-radar players, it will never be a consistent championship-contending team in the AAC unless it improves the caliber of player it is able to recruit. And that's what we all want, yes? To win championships?
Even with the best scheme in the world, if your players can't match up with their opponents athletically, you're going to have very little margin for error to win games. Recruiting is not the only thing that matters, but it is the most thing that matters. And so Lashlee, who has a reputation for being an excellent recruiter, is exactly the type of hire this program needed – a young, energetic guy with a track record of both producing solid offenses and convincing coveted players to play in those offenses.
Obviously, we will still have to wait and see whether those track records translate to a program that has finished at the bottom of the AAC in three of the past four seasons.
It's still an open question on how Lashlee will handle the responsibility of running the show by himself; other than a single season as the offensive coordinator for Samford (in which admittedly the FCS team improved by nine points per game), he's spent his entire coaching career alongside Malzahn. Some Auburn fans seem to have thought of Lashlee as a figurehead with less responsibility than you might expect for an OC, although it should be noted that Auburn went 6-0 — beating a pair of ranked teams and averaging 38 points per game — after Lashlee took over play-calling duties early in the 2016 season.
Presumably, part of the reason he's here is that Edsall is allowing him the freedom to install his own system. Assuming that Lashlee imports many or most of Malzahn's concepts, what UConn fans should expect to see is a modern-looking, run-heavy, fast-paced spread offense based around the principles of time-tested successful college offensive systems (Wing-T, Wishbone, Single-Wing). Auburn blog College & Magnolia has a nice breakdown of the formations and personnel used in Malzahn's offensive scheme.
In any event, it should be a welcome change from the pro-style look UConn has presented unsuccessfully for most of the past few seasons, although player development is still going to be paramount. However, if UConn believes that — because it gets cold in New England for a couple games a year — it must be a program that wins by running the ball and playing good defense, it's good to see the program finally commit to a rising star of an offensive coach with a system that might actually fit its personnel and talent.