The most positive thing you can say about tonight is the only positive thing you can say about tonight, which is: UConn's season didn't implode on the opening night of the season.
Well, I guess one other positive: thank heavens for Bobby Puyol, who booted a 37-yard field goal in the waning seconds as UConn escaped Maine, 24-21, in front of just under 30,000 fans at the Rent.
I said in my preview earlier today that if UConn struggled to win this game, we ought to re-evaluate the next 11 games. Well, let's do that.
The offense was utterly atrocious and unimaginative in the first half, a monumentally blown opportunity to tell your paying (slash partially-non-paying) customers that you have an exciting, competent football team that doesn't do things like play from behind most of the game against a bad team with a new coach — weird that Maine didn't get blown out immediately despite their coach making his debut — and 30 fewer scholarships.
The Huskies rebounded somewhat in the second half, scoring on three of their final four drives: two touchdowns and the game-winning field goal, although of course the other drive was a strip-sack returned for a TD. But with just 369 yards overall (and just 4.0 yards per carry, an inauspicious start to the #QuestFor4Point0) against, by far, the worst team on their schedule, nothing we saw tonight indicated any improvement in the offensive line.
- Advertisement -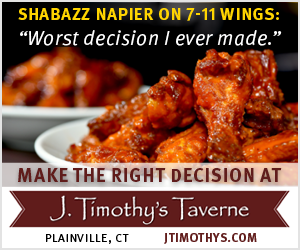 The defense was acceptable; the front seven performing about as well as can be expected against the run, as Maine had absolutely nothing going (40 yards on 19 carries). The secondary gave up a couple long passes leading to both of the Black Bears' offensive scores, an ominous sign, but one that can hopefully be chalked up to youthful inexperience.
And don't get me started on the downright weird field goal decisions at the end of each half (not kicking and leaving Maine 9 seconds to do something crazy, respectively).
I just…don't know. It's a win. It's 16 percent of the way towards a return bowl trip. The team will improve, because that's how things go. If the Huskies go out and earn a hard-fought road win in Annapolis next week, we'll forget this ever happened.
I want to believe. The semi-impressively decent crowd at the Rent wants to believe. Everyone who's a fan of UConn athletics wants to believe. We all want a winning program that can push this athletic department to a safer place.
But enough of Batman, enough of fish cake, enough of saying players are the best in the country and surefire future NFL Draft picks. Enough of words. The words are gorgeous, the man behind them — I believe — fully sincere. But until those words match the outcomes on the field, how can you blame anyone for not believing?