That UConn's offense must improve in 2016, in order for the program to capitalize on its first decent season since Willie and Kate tied the knot, goes without saying. And in fact, the blueprint for fixing what ails the Husky offense is fairly obvious: find approximately five to 10 large gentlemen who can block for Arkeel Newsome and Ron Johnson, who can keep Bryan Shirreffs safe.
Actually doing that, actually developing even a mid-tier-caliber FBS offensive line, isn't the sexiest storyline heading into the 2016 football season (that would be fish cake). But it's by far the most important.
Given the relative strength of UConn's defense and the productive seasons put up by a bunch of sophomore skill players a year ago, it's obvious that the line is the missing piece of the puzzle. After all, this is a program that, once upon a time, actually executed the "ball-control, power-run-because-it-gets-cold-and-sometimes-snows-in-Connecticut-in-November" offensive philosophy that Bob Diaco wants to run.
By most measures, the front five has been the weakest link of a mediocre-to-bad football program over the past five years. For our purposes, let's just take two key indicators dating back to the tail end of the Edsall Era: yards-per-carry (because what good is 200 rushing yards if it takes you 65 plays to do it?) and sacks allowed (because what good is a quarterback if he's been decapitated?).
| | | |
| --- | --- | --- |
| 2008 | 5.1 ypc | 15 sacks allowed |
| 2009 | 4.2 ypc | 21 sacks allowed |
| 2010 | 4.5 ypc | 15 sacks allowed |
| 2011 | 3.1 ypc | 41 sacks allowed |
| 2012 | 2.5 ypc | 33 sacks allowed |
| 2013 | 2.6 ypc | 43 sacks allowed |
| 2014 | 3.2 ypc | 30 sacks allowed |
| 2015 | 3.4 ypc | 37 sacks allowed |
- Advertisement -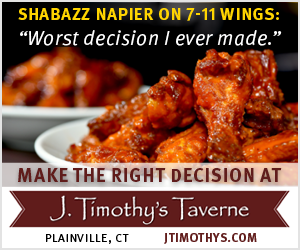 Pretty neat how these numbers correspond to 1) three straight bowl seasons 2) the lifeblood of the program being drained by Paul Pasqualoni and 3) the upward trend the Huskies have been on under Bob Diaco, innit?
By the spring of 2014, UConn's draft-eligible linemen were posting bench press numbers that were extraordinarily noncompetitive with their peers.
Making UConn linemen strong again was one of the first things that Diaco latched on to in the summer of 2014, describing at length with boosters the different measurements his staff was keeping track of, giving off the air of a health and nutrition scientist; at any rate, to the ears of someone currently about to finish off a sleeve of Fig Newtons, it sounded like he knew what he was talking about.
So it made sense that Diaco's first season ended by throwing two sophomores and a freshman into the fire as starters on the offensive line. After all, even if they weren't yet physically ready to play against Division I defensive linemen, they'd have a chance to get there eventually, unlike those unfortunate upperclassmen who had only a few months with new strength and conditioning coach Matt Balis.
Those three players, Andreas Knappe and Richard Levy, and now-redshirt sophomore Ryan Crozier, are now multiple-year starters with added bulk, with Knappe listed as one of Balis' success stories in the offseason. (That story's description of the American Gladiators-esque log-moving exercise on a beach at a local park makes me wish it had been televised on SNY, because GIFs of Diaco from that event probably would have powered the internet for years to come.)
Which is not to say bigger is better! Levy was semi-disastrous at left tackle for the past two seasons, and the monstrous Knappe would show occasional flashes, but also looked very much like someone in his fifth year of organized football.
But last year's unchanged fivesome of Levy, Tommy Hopkins, Brendan Vechery, Tyler Samra and Knappe moved the needle in a positive direction, even if only slightly. While UConn's offensive totals rose across the board compared to 2014, the Huskies only had three games in which they topped 4.0 yards per carry (losses to USF and Cincinnati and the win over East Carolina, which featured Newsome's highlight-reel play of the year, a 90-yard touchdown run).
Last season revealed that UConn's offensive skill players are basically fine; certainly not a world-beating unit, but capable of making plays. In terms of accuracy, production and avoiding turnovers, Shirreffs (2078 yards, 60.2 completion percentage, 9 TD, 8 INT) had the most productive full season of any UConn quarterback since Tyler Lorenzen in 2007, despite enduring 30-plus sacks and regularly poor pass protection. If he's learned to slide and avoid crushing, unnecessary hits, he could have the best non-Orlovsky quarterbacking season of the FBS era.
Newsome isn't quite the workhorse back that Donald Brown or Jordan Todman were (he had 20+ carries in consecutive games against ECU, Tulane and Houston, but otherwise never ran the ball more than 14 times in a single game), but he can be a versatile weapon, and his advanced numbers are strong. His counterpart, Johnson, looked rejuvenated and more explosive in the spring game after a disappointing sophomore season.
Noel Thomas developed into a very nice #1 receiving option, while Hergy Mayala and Tyraiq Beals both had their moments last year, and true freshman Quavyon Skanes is reportedly an electric talent. Tight ends Tommy Myers and Alec Bloom are valuable targets over the middle and, apropos of nothing, here's Myers absolutely trucking some dude to give Newsome the lane he needed on that 90-yarder.
While none of those players is likely to be an All-American, they can all be useful pieces on an offense that produces more than 17 points per game, capable of more than eating up a couple minutes off the clock before punting.
So we're back to where we started, with the offensive line as the focal point for 2016. UConn's 3.4 yards per carry last year, while its best total since the Fiesta Bowl season of 2010, is still dreadful relative to the rest of the country, ranking a paltry 122nd out of 128. Its 37 sacks allowed was pretty much in line with the post-Edsall teams, which isn't a good thing.
If I fell into a coma until December 1, and the first thing you told me was that UConn ran for 4.0 yards per carry (a number which would have placed them 89th nationally last year, still below average) and reduced their sacks allowed to under 30, then I would say that 1) that's weird, why wouldn't you tell me what happened? 2) UConn likely had a very good year.
Those two numbers are admittedly arbitrary targets, but those are are markers of the improvement the line needs to make. Will this group do it? Hey, sure, why not?
The return of Crozier, who was set to start at center last year before suffering a knee injury, should be a boost. So too should be the move of Levy from left tackle to right guard, where he's a "national player" according to Diaco. Knappe, in his third year as a starter, is getting All-Conference team predictions from folks like Phil Steele. Hopkins was the most consistent lineman a year ago, and has played every game since Diaco arrived. Vechery, now at guard, and tackle Trey Rutherford have both started on the line, and will now give the Huskies depth.
And then there's Matt Peart, a redshirt freshman about whom Diaco has lavished so much praise this offseason. He came to UConn as a 2-star recruit, put on 40 pounds under the Balis strength training program according to the Courant article, and was being talked about as a future high NFL Draft pick. It's probably not a good idea to assume he'll be a standout as a freshman, but Diaco also has the credibility in player evaluation – hey, Byron Jones – to make me believe that Peart could be a fixture at the most important line position for the next three years. If he's anywhere close to what the coaching staff is saying about him, he could be a difference maker immediately.
After two seasons of blooding a bunch of young linemen, UConn finally seems to have the offensive line they want – a front five of strong 300-pound strong, experienced dudes with good depth. But while reports out of summer camp have been positive, the production will speak for itself starting on Thursday against Maine.
It might be simplistic to say that the future of the program rides on the development of a competent offensive line; but if the Huskies show marked improvement here, UConn's offense suddenly becomes more dangerous than it's been the last five years, and this season gets really interesting, really quick. If not, it'll be a struggle to return to a bowl.