It's been a great week for UConn Athletics, with men's basketball remembering how to basketball and Athletic Wizard David Benedict managing to convince/blackmail/glamour/hypnotize Rhett Lashlee into agreeing to be UConn's OC when he was already Auburn's OC. I know. It's gotta be magic. Or something. Anyway, now that we're no longer curled up in the fetal position, we're ready to answer questions about non-WBB UConn sports without crying.
Remember: If your question wasn't answered or you've been living under a rock and are just hearing about this, you can submit your questions here or on Twitter (@ADimeBack).
---
Puneet asks: What tourney do we have a better chance of winning, AAC men's basketball or Hockey East?
This question came in last week before UConn men's basketball remembered how to win games, but even so, it may surprise you when I say that they have a better shot of winning the AACT than UConn Hockey does of winning the Hockey East Tournament. That's not a knock on #icebus, they're great and improving and knocking off top-10 teams just to fuck up everyone's shit, and I am enjoying it tremendously.
However, the nature of these tourneys is very different, and the AACT is much friendlier to UConn than the HET is. Currently Icebus is sitting at sixth in the HE standings. Assuming they remain there and don't crack the top four (which would give them a first round bye and a home series for the second round) they'll first have to win a best-of-three series at home (yay!). Assuming they win there, they would then have to play at one of the top four teams in a best-of-three series. That's a tough ask. The semifinals and final are all single games, but to get there is a much tougher road than the UConn men have, which is a single-elimination tournament at home.
- Advertisement -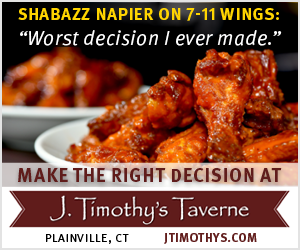 After watching them play stifling defense against Temple and hit over 50 percent of their shots in front of a small but very friendly Gampel crowd on Wednesday, and keeping in mind that they also played very well at home the preceding Sunday, I think it's fair to say that our men's basketball team turns it up in front of their home audience. And March is when weird shit happens, and KO teams have managed to pull off some stunning wins in those single-elimination tournaments. And, really, the fact that the AACT is a home series for basketball is the deal breaker here. They'll be playing in front of wild, screaming fans if the last Hartford-based AACT is any indication (and assuming you monsters actually show up). It's not in the bag or anything, but it's not a long shot, either.
---
Kelly asks: Please compare the performance of Jalen Adams as a sophomore to other elite guards as sophomores. Or at least to Shabazz.
Just by looking at the stats, Adams stacks up pretty well. His 15.2 points per game is more than Napier (13.0), Kemba Walker (14.6) and Khalid El-Amin (13.8). Adams also tops that troika in assists and rebounds per game while shooting better from the floor. However, the circumstances (obviously) are much different. Each of the non-Adams guys we mentioned played alongside someone else who took the majority of the team's shots. Napier had Jeremy Lamb (not to mention Andre Drummond). In 2010, Jerome Dyson and Stanley Robinson both got more shots than Kemba. Khalid had the most team success, shocking the world as you may have heard, but did so alongside Rip Hamilton, one of the most prolific scorers in UConn history.
Adams has been great, but has also been leaned on heavily to pick up the slack for injured and under-performing teammates. As a result, his usage rate of 26.2 percent far outpaces those of the other Husky guards mentioned.
Napier, for obvious reasons, is the fun comp to put on Adams, but his sophomore season most resembles that of Ryan Boatright. Both played in (essentially) lost seasons. Though Boatright had Napier by his side a year later when the Huskies won their last title in 2014. The real takeaway here is that it's very difficult for a sophomore guard to lead the team to success without high-level accompanying pieces around him. If you're looking for reason for optimism, historically, UConn guards make big leaps forward in their junior seasons.
---
Steve asks: I'm Class of '18. How far back do you have to go to find a UConn class that saw worse MBB/FB?
Yes, unfortunately, this is a down period for UConn's two top male sports programs, although you can brighten the mood with the knowledge that your senior year should at least offer the prospect of a nationally relevant basketball team (assuming everyone who can return does and injuries don't ruin everything again).
To answer your question, you need to go back a long, long time to find a worse football/men's basketball combination. UConn basketball has been so good over the past three decades that you don't even need to look at the football W-L records. The Huskies haven't missed consecutive NCAA Tournaments since 1989, and every class of students since then (except, tragically, the Class of '94) has seen at least one Elite Eight game while they were on campus. Plus, if you were on campus in 1988 or '89, you got to experience the magical NIT championship run in 1988, which turned out to be the first hint of Jim Calhoun becoming a goddamn boss of a coach.
So that takes us back to UConn's graduating class of 1987. If you graduated from our beloved alma mater in May of that year, first of all, happy 50th birthday!!!!
Second of all, apologies for the bad sports.
UConn's basketball records from that graduating class's freshman year on: 13-15, 13-15, 12-16, 9-19. You never saw UConn finish higher than seventh in the nine-team Big East, but at least you got to say you were there for Calhoun's first season.
UConn's football records weren't much better, as the Huskies went 5-6, 3-8, 4-5 and 8-3 during the first four seasons of Tom Jackson's head coaching run in Storrs. However, your freshman and senior years were both, somehow, Yankee Conference co-championships (the Huskies somehow won back-to-back conference titles in 1982 and '83 with losing records; football dumb).
That's the whatever-the-opposite-of-gold standard for the modern era of UConn sports.
There are other candidates, but none match that mid-80s stretch for bleakness, I think:
*1967-68 to 1971-72* UConn basketball had a run of four-out-of-five sub-.500 seasons in this era (48-72 overall), but while the football program's best record during that time was 5-3-1, the Huskies did manage to win or share three Yankee Conference titles somehow.
Before then, UConn basketball was a regularly strong regional program under Hugh Greer and Fred Shabel, meaning that almost every year from the end of World War II until Shabel left in 1967, Husky students had something to cheer for. UConn football had its most sustained run of pre-Edsall success in the late 1950s, with another solid run during WWII.
If you want to talk real shit, let's take you back to May 1936. UConn was not yet even called UConn yet. Hitler was a thing. The economy was still depressed. Boston College's student base was entirely comprised of hobos, instead of just 40 percent hobos as it is now.
If you graduated in that class, first of all, congrats on your 102nd birthday!!! Second of all, you witnessed the football team go 0-6-2, 1-6-1, 1-7, and 2-4-1; you also didn't see a winning basketball season, as the not-yet-Huskies went 4-12, 5-10, 7-8 and 3-11.
Thankfully, May 1936 also marks the moment when Connecticut Agricultural College fired its athletic director, Jeff Hathaway Sr., and we haven't looked back for 80 years.
---
SonsOfNutmeg asks: Your best guess: Does Bryant Sherriffs return and if so is he or Donovan Williams our starter vs. Holy Cross?
If Sherriffs comes back (and it's a big if, no one has heard anything, but he is set to graduate this year), he's obviously starting over Williams. Williams is not and never will be an FBS QB. But best-case scenario is still Lashlee convincing a grad transfer to come here for a guaranteed starting job. (Editor's note: Lashlee seems to be a bit of a QB whisperer, and had convinced four-star, dual threat QB Jarrett Stidham to commit to Auburn when he transferred from Baylor.)
Here's a list of potentially available grad transfer QBs who we would very much like to see suit up for UConn.
Malik Zaire (ND)
Cooper Bateman (Bama)
Shane Morris (Michigan)
Hayden Rettig (Buttgers)
I'm hoping for Malik Zaire for a number of reasons, the biggest one being that he's a running QB, which is probably what we'll want, given the kind of offense Lashlee was running at Auburn.