UConn defeated conference foe Temple on Wednesday night, 73-59, improving its record to 7-9. Let's see what we learned…
1. Going streaking. UConn is on a winning streak, babby. For only the second time this season, the Huskies have won consecutive games and will carry some genuine momentum into their rivalry game Saturday with the ghost of Georgetown. If the Huskies can top the Hoyas, there is a good chance of them beginning February with a winning record. Suddenly, the quest for .500 looks more manageable.
2. Kentan Facey continues his strong play. Facey led the team with 23 points and ten rebounds on Wednesday night — the fourth double-double of his career and second this season. Facey is now averaging 10.5 points and nine rebounds over the Huskies' last ten games. His ability to contribute on the offensive end has been critical in UConn overcoming the loss of Terry Larrier (and Daniel Hamilton).
3. Jalen Adams: Point Guard. Speaking of double-doubles, Adams registered his third of the season on Wednesday, contributing 11 points and career-best 12 assists. Although he lacked the hot shooting of his other star performances (4-11, 1-4 from three), Adams made up for it by slicing through Temple's defense at will, finding Amida Brimah for lob dunks. While still somewhat erratic (oh right, he's a sophomore), Adams is at his best when he gets away from constantly seeking his own shot and engaging in a creative and fast-paced UConn offense.
4. Vance stays hot. Vance Jackson scored in double-figures for the third consecutive game as he continues to transition from his slow start to the season into a consistent offensive weapon for UConn. His three-point percentage is creeping back up towards respectability (32.8% on the season, six for his last nine), and, more importantly, he is finding other ways to get involved in the offense. As fellow freshman Christian Vital continues to struggle, Jackson has emerged at an opportune time, cementing his place in the starting lineup and earning a ton of minutes (27 on Wednesday).
- Advertisement -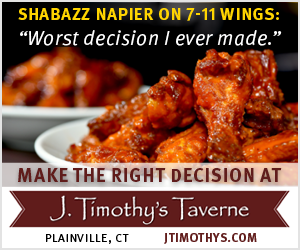 5. Guards Getting Rebounds. In the Kevin Ollie Era, guards getting a lot of rebounds has been a consistent key to success. Please see: Shabazz Napier and Ryan Boatright each averaging more boards in 2014 than the team's three centers. Against Temple, Adams had seven boards and Rodney Purvis had eight. With a lack of depth — especially at the power forward position — it's all hands on deck for the rest of the season. For the team to be successful, the guards will have to continue to contribute a healthy dose of rebounds.
6. 50% shooting! UConn shot 52.8 percent from the floor on Wednesday. It was the third time this season they've managed to best 50 percent, but their first against an actual opponent (sorry, Chaminade and North Florida). The impetus was a continuation of the solid shot selection that displayed against UCF. This was the first time UConn cracked 70 points in a game in its last six contests (a span that included two overtime periods). Yay, offense.
7. Oh, hey, free throw attempts! The Huskies attempted 17 free throws on Wednesday, making 13 of them. Their 12 attempts in the second half buoyed their offense as they went cold from three (0-4). For the first two months of the season, UConn looked completely lost on offense when the threes weren't falling, in large part because it couldn't get to the free throw line consistently. The increase in attempts is another nice benefit of Facey becoming a factor on offense. He was 5-7 from the line.
8. Avoiding foul trouble. How about a big shoutout to Amida Brimah, who managed to block six shots (many of the insane variety) while committing only two fouls. Facey had two as well. Their backup, Steve Enoch, didn't commit a single foul in his ten minutes of action. Too often, the bigs are sent to the bench in the first half with foul trouble, sapping UConn of any momentum an changing the complexion of its defense. As an added bonus, Temple was held to only eight free throw attempts, which eliminated its chance of victory when paired with its shitty shooting.
9. Brimah and Facey coalescing. UConn's front court looks dynamic at the moment, something we never thought we'd say after the team's first five or six games. As Facey has grown into a more complete player, Brimah is required to do less. Each is rebounding well with the other on the court, and Brimah is free to pursue blocks on defense, and limit his offensive contributions to ultra-high-percentage attempts at the rim. While the duo will never be Okafor and Boone, or Thabeet and Adrien, they are contributing enough as a pair to put UConn into winning positions.
10. The game plan worked again. As we discussed following the UCF game, UConn again took the court with purpose and energy on Wednesday. Ollie employed a host of defensive schemes — including a zone to steal some rest for his guards and a full court press to force the tempo — that left Temple unable to get into an offensive rhythm. On the other side of the ball, the Huskies moved the ball well and forced the issue inside the paint. I wonder if something changed in the last few weeks in how the Huskies are preparing for games that has rendered them more focused and, well, prepared.
11. The attendance was depressing. The announced attendance of 6,852 was the lowest for a UConn conference game since Temple came to Hartford in a full blown New England blizzard in 2014. Sure, the game was on-campus during winter break — which is inexcusably dumb — and sure, the 9PM weeknight tip is a giant middle finger to most of the fanbase, and yeah, the team hasn't done much to drum up fan excitement this year, but Gampel Pavilion half-empty is a sad sight indeed (and that's without talking about the roof).