UConn held a media availability on Tuesday, producing the expected array of Kevin Ollie quotes you're used to by now. It turns out he thinks they'll be good. Cool. More interestingly, we got our first official look at the roster. With great credit to Dave Borges, take a look:
Your 2017-18 @UConnMBB roster. pic.twitter.com/LFAyC3bXMd

— David Borges (@DaveBorges) June 27, 2017
I have been obsessing over this piece of paper for 24 hours now. And for multiple reasons. This roster has consumed me. I slept in a Wendy's bathroom last night. And now, I am welcoming you into my mind to see what I see when I see tweets about UConn. Let's begin.
- Advertisement -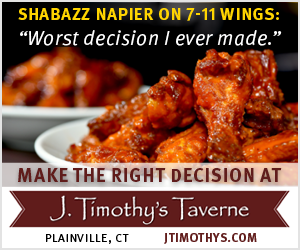 The Mundane: Jalen Adams has officially changed his uniform number from 2 to 4 because he's twice as good as Derek Jeter. The last two guys who changed numbers (Rodney Purvis and Phil Nolan) didn't exactly trend up afterwards. The same could be said of former Husky, and current Director of Basketball Operations Kevin Freeman, who went from number 15 to 33 at the turn of the millennium (was likely Y2K related).
The Big Picture: I'm not, like, the best counter, but it seems to me that UConn is — again — preparing to enter the season without a complete roster. Our bud TCF helps to confirm that two open scholarships still remain. We've been obsessing about this since long before the official roster announcement. It seems unwise, coming off a season where half the roster got injured with Oregon-Trail-level efficiency, that UConn would respond by leaving spots unused. But here we are. There are a few more options left on the board but not as many as there were two weeks ago or two months ago or last spring. There's still some time to bring in useful pieces, but for now, woof. Please catch my signature segment "Tell 'Em Why You Mad" on Hot 93.7 for more — or maybe just the next podcast (if it still existed).
The Big People: Another oddity on the roster: there's no center. Like, anywhere. We don't even get the meaningless "F/C" listing on the lineup card. Eight players (8 of them) measure between 6'7″ and 6'9″. All are listed as forwards except for Terry Larrier who earns the vaunted "G/F" distinction. That should serve him well as UConn's starting power forward. Since you're wondering, the last UConn roster to not list a center: 1962-63. And even that team had a 6'10" forward.
The Biggest People: This whole exercise began the moment I saw transfer forward Eric Cobb's measurements as 6'9″, 285 lbs.
Two Hundred And Eighty Five Pounds.
That jumps off the damn page at you — especially on a roster constructed around three small guards and a bunch of rail-thin 6'8″ guys.
285?
A complete list of things in life that weight 285 pounds:
One and a half kangaroos
45 bricks (so a typical Cincinnati offense)
47,871 ping pong balls
Multiple Russes
It's a lot, you see.
In fact, Cobb is poised to become the heaviest player ever on a UConn roster…
BY 20 FULL POUNDS!
Your updated standings:
Eric Cobb (2018), 285lbs
2. (tie) Ed Nelson (2004), 265lbs (this was when he sat out as a transfer)
2. (tie) John Lindner (2008,09), 265lbs (a walk-on who is on twitter. Give him a follow.)
4. Hasheem Thabeet (2008,09), 263lbs (he was tall tho)
5. (tie) Bu Willingham (1995), Enosch Wolf (2011) & Rakim Lubin (2015), 260lbs
There's two ways to interpret this, right? One is that Cobb is a giant person who will destroy opponents by being gigantic. The other is that it's hard to play a modern basketball game weighing 285 pounds. In the history of the NBA, there have been only three players Cobb's height or shorter who weighed at least 285 pounds: Kevin Seraphin, Glen Davis and Jahidi White (Robert "Tractor" Traylor was close at 284lbs).
The Takeaway: There is a fair amount of talent on the roster but it's very clear that the margin for error this season is incredibly small. Our recommendation remains the same: get more good players before First Night (if it still existed).