If you want to experience what our twitter mentions are like, hire a bunch of strangers to follow you around screaming "Fire Kevin Ollie!" at various decibel levels.
Apparently Ollie's mentions are similar, leading him to lock his account, go on a blocking spree and talk to the Courant about his disdain for social media (you know things are really bad for Ollie if talking to the press is the preferred alternative).
Halfway through another disappointing season, the loudening calls for Ollie to lose his job make sense. The Huskies are bad. Their offense is unwatchable — maybe literally, considering current attendance numbers. The roster experiences massive change year-over-year. Fans have watched promising players leave and remaining players fail to develop.
All of this, while the the ramifications of a decade of conference realignment are starting to manifest in damaging — possibly catastrophic — ways for UConn.
If Athletic Director David Benedict and President Susan Herbst decide that replacing Ollie is in the best interest of the program, that is a defensible decision. For all of the reasons above and also because there is a window that is closing, and going another season in wait-and-see mode could be the difference between a storied program suffering and then rebuilding (Indiana) or suffering on its way to a total, generational collapse (St. John's).
- Advertisement -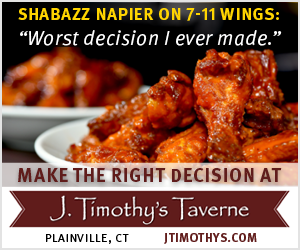 If Benedict and Herbst don't believe in Ollie, he needs to go. They get paid a lot of money to make hard decisions at hard times. If, however, their faith in Ollie extends to the 2018-19 season, they need to explain to the fans how, and why, things will get better. They need to sell a vision of the future where UConn is successful, growing, profitable and coached by Kevin Ollie.
The arguments for keeping Ollie can be tough to swallow amid so many disappointing on-court performances — and frustrating off-court soundbites — but they remain worthy of consideration. Let's start with the obvious ones.
The Trophy
The man won a fucking championship. Toss all of the qualifiers you like onto the accomplishment, but Kevin Ollie stood on UConn's sideline for the month of March 2014 and ruined the seasons of St. Joe's, Villanova, Iowa St. Michigan St., Florida and Kentucky. That run remains insane. And while Ollie doesn't deserve total credit (shared with Shabazz Napier, Jim Calhoun, the coaching staff of the German National Team, this website, and others), he is the one who called the plays, cut down the nets and owns the ring.
They say flags fly forever, and while true, they don't guarantee an unlimited tenure (just ask Joe Girardi). Since 2014, the on-the-court product has ranged from good to end-of-the-world-awful. By retaining Ollie, UConn would be betting that the coach we saw in the Final Four will return once the pieces around him fall back into place.
Some of the ancillary problems are also ones of Ollie's own making, and are all part of the same calculation.
The Exodus
As we've seen firsthand recently, when you lose a coach, you lose some other critical parts of your infrastructure. First, the assistants. At the time of their hires, Dwayne Killings and Raphael Chillious seemed like upgrades — guys in line for head coaching jobs of their own if their stops at UConn were successful. Chillious, especially, was brought to UConn to capitalize on his reputation as a recruiter. When Ollie leaves, his staff likely departs as well.
And then there's the players. Jalen Adams and Terry Larrier may be on their way out regardless (we can debate this later), but would Christian Vital stay to play at UConn for a new coach? Would Alterique Gilbert, or Isaiah Whaley or Josh Carlton? Incoming recruit James Akinjo credits his relationship with Ollie as the reason he committed to UConn. This question becomes less important with a relatively low-talent roster, but it does potentially leave an empty cabinet for an Ollie replacement who will be racing against time to restore the school to relevance.
The Money
We're not talking about Ollie's possible buy-out here, or the money it'd take to get a new coach under contract. We're talking about the well-financed network that rings the walls of UConn sports.
If we've learned anything from recent events, it's that boosters and prominent alumni get to shape these decisions. As it stands, no big name alumni we could track down have openly turned on Ollie. Quite the opposite, actually. Their belief is holding firm. The same appears true of UConn's former basketball players who have continued the Calhoun-era practice of remaining close to the program. Guys like Ray Allen and Bu Willingham (UConn's unofficial basketball mayor) are not going to turn on Ollie. They're friends. Without full-throated support from outside money for a coaching move (see: Edsall, Randy), Herbst and Benedict would be charged with convincing all of the critical pieces above to remain in place until Ollie's replacement is hired. (Hiring Jim Calhoun probably solves at least the boosters and the alumni problem, but let's not get too far ahead of ourselves).
Optics
Firing Ollie is going to look bad. He's an alumni, by all accounts a good guy, and — again — the ring. But most damaging, it would lend to the larger narrative that UConn can't get its shit together.
Person 1: "Things are so bad that they had to fire the new guy (who they just extended) to try to save the athletics department?"
Person 2: "Yea, fellow sport observers. Much like they did in embarrassing fashion one year ago will their lunatic football coach."
[end scene]
Stability and growth are the two keys to success for most money-making enterprises, including UConn athletics. When Randy Edsall returned a year ago, the thought process was clear: get an adult who the boosters (mostly) like to put out the humiliating fire. Then get some flashy assistants and hope the new staff can develop enough players to win a bowl game in the next three-to-five years.
Seems reasonable enough, until one of those flashy assistants, Rhett Lashlee in this case, bolts for rival SMU. And now, before the football program had a chance to grow, it's unstable again.
It's an untenable situation and one that's super damaging to the larger UConn brand. If UConn fires Ollie, it will need to absolutely crush the next hire to not exasperate the belief that UConn's athletic department is in total disarray — something they've been combatting since Edsall first departed.
Legacy
Most of the names being floated as replacements if Ollie gets fired can't offer the type of loyalty you get from a well-known alum. If Dan Hurley walks through that door and wins right away at UConn, he's walking right out that door to go take the Duke job, or the Kentucky job, or the UCLA job, or — you get it.
Maybe Rutgers coach Steve Pikiell (who we wrote about here) would come to Connecticut, win and then stay. [Update: Pikiell has just signed an extension.]
But the best-case scenario for UConn basketball features Kevin Ollie as its head coach. Despite an ill-conceived flirtation with the NBA in 2014, Ollie is close to a sure thing to remain as UConn's coach as long as he's able and wanted. That is a rarity in the game today and, though it doesn't guarantee wins, it does mean something. If Ollie can somehow build the program he needs and use it to win over the next decade or more, UConn will have hit the fucking jackpot.
I don't know that he can. And I don't know the right answers to the hundreds of questions being lobbed at Herbst and Benedict about Ollie's fate. But I do know that the clock is ticking and they need to decide quickly: are we all in on Ollie's vision, sink or swim? Or do we need a change once the season ends?