We're ready to punt 2017 into the sun, but not before one final mailbag of the year. Here it is RIGHT IN YOUR FACE.
Remember: If your question wasn't answered or you've been living under a rock and are just hearing about this, you can submit your questions here or on Twitter (@ADimeBack).
---
Kelly asks via facebook: Where do you think Jalen Adams and/or Terry Larrier are going to go? I hope they both play well enough the rest of the year to make them NBA prospects. Those two playing that well would lead to UConn winning more games. Do you think they will declare for the draft if they aren't likely to be drafted?
[Kelly's question was in response to this piece about Alterique Gilbert's injury]

I think it's a safe bet that Larrier's gone no matter what. Before the season he was relatively open about this being his final year in college. He turns 23 this offseason. I doubt he'll get drafted but I'm never going to blame a guy for wanting to start earning a paycheck.
I'd be shocked if Adams doesn't declare for the draft. Whether or not he hires an agent and officially ends his college eligibility is the bigger question. He turned 22 a few weeks ago which is already kind of old for a high-end draft pick. Like Daniel Hamilton in 2016, Adams might just be ready to be a professional. Sure, he could pull a Shabazz and show enough improvement in his senior year to find his way into the first round in 2019, but it's more likely that we're witnessing the best Adams can at UConn. If he thinks that's true too, he'd be better off getting more development by G League instructors or getting paid overseas.
- Advertisement -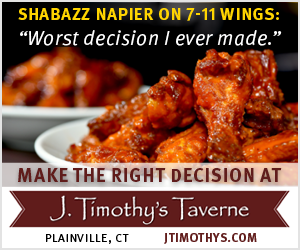 ---
Kevin asks: Do we lose Akinjo if we let go of Ollie at the end of the year? I'm in love with this kid now.
Very same, my dude. James Akinjo has really turned it on since he went off at Peach Jam this past summer. UConn had the advantage of being in on him before all the hype (KO and company offered him back in May), and Akinjo committed immediately after his official visit to UConn in September and then signed his National Letter of Intent in November. He's been lighting up the stat sheet for his high school this season, and I would be remiss if I didn't tell you that I am in an utter panic about the sharks circling around him, because there are plenty of schools that would be happy to poach Akinjo.
He's has been very open about how Ollie is the main driver behind his decision to attend UConn. "I can't even explain it," Akinjo said. "When I was on my visit, it was like I felt him, I felt where he was coming from, I believed everything he was saying. Him just being a guard, coming from West Coast to East Coast, coming from the trenches like I come from, I know he completely understands. So it was just a good relationship from the jump."
If the team continues in its current tailspin and Akinjo decommits, that could very well spell the end of Ollie's tenure at UConn. And if Ollie is fired at the end of this season, it's almost guaranteed that Akinjo will go elsewhere. I don't have a crystal ball, so I'm just white-knuckling through the spring until we can get the kid on campus. Like, maybe we need a posse to attend all his games and fend off other teams with sticks or something. But Akinjo told the Courant that he and Ollie are in close communication, which is exactly what we want to hear, especially given that one of the things we heard when Makai Ashton-Langford decommitted was that Ollie hadn't been to see him play after he committed. So pray to the basketball gods that Akinjo is suited up in Husky blue and white next season, and I'll leave you with this final quote:
"I want to go to UConn and be able to come in and lead right away." – James Akinjo
---
Matt asks: Couple noteworthy in state recruits went to other schools. Seems problematic, eh? (In upstate New York and close to Canada so that's what I'm aboot.)
Presuming you're talking about football, it's sadly true that UConn snared only five of 247's top 15 prospects from in-state schools. But that's just going to keep happening until UConn is either regularly winning or, more importantly, regularly putting half a dozen players into the NFL every year.
The top five players in the state per 247 will attend Alabama, Michigan, Penn State, Wake Forest and UConn (Dillon Harris, who will spend next season in junior college). Other than Wake Forest, UConn is not in any position to win recruiting battles against those schools in the near future. And Wake Forest was a special case, since per Matt Schonvisky, EO Smith defensive end Rondell Bothroyd chose the Demon Deacons in part because of the relationship developed with lead recruiter Wayne Lineburg, who was let go from UConn with Bob Diaco a year ago.
There just are not going to be many high school seniors who are going to look at offers from Michigan and UConn and pick UConn. If you want to make money playing professional football, it's impossible to argue that you will do better balling out against Tulsa and Tulane versus balling out again Ohio State and Penn State.
Every one of UConn's NFL Draft picks this century (save Obi Melifonwu) was recruited by Edsall, so it's possible that one day UConn can say "we can get you to the league, come here and start for four years instead of sitting the bench at Michigan for two" and have it be a reasonable choice. Ultimately, we're going to have to win over enough of those kids to get this program back to where it needs to be.
---
Rocco asks: Will basketball officially be rebranded as shabazzketball?
It damn well should be. Bazz is absolutely killing it right now. In the last five games, he's averaging 17 points and 3 assists while shooting 51 percent from the floor. On the season he's averaging 49 percent on field goals and 44.6 percent from three. He's also owning the coffee commercial game. Last night, Bazz willed the Trailblazers to a win, posting 15 of his season-high 23 points in the fourth quarter. Bazz gonna Bazz, is what I'm saying.
Oh, and he's doing shit like this, just straight embarrassing Joel Embiid
Shabazz Napier nutmegs Joel Embiid, Nurkic draws a foul afterwards pic.twitter.com/bHjc0F3Z64

— CJ Fogler (@cjzero) December 29, 2017
Oh and this, too, like what?
HOW?!?! pic.twitter.com/D3afBhM3Ez

— Trail Blazers (@trailblazers) December 29, 2017