Every once in a while, we get a mailbag question that warrants more than just a paragraph or two of response in a weekly(ish) column. We had one such question a couple weeks ago from Friend of the Site Big Ron, who asked about where UConn stands in the national hierarchy of head coaching jobs. Ya know…if the job were to open up in the offseason.
His question: Whether or not UConn is going to make a coaching change any time soon, we can all agree on two things: 1) Steve Pikiell is a promising coach and 2) despite that the talent level at Rutgers, it is such garbage that they lost to Hartford (KenPom #311) at home last night. Please provide a list of reasons why UConn is an obviously better job than Rutgers that can be provided to local fools insisting otherwise.
---
There's a reason I was asked to answer this question, and it's because of this tweet, which got some people mad at me on the line.
Rutgers is quickly becoming more appealing, both to coaches and recruits.

— Russell Steinberg (@Russ_Steinberg) December 14, 2017
- Advertisement -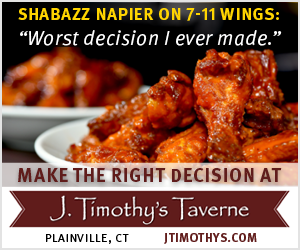 So let me first clarify: Today, on January the ninth in the Year of our Lord Jim Calhoun Two Thousand and Eighteen, I believe UConn is a better job than Rutgers, and I think that is especially true for the coach relevant to this discussion, Steve Pikiell.
The only meaningful criteria for the quality of a college basketball job is how realistic it is to convince really good players to come. Everything else (money, tradition, resources, etc.) ties into that. Here's why UConn can still get better players that Rutgers, regardless of the coach:
Most recruits looking at high-major Division I schools want to play professionally. Right now, UConn has a much better track record of putting players in the NBA — even recently. Though UConn's NBA talent pool has shrunk dramatically in recent years, Andre Drummond, Kemba Walker, Jeremy Lamb, and Shabazz Napier are all succeeding at the highest level. That carries weight.
UConn also has far superior athletic facilities. For now. Rutgers is in the midst of using its sweet, sweet Big Ten money to upgrade, so that advantage will be short-lived.
Simply, winning is more fun than losing and UConn wins a lot more than Rutgers does. Even now. You think UConn has been bad the last two years? Rutgers is 4-18 in Big Ten play in the Steve Pikiell Era. Despite the Scarlet Knights beating a bunch of 300-plus KenPom teams over the last year-plus, they're still garbage. UConn is also a bad team by any reasonable measure, but still had a winning record (if you include the AAC Tournament) in conference play. And UConn made the NCAA Tournament just two years ago. Rutgers has played in four different conferences since it last danced.
But if we're looking at Pikiell specifically, there's one other key point here: He is a Connecticut guy. He went to St. Paul Catholic, played at UConn, was an assistant coach under Calhoun, was an assistant at Yale, Wesleyan, and Central. I know Connecticut doesn't churn out five-star recruits like some other states, but there is talent here that has ended up elsewhere. We don't need to go through those names again. Pikiell is well-respected in the state and that is important. It's also reasonable to believe he might be more inclined to go from the Big Ten to the AAC if it's to coach his alma mater.
So that's the good stuff. Here's the thing though: UConn doesn't have a single advantage over Rutgers that is going to last much longer.
Soon, Rutgers is going to have facilities on par with UConn's. And Rutgers will be able to maintain and improve those facilities because the athletic department is stupid rich. UConn is flat broke.
I can't tell you about NBA talent coming out of Piscataway, but UConn hasn't put a player in the NBA who has shown any promise of lasting since Napier and there doesn't appear to be anyone on the current roster headed that way either. UConn also has not shown an ability to develop its own players into NBA talent since Calhoun retired.
So it boils down to this: Yes, UConn can get Pikiell, provided it can afford to pay Kevin Ollie's buyout and give Pikiell enough money to make it worth his while. We'll see how much the donors are willing to help with that should the time come.
Whether Pikiell is even the right coach to hire is a discussion for another day.