After getting through the early signing period with its coaching staff intact, UConn football will lose one of its reasons for fleeting optimism in 2018, as SMU announced that it hired rising star offensive coordinator Rhett Lashlee away from the Huskies Thursday afternoon. In a statement released by UConn, Lashlee said he hoped to move closer to his family in Arkansas; he'll be a short plane ride away, in Dallas.
Lashlee, whose hiring almost exactly one year ago was the sort of bold move that AD David Benedict needed to make to win over skeptics of the re-hiring of Randy Edsall, exceeded expectations in his one year in Storrs.
From an aesthetic point-of-view, UConn's offense in 2017 looked much more like your run-of-the-mill FBS offense than in years previous, when it looked like The Black Plague, But For Football. The play-calling was generally smart, and generally seemed to give the Huskies' playmakers the chance to run in the open field.
From a statistical point of view, the turnaround was immense; the offense scored nearly 10 more points per game and gained 1,000 more yards than it did in 2016. And even though that's partly due to the offense's increased tempo, those numbers aren't mirages: after finishing 127th out of 128 teams in offensive S&P+ rating (an advanced stat measuring play-by-play efficiency, adjusted for tempo) in 2016, Lashlee's Huskies jumped all the way up to 74th. You couldn't have asked for much more of a turnaround in one calendar year.
Given what became of the defense in 2017, it's fair to say that Lashlee is responsible for coaxing all three of UConn's wins this season, and his system — along with the maturation of the offensive line and a very competitive group at quarterback — had a real shot at giving UConn a bowl-caliber offense in 2018 (please ignore that UConn would also have to play defense).
- Advertisement -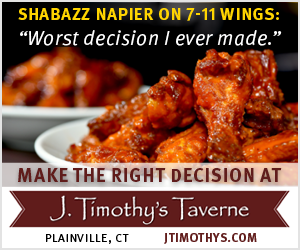 Now, he's gone. While coordinators switch schools all the time, and while UConn can still be OK offensively next year, there's really no way to spin this as anything but a disaster, pending Benedict's ability to pull another home run hire out of his pocket.
It's not Lashlee's fault, per se. The family consideration seems sincere enough. And given that he took a pay cut to jump from Auburn to UConn (thanks in part to his relationship with Benedict, the former Auburn AD), Lashlee probably gave UConn more value for his contract than any other current coach not named Geno or Nancy. And realistically, Lashlee's stay here was always going to be short, given that he yearned to build up his resume for a return to the Power 5. (He apparently also interviewed at Rutgers, and word is that he had at least a couple other offers.)
SMU, you may note, is not a Power 5 school, and that's the context that changes everything. Had Lashlee left to be the OC at say, South Carolina, where he was rumored to be in the mix, it would've been hard to be upset. Pretty much every G5 program has to accept the reality that its top coaches will be poached by power-conference schools offering greater salaries and greater opportunities.
But even if we accept the premise that there wasn't a dollar value that could've kept Lashlee here given his personal situation and ambition, what does it say about UConn's standing in the college football world that it lost its top assistant to a team that finished fourth in one of the divisions of UConn's own mid-major conference? And what does it say that it's almost certainly a slam dunk career move for him to do so?
Aside from the on-field impact, Lashlee leaving is also a hit to recruiting, the crucial area where UConn has been utterly failing for years. It needed an impact recruiter, and it appeared like Lashlee could be that guy — for one, he was the lead recruiter of Steven Krajewski, a 3-star from Georgia who Edsall called the best quarterback recruit he's had since Dan Orlovsky. Will Krajewski eventually follow Lashlee to Dallas? Will UConn try and play a similar offensive system going forward? What becomes of players recruited for Lashlee's system if they don't?
And, finally, losing Lashlee in such a fashion brings us right back to where we were exactly one year ago after the rehiring of Randy Edsall: with Benedict needing once again to prove that UConn is really, actually committed to this football program.
The offensive improvement was one of the few bright spots of the past season, and UConn is going to need to spend money to bring in a coach who can build on Lashlee's successful first season. The financial struggles of the athletic department are well-documented, but can Benedict and the school commit to allocating Lashlee's $350,000 salary (if not more) towards an OC with a proven track record?
Benedict's tenure thus far suggests that the answer is yes — and I'm happy to give him the benefit of the doubt, given that Lashlee was one of the AAC's most well-compensated assistant coaches — but the revenue situation seems much more precarious than it did 12 months ago now that both football and men's basketball are trending towards record attendance lows.
Look: UConn could shoot to fill the OC position with a Power 5 positional coach, or it could bring in a good football mind who isn't super experienced (like say, an alumnus and recent NFL retiree who's never coached at this level). It might work out, or it might not; but it'd be a gamble, and anything less than a proven FBS or FCS coordinator at a competitive salary would be the latest in a series of signs that UConn just isn't serious about competing in this sport. After seven years of below-average football, and with attendance and interest continuing to dwindle, UConn owes the remaining fanbase the courtesy of trying to compete. Otherwise, it should quit.