We hope you're having a good summer. Oh, you're not? Makes sense. Let's see if we can't brighten your day with the ultra-rare ADB Mailbag.
Remember: If your question wasn't answered or you've been living under a rock and are just hearing about this, you can submit your questions here or on Twitter (@ADimeBack).
---
Bob asks: What were the 5 best buzzer beaters by UConn bb ( mbb & wbb, combined) and why you think so?
You know how much we love co-ed rankings here at ADB, though in this case the women's team has very, very few game-winning buzzer-beaters (because they're always destroying their opponents, ya dig?). But we managed to find one to create the perfect Top 5.
5. Rip v Washington, NCAA Tournament Sweet 16, 1998
Rip Hamilton saved UConn's season against 11-seed Washington, sinking a bucket as time expired and as he was, ya know, falling down, to send UConn to an Elite Eight.
- Advertisement -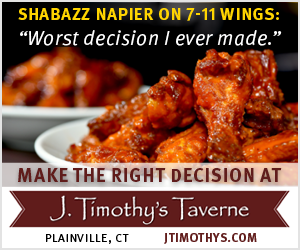 4. Cardiac Kemba v Pitt, 2011 Big East Tournament
The most memorable step back in UConn history. On route to the historic five-games-in-five-days win streak at the Big East Tournament, Kemba broke ankles (RIP Gary McGhee) in the Garden and I can't watch it too many times.
3. Jalen Adams v Cincy, AAC Semi-Final, 2016
When Cincy hit the go-ahead three with less than a second left in the AAC semi-finals, all of UConn Nation thought the season was over. But Jalen Adams hit a truly miraculous three-quarter court shot to send this game into its FOURTH OT. UConn went on to win this game and ultimately the AAC Tournament Championship for the first time, giving the Huskies and auto-bid to the NCAA Tournament.
2. Sue Bird v Notre Dame, 2001 BET Final
Bird gets bonus points because she hit not one but TWO buzzer beaters in this game. She hit a half-court shot to end the first half, and then went coast-to-coast off a made free throw to sink a game-winning shot as time expired. I was at this game and it was the loudest I have ever heard Gampel get. We discussed this shot when she appeared on the ADB Podcast.
1. The Shot, NCAA Sweet Sixteen, 1990
Tate George sank the most famous basket in all of UConn lore against Clemson during The Dream Season, and while the next game broke many heart (including 8-year-old Meghan's) this was the shot that sent UConn to the Big Time. Scottie Burrell sent a perfect strike, full-court baseball-throw pass with less than a second on the clock to Tate George, who caught it, turned and shot all in one motion. (Scottie B, as you will remember is the only person to have been drafted in the first round of two professional sports leagues – the NBA AND the MLB.) We've all seen it so many times it's a part of the very fiber of our being. This is where UConn fandom started.
Honorable Mention: Khalid El Amin v Pitt, because we cannot overlook scorers' table jumping.
---
Gregory asks: If you could be any rival's mascot (an orange, a wildcat, etc) which would you be? Keep in mind you'd be actual orange, not guy in costume.
So are we talking actual rivals or just any opposing team? Because UConn's list of actual rivals at this point is pretty much confined to Syracuse and Cincinnati. If we're going with that, then I'll be a bearcat because bearcats don't get eaten and oranges do.
If you want to take a step back and look at Big East rivalry history, things start to get interesting. Do you want to stay a human and be a Friar? No, not this one.
What about a Blue Demon? DePaul was never a rival, but UConn kicked their ass enough that we should feel comfortable using them for whatever the hell we want. I think Blue Demon is the answer. Don't @ me.
Now if we're extending this discussion to ANY collegiate mascot, OH DO I HAVE SOME FUN FOR YOU. Over the past few weeks, I've been running a contest over at my other blog (the one that does content) called the Mid-Major Madness Mascot Melee, where fans vote on their favorite mascots. I identified Yale's Handsome Dan as the No. 1 overall seed, but I do not want to be a bulldog. I love bulldogs and have had them all my life, but that's too many health problems for me to try and deal with. I will pet them instead. Good dogs.
What if I got to be Willie the Wave, instead? Does a wave only exist as long as it is in wave form, or does it exist as long as the water molecules it is made of continue to be water? If it's the latter, I'll be Willie. I get to both live forever (or until the sun boils me) and I don't have to be aware of anything going on around me. I won't care about conference realignment! However, if I only live in the brief moment that I am actually a wave, I'll be THE DREXEL DRAGON THANK YOU VERY MUCH. Let me breathe fire, be a big flying lizard thing, and entertain you on HBO every Sunday night. Sounds like a great life.
---
Hall asks: Best technical fouls ever.
This is a tough exercise to do from memory, since there isn't a lot of compiled data surrounding technical fouls. Since any ranking would probably be ridiculed by someone with a better recollection of games past (we get it, Puneet. Enough.), I'm just going to list some notable ones that come to mind in random order.
The Paper Toss
The Calhoun-to-Ollie transition completes its final phase as KO smacks a stack of papers onto the court at MSG.
The Police Escort
The other notable Ollie technical, following a truly blown call (and a half's worth of awfulness), KO lost his damn mind.
Sellers Smash
It wasn't actually the smashing of Christian Laettner's dumb face that earned Sellers a technical foul, but taunting him afterwards. Worth it.
Three Technicals
The only time I can remember a human earning three technicals in a game, Calhoun got tossed vs. Northeastern and managed to get T'd up again as he left the court.
Can I Kick It?
Calhoun earned a T against Miami for kicking the scorer's table, a legacy-defining moment.
Hurry Back, Jim
George Blaney, filling in for the suspended Calhoun, managed to earn UConn a technical before the team ever took the court against USF. He forgot to give the scorekeepers the Husky lineup and UConn ended up trailing before the game even began.
Donny Marshall, Clap Clap ClapClapClap
Take One For The Team
Rudy Gay allegedly elbowed Washington star Brandon Roy midway through the second half in the teams' Sweet Sixteen matchup. Both players earned technicals in the aftermath, but Washington paid the price. It was Roy's fourth foul and he was forced to the bench for seven minutes as UConn closed an eight point lead and won in overtime. The rest of the tournament was then cancelled.
Maybe I Had Gas
"Calhoun said afterward that while another referee apparently interpreted the laughter as ridiculing Rutecki's foul call, he could have been laughing over anything and added, 'Maybe I had gas.'"