Unified chants of "fuck you, ref" rained onto the Gampel Pavilion court as Kevin Freeman and a uniformed police officer calmly escorted UConn head coach Kevin Ollie from his rightful place on the bench, to the Husky locker room.
There were 13 minutes left in UConn's game against #18 Louisville (16-3, 5-1), but when referee, and star of the show, Mike Stuart called Ollie for consecutive technical fouls, disqualifying Ollie from the contest, one game ended, and another began.
Students had been lined up outside the Gampel Pavilion doors for hours. At around 7:15 pm, they filled their designated sections and were soon joined by the rest of the ticket-holding public. The atmosphere was electric. It was raucous. It was profane, yet playful. And holy hell, was it loud. It was everything that is great about college basketball. Two great programs with storied histories, on national TV, in an on-campus arena bursting with energy, willing a great game to happen in their presence.
For most of the first half, it worked. Every UConn basket ignited the students into a frenzy. The team had highs and lows. DeAndre Daniels spent most of the half on the bench with foul trouble. The Huskies struggled to rebound. Twenty minutes into the game, Louisville had a 34-28 lead.
When the teams emerged from intermission, the crowd again rose, urging UConn to compete. They did, tying the game less than two minutes into the half. Louisville answered with an 10-0 run of their own, highlighted by four UConn fouls in four minutes.
- Advertisement -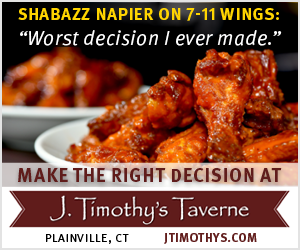 One minute later, the game was over.
There were 13 minutes left on the clock, but Ollie's ejection was a tipping point in which the great atmosphere turned hostile. A game that, barely an hour before, been been a showcase for college basketball's glory, had descended into an unwatchable disaster.
The last 13 minutes of the game felt like a formality. Immediately after Ollie's ejection, two more fouls were called on the Huskies and the frantic crowd's attention had turned squarely towards the referees.
Louisville held off a few half-hearted Husky runs down the stretch, but would end up with a convincing 76-64 victory.
Somewhat obscured by the shockingly poor officiating, was that UConn (14-4, 2-3) really did not play well. Louisville out-rebounded the Huskies 45-30. The Cardinals scored 40 points in the paint to UConn's 20. The Husky offense struggled mightily against Louisville's zone for much of the game, and by the time they seemed to solve it and got to the rim, the game had already escaped them.
Only two UConn players scored in double-figures tonight. Shabazz Napier used 11 free throws (on 13 attempts) to secure a career-high 30 points. His backcourt partner Ryan Boatright added 10, eight of which came in the second half.
After having sat most of the first half, DeAndre Daniels never found his rhythm in the second. His three points marked his second-lowest output of the season, in a game where UConn really needed him to come up big.
Any time referees are being mentioned as part of a story about a basketball game, something has gone wrong. The fact that so many college basketball fans can identify referee Ted Valentine is telling in its own right. But the truth is, UConn was not playing well enough to win the game before Ollie was ejected. And they didn't play well enough to win the game when assistant coach Glen Miller took over for him. The officiating was a big, ugly scar on what should have been a glorious night for UConn and for the sport of college basketball. But even if calls had gone in their favor, UConn can't beat good teams playing like they did on Saturday night.
Notes:
Comments from referee Mike Stuart after the game: "two unsportsmanlike class A technical fouls. The first was reacting to running down the sideline. The second one was coming on the floor to protest the call." If you didn't know that running down the sideline was an offense worthy of a technical foul, you're not the only one. In fact, I would love, LOVE, one of our industrious readers to track that down in the NCAA rulebook.
For his part, Kevin Ollie apologized for losing his composure but wouldn't go so far as to say he deserved to be ejected. "I just thought it was a foul," he said.
Phil Nolan played four minutes in the first half and did not reappear. While not particularly effective in his brief time on the floor, with UConn getting destroyed inside all night, it was odd that he wasn't given a second chance.
UConn is now 0-3 in games starting at 9pm. Anomaly? Or problem?
Not much else to say about this one on the court. Both Lasan Kromah and Niels Giffey played reasonably well. Napier was great. Boatright played well down the stretch. Everyone else had a really bad night.
Up Next:
UConn will take on Temple at the XL Center on Tuesday night. The game is at 7pm on something called CBS Sports Network.