Since you're no doubt missing the steady stream of crazy that departed the UConn football program with Bob Diaco, let us fill that void with our annual preseason roundtable.
Before the Huskies take the field on Thursday, let's dive into some important questions and key predictions that will all be proven wrong. Just like they were in 2015 and 2016.
W/L Record This Year
Kevin Meacham: I've settled on either 3-9 or 7-5 and no other options, depending on the outcome of the Holy Cross game (and whether or not the team stays relatively healthy). Win convincingly and I am all in on The Official Edsall Turnaround 2K17 Bandwagon, And Things. Play another one-possession game with an FCS team (or, god forbid, lose) and it's gonna get real dark around here.
Meghan Bard: 5-7, because that will make me not hate everything and, hey, it's possible
Tyler Wilkinson: I had been treating water around the 3-9 prediction for a good long while. When I saw that Vegas set UConn's win total of 3.5, I started to talk my way into the Huskies finding a fourth win on the schedule. Then I saw the Randy Edsall Burrito Bowl and lost all confidence in anything. 2-10.
- Advertisement -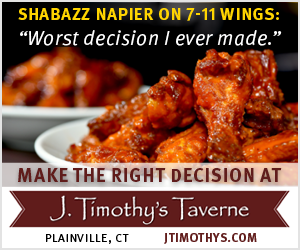 Peter Bard: 8-5, including a bowl win. Come at me. This team is going to surprise everyone. Except for me, because I already know.
Biggest Strength
Meghan: There are adults in charge now, children. The head coach isn't a certifiable insane person, and the coaching staff is populated with people who seem to have been chosen for their job based on their skill in coaching football. So we've got that goin' for us.
Kevin: The passing game. The pieces are there for this to be the most explosive offense UConn's had since 2009, and hopefully Rhett Lashlee can find a way to make it work. The receivers are good, the pass blocking should be better, and I really like what I've seen from David Pindell. Given the pace UConn is planning to play, I don't think 3,000 passing yards (something no UConn team has done since Orlovsky graduated) is out of the question.
Peter: Assistant coaches. Sort of a joke, but the tenor surrounding this team, now that they've invested in some actual coaching talent, has become more positive. That the coaching staff doesn't think much of the players is less encouraging.
Tyler: Having adults watching over the children. Yea, that's a cheap shot at Diaco, but it's also true. The new coaching staff blends experience, uniqueness and excitement in a way that hasn't happened since [link missing because I've deleted all of our old Diaco posts].
Biggest Weakness
Peter: Turns out that these lads may not be all that good at football, unfortunately.
Kevin: The safeties worry me, a lot. If UConn can get more pressure on the quarterback with its front six than they did their front seven last year, that will mitigate a lot of my worries. But I'm going to need some convincing that McAllister and Watkins are up for the full-time job, and Coyle might eventually be good, but he's still a freshman.
Tyler: While Diaco was busy making famous pasta recipes and evading our various FOI requests, he kinda forgot to recruit football players. The result being a lack of depth that could prove problematic this season.
Meghan: I'm still worried about the O line. I'm always worried about the O line.
Breakout Player
Tyler: I gave this answer away in a podcast but it's tight end Tommy Myers. He's skilled and big and finally plays for a coach that knows tight ends are allowed to catch the ball.
Peter: D-Pindy. We've talked ourselves into so many middling talents at QB, but it really feels like this time, it's going to be different. Please let it be different this time.
Meghan:  I'm making a dark horse selection here: Quayvon Skanes. Dope as hell name, starting at WR (and also backing up on punt and kick returns), and with Noel Thomas gone, there are some passes to be caught. I hear our new OC likes to do a thing called "running an offense" and this other thing called "run passing plays," so I have hope that young Q will light up a stat sheet or two.
Kevin: Arkeel Newsome, somehow. He's been UConn's best or second-best offensive player the last two years, and I'm hopeful that Lashlee will understand what he is good at (making people miss in space, catching short passes) and what he is not good at (pounding the ball up the middle). No one deserves a 1,000-yard rushing season more than him.
Offensive MVP
Kevin: Newsome. (Although really if the above comes true, it's probably gonna be The Offensive Line, collectively. Love too wishcast…)
Peter: Arkeel Newsome, the team's most talented and consistent offensive player for some time now.
Meghan: David Pindell, please lord, let it be our QB because he is actually good at football.
Tyler: Newsome's always been my boy and I'm sticking by him. After a career spent playing behind a tissue-paper-thin offensive line, he deserves to go out on a high note.
Defensive MVP
Meghan: Foley Fatukasi. Meach has me completely convinced the season is riding entirely on this young man's ability to not turn into mashed potatoes, so I'm doubling down on Foley.
Kevin: Foley Fatukasi. Arguably the most important player on the defense, Fatukasi has a lot riding on his broad shoulders, and has the size, speed and mentality to be a big deal.
Tyler: Carrezola if he stays healthy and isn't a Carr-a-ful-a-mashed potatoes (nailed it).
Peter: Folorunso Fatukasi, one of the only true impact players on the roster. If this defense is going to be functional, it's going to require Fatukasi to be a hugely disruptive presence up front.
Game you're least looking forward to
Peter: ECU, because then I remember we're in a conference with ECU, plus we'll probably lose.
Kevin: at UCF, Nov. 6. UCF is probably gonna be good, so we can't even really look forward to ConFLiCT jokes (other than my continued plea to Mr. David Benedict to please sell me the ConFLiCT trophy because I would like to have it). UConn hasn't won a road game against a good team in a long time. If UConn's 3-6 or whatever, it will just be a random November game while we wait for [strikethrough]all our basketball players' ligaments to give out[/strikethrough] basketball season to start.
Meghan: USF, because it's the only home game I'm missing this season (ladies camping weekend, whaaaat) and they're giving out an Edsall bobblehead and I'm kinda salty about that.
Tyler: Next Saturday vs. USF. I am mentally prepared for the Huskies to look awful (but win) against Holy Cross this week but getting smashed in Week 2 would be really damaging to the newfound excitement building around the program. I prefer my deflating loss to happen a little later in the season, thank you very much.
Biggest Win of the season
Kevin: Boston College. Pretty please.
Meghan: BC, because if I haul my cookies all the way up to Boston to watch a game in shitass Fenway, UConn had better win.
Tyler: Well…I predicted 2 wins and one is Holy Cross so congrats East Carolina Not a State University.
Peter: ECU
What is your definition of a "good season" this year?
Meghan: Having an offense that actually scores touchdowns and doesn't make me want to cry. Winning games would be a bonus, tbh.
Peter: Winning enough that I don't have to read snide comments from Memphis fans who can't spell.
Tyler: Four or more wins seems like the easiest place to start. More than a big number (so four or greater) in the win column though, I need an offense worth watching. If the team scores a ton of points this year and wins three games, I'll take it.
Kevin: Four wins while UConn averages 24 to 28 points per game. Not that I'd turn down winning more but scoring less. I think we can acknowledge that the program has a long way to go before it can regularly be relied upon to be a bowl team every season. But if Edsall can at least get this team to be entertaining while losing and improving (I'd sign up for a 56-35 loss to USF and you would too, don't lie), I'll take it. It's a tough schedule, and a bowl game isn't an impossible task at all if Pindell is a real deal, but I'm not going to bet on it happening in year one.
Write a Yelp review of the Burrito Bowl
And here's our first look at the Randy Edsall burrito bowl pic.twitter.com/9lbEAKXoxY

— Kevin Vellturo (@kjvellturo) August 29, 2017
Tyler: Served reheated, you can really tell the meat in the bowl has been supremely annoyed by Jeff Hathaway in the past. Despite its appearance, it is technically food.
Kevin: "This would be so much better without the cheese, but at least it's better than the Bob Diaco Bucket Hat Full Of Used Sunflower Seeds."
Peter: It looks like one of the dairy cows fell into a wood chipper.
Meghan: This is people food, yes it is, it is definitely not like anything that I would serve to my cats, nope, not at all.
Player on the roster most likely to play in the NFL
Peter: Fatukasi is probably the only player likely to make the NFL at all.
Meghan: The thing is, it's probably some freshman we don't even know about because Edsall hasn't turned him into an NFL player yet, but, inexplicably, the as-yet-unheralded freshman will surprise everyone, including NFL scouts and all of us.
Kevin: Jamar Summers. He supposedly was being looked at as a second-day NFL Draft pick after his sophomore season, and is now probably looking at a 6th- or 7th-round grade. If he puts up a strong senior year, I don't see why he can't rise back up towards the 3rd or 4th round.
Tyler: Fatukasi
Best Randy Edsall era memory
Kevin: The Jasper Howard speech after winning at Notre Dame is probably the correct answer, but I'll be contrarian and talk about Dave Teggart's game-winner at USF in 2010. UConn football has been a disaster for so long that it's getting harder to recall the relentlessly steady rise the program was on 2007 to 2010. When Teggart booted that 52-yarder to send an admittedly mediocre 7-4 team to the BCS, it felt like the final push of the boulder, a firm declaration that UConn had arrived, a glorious middle finger to rival fans who said for years that UConn could never compete in Division I football. Unfortunately, those rival fans have mostly been proven right since that night. But even after seven years of moral victories and embarrassing losses, I'm still chasing the high I felt as Teggart's kick sailed through the uprights. I'm convinced we'll all feel it again someday.
Tyler: I saw Randy as a basketball game once and yelled "give 'em hell, Randy!" and he looked at me blankly and then continued walking.
Meghan: Randy's first four years at UConn were also my four years at UConn, so we were all still hanging out in Memorial Stadium back then. My most memorable moment was after the final game there when UConn beat Kent State, and we all hopped the fence to rush the field and take down the goal posts, Edsall lead the team off the field as the five-ohs pepper sprayed the students on the field. Good times.
Peter: When he came to marching band practice and told us he was looking forward to spending new year's someplace warm with us and then we went to Detroit.