Welcome to the annual A Dime Back Preseason Roundtable, where our staff gathers 'round to discuss the upcoming season. Today, we take to the gridiron ahead of the Huskies' season opener against Villanova.
First thing's first: predict UConn's final win-loss record this year:
Tyler Wilkinson (founder of A Dime Back): 3-9. This is my realist answer. At this point I'd be pleased with a 4-win effort and thrilled with 5 wins or more. In all honesty, my main hope for this season is to witness marked improvement over last year and to be given more reasons to be optimistic for the future.
Russell Steinberg (football stooge): 4-8. Wins over Villanova, Army, South Florida and Tulane
Meghan Bard (token chick): 4-8. Doubling the win total from last season seems like a decent step in the right direction, and is totally feasible. Fingers crossed, kids.
- Advertisement -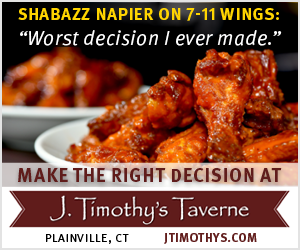 Peter Bard (Kirk King historian): 6-6 (I'm an optimist)
Alex Cohen (Pocdcast producer): 12-0. Bob Diaco told me this would happen, and I admire his gumption…and his hair 🙁 But probably 4-8.
What will be this team's biggest strength and its biggest weakness?
Tyler:
Strength: I'll say running back depth. They have the personnel to run multiple looks and to guard against fatigue. That is if…
Weakness: …the offensive line isn't hot garbage again this year. There are reasons to expect improvement, but until they demonstrate that they can keep the backfield alive, I'll remain skeptical.
Russ:
Strength: The defense. It kept UConn afloat in a lot of games last year and has been a constant strength (relative term) over the last few disastrous seasons.
Weakness: Things that cause losing. Turnovers, penalties, sacks, etc.
Meghan:
Strength: We forget this a lot, but the defense was actually not horrifyingly terrible last year. There are lots of returning players, and if they can get their pass defense to be even sort of good, this might be a bright spot.
The other strength is the coach's piercing blue eyes and general handsomeness. What? Find upsides where you can, folks.
Weakness: That O line, dear god, that O Line. Oof. It can't be worse than last year, because that's literally impossible, but it won't be good.
Peter:
Strength: All-American WR Noel Thomas
Weakness: Coach Sanity
Alex:
Strength: I bet the players can lift a lot of weight. They're probably the strongest people on campus.
Weakness: Having done zero research on anything regarding this season for UConn football, I can say with 100 percent certainty: the quarterback position.
Who will be the breakout player on the roster?
Tyler: I love Arkeel Newsome and I will pick him for this and every award forever.
Russ: Andreas Knappe, who started the final seven games of last year and traveled to media day with Diaco. I mean, just look at him.
Meghan: I hope Newsome has a great season and it turns out to be him, but Tyler already picked him, so I'm going with Zordan Holman. Why? First, awesome name. We (and by we I mean me) decided his nickname will be Zorro. Second, he is a jui jitsu champion and could murderize all of us, so there's that too.
Peter: All-American WR Noel Thomas
Alex: I'm actually legitimately hoping that the breakout person is Diaco. I hope we can see potential in his coaching ability this year, because it was in pretty short supply last year.
How many different quarterbacks will UConn start this season?
Tyler: Should be one but I'm guessing three.
Russ: Just one. Diaco goes with Sherriffs for game one, he excels and they stick with him throughout. Maybe he grows a mullet too.
Meghan: Three. I wish that wasn't my answer but it is. Three.
Peter: 1 (Still an optimist)
Alex: Trick question! Only one quarterback can start the game. It's in the rules of football, silly.
Find one potential upset opportunity on the schedule:
Tyler: October 10th at UCF because you should never bet against UConn winning a trophy — even a made up one.
Russ: East Carolina is very possible. UConn almost got them on the road last year…you never know!
Meghan: I hope it's UCF because I love #trophies. Also, we'll look real dumb if we lose that game after all this nonsense.
Peter: East Carolina
Alex: Villanova. Haven't you seen? We're three-point dogs.
Make up a random rivalry based on any game this season:
Tyler: UConn and Houston will play in the BeyBowl. Winner gets Beyoncé and a commemorative ring that — if you like it — you should put on.
Russ: The Alex Oriakhi Cup vs. Missouri
Meghan: With Tulane, The Party School Bowl. The outcome of the game is irrelevant. Whichever team's fans get the drunkest wins. This will probably happen.
Peter: Cincinnati – The BearDogCatCup
Alex: With Cincinnati. The Both Of Us Hope We Don't Have To Make This A Thing Because Hopefully We Can Escape This Fucking Doldrums Ass Conference Bowl Conflict.