As August days fly past, it's almost time to turn the page of your homemade Bob Diaco pin-up calendar to September, and that can only mean one thing: football season.
Before the Huskies take the field to take on Maine, we thought we'd continue our annual tradition of being wrong about everything with another season preview roundtable.
W/L record this year
Kevin Meacham: 8-5 overall, 4-4 AAC, and a bowl win over Directional Sun Belt University, preparing us all for the true #Diacolypse in 2017.
Meghan Bard: I'm going to say 12-2 because I want to be very positive, and Peter was really spot on last year, but I can't quite see 13 wins. But if he's right and I'm wrong, I'm totally OK with that.
Russ Steinberg: 8-5 (4-4 AAC). A bowl win is obviously included in that 8.
- Advertisement -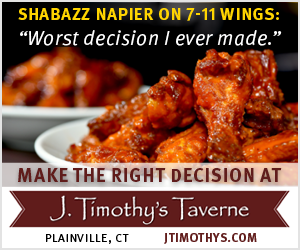 Peter Bard: 13-1, only loss is @Houston (which will be avenged in the AAC championship game)
Tyler Wilkinson: 8-5. Hopefully that eighth win will come in a bowl game played after lunchtime.
---
Biggest strength
Russ: Bob Diaco's good looks. Runner-up: Defense, which good-looking Bob Diaco is good at.
Meghan: Bob Diaco's magical powers (it's really the defense, see: everyone else's answers, but here's an opportunity to think about Bob Diaco).
Tyler: Talent at skill positions. I'm cheating because I think this is the team's most improved strength since Diaco's arrival. While still not where it needs to be long-term, UConn has compiled a downright interesting core on offense of Bryant Shirreffs, Arkeel Newsome, Ron Johnson and Noel Thomas. For the first time in a decade, the team should be fun to watch on the #points side of the ball.
Kevin: If UConn's going to have any kind of success, it will be because their defense lives up to the rather lofty expectations they generated based on last year's performance. The Huskies' strategy of making other teams put together long, precise drives to beat them is clear enough, and kept them in just about every game in 2015. They'll need at least a repeat performance this year, and they have the talent and experience to do so.
Peter: Defense. The front 7 looks great, and the secondary, particularly at the corners, is elite. This team is going to be very hard to pass against.
---
Biggest weakness
Peter: Pass blocking has been the issue with this offensive line, which limits the offense's explosiveness, but if a couple of upgrades on the offensive line work out, that could completely turn around.
Kevin: Depth. UConn was relatively fortunate injury-wise last year, and while there's depth at some positions (most notably LB/DE; and to a lesser extent, on the offensive line), there are still a few spots where an injury could force some young and untested players to play this season. Bryant Shirreffs will hopefully have learned how to slide in the last nine months; there are only two scholarship running backs returning this season; and the replacements for Andrew Adams at safety are an unknown quantity.
Tyler: Color me pessimistic on the offensive line. I do love giant people (see our UCF basketball coverage), but I need to see some tangible on-field results before getting my hopes up for a big step forward from last year.
Meghan: The O line did improve from 2014 to 2015, and I hope against hope it's taken another step, but it's still likely to be the weakest point for the team.
Russ: Selling tickets. Seriously. Buy some now.
---
Breakout player on the roster
Meghan: I'm going to send some love to sophomore Hergy Mayala, who should be starting at wide receiver opposite Noel Thomas. If he has a great season, it means good things have happened for the team.
Peter: Look for Florida State transfer EJ Levenberry to establish himself as one of the best LBs in the league.
Russ: I was told to stay true to my #brand with this, so I'm going to go with Garrett Anderson, who will step up big when Bryant Shirreffs goes down with a horrifying injury.
Tyler: Someone is going to have to step up opposite Thomas and I'm banking on Hergy Mayala. Really, I'm just hopeful I'll get to say and write "Hergy Mayala" a lot this season.
Kevin: Matt Peart. Bob Diaco's eyes lit up when he talked about Matt Peart at Van Diemen's earlier this summer, so I can only assume that Peart will be Earth President by early October.
---
Offensive MVP
Peter: Arkeel Newsome, should lead the league in APY again, and could make some noise nationally.
Kevin: Bryant Shirreffs. Despite playing behind an offensive line that could be charitably described as mediocre, Shirreffs was remarkably productive as a sophomore. The list of UConn's FBS QBs to complete at least 60% and have at least 7.0 yards per attempt over a full season is as follows: Sir Dan Orlovsky, 2004; Cody Endres, 2009; Casey Cochran, 2013; Bryant Shirreffs, 2014. (Cochran only played 8 games in his season, Endres 7.) With a stouter O-line, I think Sherriffs has the ability and the playmakers to have the program's first legitimately good FBS quarterbacking season since 2004, when both the UConn men's and women's basketball teams won nat–
Russ: Ron Johnson because I wanted to say Newsome but I got my answers in too late. Don't let me down, RonJon.
Tyler: Newsome. If the O-line struggles, Diaco will have to get creative on offensive and Newsome is the most versatile weapon available. This year will be his true coming out party.
Meghan: Bryant Sherriffs who will not get hurt this season, no he will not.
---
Defensive MVP
Russ: There will be one game this year where UConn's only points come from a Jamar Summers pick. Like last year, they will win that game.
Meghan: Jamar Summers, who I expect to get interceptions in every game this season.
Kevin: Folo Fatukasi. A legit monster who can stop the run and still hurry the QB (7.5 large human sacks!), Fatukasi's breakout sophomore season made him such a crucial cog in the defense Diaco wants to play. If teams key on Fatukasi, his stats will likely go down, but it will open up tackling lanes and one-on-one matchups for the rest of the front seven. If they don't key on him, he'll hug you until you die. So excited to see him this season.
Peter: Luke Carrezola will be one of the league's best pass rushers.
Tyler: Jamar Summers. Get picks.
---
Game you're looking forward to the least
Kevin: Houston. The only game on the schedule you can pencil in as a 100% loss – a road game on a Thursday night five days after a "prove-yourself" game against Syracuse, against a team that will be very mad that they missed the College Football Playoff because they couldn't beat UConn's backup quarterback. Not ideal.
Tyler: Tulane to close the regular season. Cold, the Saturday after Thanksgiving and Tulane? That's a rough combo.
Peter: Probably @Houston, since that will be our lone loss.
Meghan: Cincy because it's the only home game I'm going to miss and I'm sad about it.
Russ: At USF. Win or lose, that's going to be a terrible game.
---
Biggest win of the season
Meghan: When we beat BC by 60 points in front of an entirely pro-UConn crowd. Fuck BC, is what I'm saying.
Russ: Besides tearing apart some Sun Belt school in a Florida bowl no one watches? Probably the home game against Cincinnati, even though nobody will see it because it's at 11:30 a.m. and isn't televised*.
*I'm making it a new A Dime Back editorial policy to not acknowledge the existence of CBS Sports Network
Kevin: Boston College. Barring games in which a trophy was on the line, no UConn football game has ever meant more psychologically. If you want to be taken seriously, drubbing "The New England Team" on their home field and re-asserting BC's all-encompassing athletic inferiority is a pretty good place to start.
Tyler: at USF, ruining their season and atoning for the no-pass rain game of 2014.
Peter: Cotton Bowl.
---
Make Foley Fatukasi's case for the Piesman in 140 characters or less
Russ: (If you've been living under a rock, this is what the Piesman Trophy is)
By the rules of Twitter, this is 25 characters:
Tyler: Foley Fatukasi forces fumble on flea flicker, flees field for end zone.
Peter: I don't really understand what this means, but Fatukasi has a nose for the ball on defense, and hopefully he scores a couple of TDs this year in big wins over Boston College and Syracuse.
Meghan: Fatukasi has the dopest name and should win all awards because of it.
Kevin: Big man pick up ball and go boom. (On the real, I'm picking Mikal Myers as our Piesman representative for an inexplicable pick-six Halloween weekend at East Carolina).
---
One additional thing UConn should do to improve the fan experience
Meghan: Get the Fishy Tales food truck to bring delicious soul food to the Rent. Also, any opportunity to touch Bob Diaco in a way that is not weird or would not result in people getting arrested.
Tyler: Going to withhold my idea of a doggy daycare/play with dogs tailgating goldmine and offer up golf cart shuttles from the parking lots to the stadium gates. If it was good enough for my grandmother's nursing home, it's good enough for UConn fans.
Kevin: Make it a realistic, down-to-earth experience that's completely off the wall and swarming with magic robots. And you should win things by watching. (Actual answer: other than whatever 3rd down music you prefer, 95% of the music that you hear during a game should come from the marching band. Stop trying to be "cool," stop trying to be a low-rent NFL team, and actually treat it like a college sporting event.)
Peter: Get the food trucks that park on campus during the week to sit next to the parking lot during the tailgate.
Russ: Change Coach Diaco's Playlist to Coach Diaco Karaoke and show videos of him singing during timeouts
---
What would it take for Diaco to give up JFK's fettuccine alfredo recipe?
Kevin: Ye shall ride thine horse in the direction of the setting sun, travelling 90 days hence, and ye shall come acrosse a lakebed. There, ye shall find a lady of magick, who shall direct ye to an impenetrable stone. The legend foretells that only those with true goodness of heart shall be able to extract the fettuccine alfred recipe from the stone. I wish you good tidings and a safe journey, valorous lord!
Peter: The Notre Dame HC job.
Meghan: I don't know, but I will happily find Bob Diaco and ask him about it. Just make sure we've got bail money ready.
Russ: I would probably have to be fired.
Tyler: We will fire Russ before Diaco gives up the recipe. And we will never fire Russ.