UConn's transition to a new 3-3-5 defensive scheme under new defensive coordinator Billy Crocker, formerly of Villanova, at least seems like a smart plan.
One of the hallmarks of Randy Edsall 1.0's recruiting was his ability to find athletes, usually from Florida, and turn them into excellent BCS conference-caliber defensive backs. (Think Darius Butler, Dwayne Gratz, Robert McClain, Blidi-Wreh Wilson, Jasper Howard.) Even UConn's two failed head coaches managed to find some excellent DBs; think Andrew Adams, Obi Melifonwu and Jamar Summers.
Certainly, the pool of good athletes (who can be taught to be very good secondary players) is a lot deeper than the pool of gigantic men who are good athletes (who can be taught to be dominant defensive linemen), but whatever the reason, DB has always been a strength for this program. Just on a theoretical level, a 3-3-5 should put UConn's best defensive players on the field at all times.
And Crocker's defense, much like his offensive counterpart, appears to be a much more exciting (for fans) and engaging (for players) way of playing football. It certainly has been very successful at Villanova in recent years; last season, the Wildcats basically made every other FCS offense look like UConn's offense (h/t Bill Connelly).
Last year, UConn's 3-4 base defense was obsessed with containing opposing offenses. You could see the logic in playing soft coverage, forcing opponents to complete a series of 8-yard plays rather than one 80-yard play, although it was endlessly frustrating to witness. For the most part, last year's UConn defense accomplished their objective, ranking in the top 40 of FBS in allowing plays of 10 yards or more. The team's yards allowed per play was right around the FBS average, a noticeable dropoff from 2015 but still decent.
- Advertisement -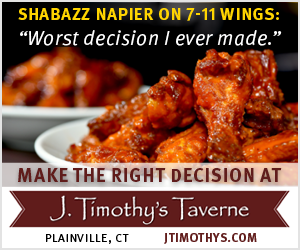 What rendered Diaco's strategy utterly ineffective last year was two things: a lack of a pass rush resulting in just 17 sacks all season, and an inability to force turnovers, just 11 in 12 games. (Well, that and the offense punting the ball back every three plays.)
Bringing on Crocker and his attack-minded system is an encouraging attempt to address both of those issues, while also building a defense around UConn's most likely path of success in recruiting.
Functionally, all the 3-3-5 defense signifies is the trade of a linebacker for an extra safety. That doesn't change much in terms of defending the run, especially if that roving linebacker/safety hybrid is an above-average athlete and tackler (Obi Melifonwu would have been terrific at that spot, I suspect). What the alignment does do, in a league full of spread offenses, is put more speed on the field. That should give the Huskies a little more versatility in pressuring the quarterback and defending 3-, 4- and 5-wide offenses.
With all that being said, the UConn defensive roster in 2017 is one big question mark, the first time in a while that that's been true. On the one hand, it's true that — assuming no injuries against Holy Cross and a speedy recovery by linebacker Vontae Diggs — the starting defensive 11 against USF will include nine seniors, most of whom have been multi-year contributors. But Edsall and co. have a ways to go in terms of depth: UConn's immediate backups are full of underclassmen (including six freshmen) who have played very limited snaps.
Fingers crossed that UConn can get through the season without getting too banged up. If they do, I think UConn has enough talent to force turnovers and hold opponents to fewer than last year's 28 points allowed per game. Combine that with what will hopefully be an improved offense, and you have your recipe for an improbable Year One turnaround for Edsall. That's a big if, however.
To the roster:
Defensive line
Foley Fatukasi has been a valuable player for a couple years now, and now as a ferocious 300-pound senior, he appears ready to be the centerpiece of UConn's all-senior front three. Fatukasi (43 tackles, 2.5 sacks last year) will have the important job of clogging interior running lanes and drawing double teams to free up linebackers to make plays against the run. If he gets his mitts on the occasional running back or quarterback, bonus.
The graduation of fellow large mean guy Mikal Myers means that UConn is going to be noticeably lighter up front; the next heaviest lineman on the two-deep is backup sophomore tackle Kevin Murphy, who's listed at 280 pounds. (Junior Sheridan Lawley, who will probably rotate in at tackle and end, is listed at 275 on the depth chart but 290 on the official roster.) Bigger isn't necessarily better, but Murphy and Lawley surely have to yet to prove themselves immovable enough to fill Fatukasi's large shoes.
The other two senior starters are a pair of solid defensive ends, Luke Carrezola and Cole Ormsby, who were the top two Huskies in the tackles-for-loss category last year with 11.5 and 8, respectively. Both have shown decent playmaking ability, although not consistently enough to expect the defensive line unit to be one of the conference's best. Junior backup end James Atkins didn't play a snap last year, although he was a finalist for the program's Scout Team player of the year award last year.
Defensive line play was far from UConn's biggest problem last year, given that the Huskies were mostly very good against the run (allowing just 3.91 yards per carry, 35th best in the country). The talent is there to maintain that, but it gets dicey if any of the three seniors get hurt.
Linebackers
The injury bug has already bitten what was expected to be UConn's deepest, most senior-heavy unit. Senior E.J. Levenberry, a Florida State transfer who was second on the team in sacks last year (3.5), is likely out for the year after tearing his ACL during spring practice.
Compounding matters was a sprained MCL suffered by another senior projected starter, Vontae Diggs, during summer practice. Thankfully that injury appears to be progressing much better; Diggs could be back as early as Sept. 9 against USF, and certainly no later than the bye week preceeding the Sept. 30 game against SMU.
Diggs and fellow senior linebacker Junior Joseph were two of UConn's highlights on defense last year, both exceeding 80 tackles, and if they're playing beside each other (the depth chart implies that Joseph will start the season as the middle linebacker) it will mean good things.
Joseph is a fringe NFL Draft prospect entering his senior season who can be a hard-hitting beast when defending the run. He's also not a bad pass defender for a middle linebacker.
With Diggs out, the starting outside linebackers for Holy Cross are stalwart senior Cam Stapleton, who has appeared in 34 career games, and redshirt junior Chris Britton, who saw limited action in every game last year.
Stapleton played alongside Luke Carrezola as the defensive end/linebacker in Diaco's defense, and did a serviceable job as an edge-setter and pass-rusher. After losing 10 pounds and concentrating on his duties at LB, I think Stapleton could have a very nice year.
The Huskies' three listed backups are all intriguing; true freshman Darrian Beavers was singled out by Edsall for his high upside; junior Santana Sterling spent his freshman year at Arizona State before transferring to junior college and somehow finding his way to Storrs; and redshirt freshman Eddie Hahn was a three-star athlete recruit, but he will go from being a big defensive back (6-3, 205 pounds) to a very undersized linebacker.
If Joseph plays up to his ability, Diggs comes back healthy and Stapleton breaks through as I expect him to, this could be one of the better linebacking corps in the AAC even without Levenberry.
Defensive backs
One unfortunate thing about the switch to a 3-3-5 is that it probably came a year or two too late for a couple players who would have fit in perfectly (Melifonwu, as mentioned, but also Andrew Adams before him).
Another unfortunate thing is that UConn's roster is perilously thin on defensive backs who have played meaningful snaps in college. Of the 10 DBs listed on UConn's two-deep, six are freshmen or sophomores. The other four, three seniors and a junior, are all starters.
So, I'll be blunt and say that I have no idea what to expect from this group.
The exception to that statement is cornerback Jamar Summers. The senior looks like the best NFL Draft prospect on the roster currently, mostly on the back of an otherworldy sophomore season in which he intercepted 8 passes. He came down to earth last year, intercepting two passes (though he did record 59 tackles and returned a fumble for a touchdown) and occasionally giving up the deep ball, also spending some time at safety. However, his combination of size and speed is ideal for a No. 1 corner, and I'm optimistic he'll put together a terrific season before moving on to be a mid-round draft pick.
His counterpart at corner is fifth-year senior Tre Bell, a Vanderbilt transfer. Bell dropped down the depth chart at Vanderbilt during his junior year, but was the scout team Player of the Year last season while he redshirted.
True freshman Jordan Swann, who Edsall is trusting with the kick- and punt-return duties, will be the third corner, and redshirt freshman Tahj Herring-Wilson will also likely see playing time.
The safety position is definitely a question, as the starters — senior Brice McAllister and junior Anthony Watkins — both played a number of snaps last year alongside Melifonwu, though UConn's best defensive look came when Summers moved to safety and now-graduated John Green took over at corner.
The third starter is redshirt freshman Tyler Coyle, a three-sport star at Windsor High School who is touted to be among the team's best athletes. Coyle has caused Crocker to say "wow" at times in camp, but it seems like it will be a learning process early for him.
The backup safeties are sophomore Marshe Terry, who played limited amount last year, and a couple of true freshmen who I'm very high on, Ian Swenson and Omar Fortt. A Chicago-area native (like teammate Quayvon Skanes), Swenson chose UConn over Iowa State, Louisville, and almost the entire MAC. Fortt is a Connecticut kid whose offer list was slightly less competitive than Swenson's; however, both are big, long and appear to have the necessary speed to be real nice fits at the safety position one day. Given that they've stepped onto campus and into the No. 2 spots, I think they'll get their shot sooner than later.
Tomorrow: the A Dime Back crew joins up for a roundtable of predictions for the season ahead.