Oh, hey, look! While the UConn-Big 12 courtship has long since fizzled out, friend of the site Jon Rothstein dropped a little conference realignment speculation into a recent post that has gotten everyone back on the Abject Insanity Express.
Rothstein's underlying "bold prediction" — that UConn will explore joining a better conference in the offseason — isn't bold at all if you've been following the last decade of salesmanship and supplication in Storrs. UConn is almost certainly exploring that option constantly. The juicier bit is this: "Sources have told FanRag Sports that UConn has consistently looked into joining the Big East as a basketball-only member, as long as it could find another home for its football program."
Let's start with what we know. As part of its Big 12 sales pitch, UConn offered itself up as a football-only expansion option, stating in publicly released documents that it would park the remainder of its sports in the Big East. Presumably, conversations between UConn and the Big East took place prior to the drafting of that document.
To examine this rumor further, however, let's explore, point-by-point.
Why now?
As you know — because you read this site religiously — UConn has a revenue problem. Its students continue to substantially subsidize the athletic department while ticket sales continue to drop (most notably for football). The university is also about to lose one revenue stream entirely when payments from the old Big East schools dry up after this year.
- Advertisement -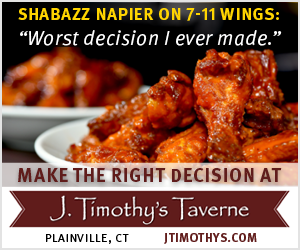 The current AAC television contract has been disastrous for UConn, paying a fraction of what Power Five schools earn, and essentially negating the draw of the unbeatable women's basketball team — who have a proven ability to earn seven-figure television deals on their own.
The easiest way to explain the timing of this current flirtation with the Big East may be as simple as leverage. The current AAC TV deal is up in 2020 — near enough that the league and the networks are likely gearing up for negotiations already. UConn cannot afford to be stuck in another bad TV contract. Commissioner Mike Aresco and the other AAC schools need to know that UConn won't compromise to appease the rest of the league. At the very least, the university needs to take back its Tier III rights, allowing it to negotiate an auxiliary contract for men's and women's basketball games with a regional network (like SNY). The threat of an exit might be enough to extract some concessions from the flyover schools.
Conversely, UConn may be sincere in its desire to join the Big East. In addition to the naming rights payoff money drying up, AAC play — and the constructs of the current television agreement — have sapped UConn's flagship men's basketball program of national visibility. Erratic play on the court has contributed to the impression of some that UConn is a program on the decline.
Why it might be good:
A reunion with the Big East would immediately supercharge UConn's basketball schedule — important from a competitive standpoint, but even more so for marketing and ticket sales purposes. UConn fans have demonstrated a near-limitless appetite to watch the Huskies clash with their formal conference rivals and would almost certainly reward a conference switch with a dramatic increase in season ticket commitments.
UConn would be in a better position to draw revenue from its prized basketball teams on television as well. In addition to the Big East's contract with Fox — which would bring in more money immediately — the university would be in a strong negotiating position to regain control of its women's basketball programming, perhaps renewing the deal with SNY that once brought in over $1 million per year (assuming that Fox would get a right of first refusal, and SNY would play nice with the Big East Digital Network's streaming service). As a bonus, UConn would likely stop getting stuck with the absolute worst times and dates for its games (like, against the AFC Championship Game, for instance). Unlike ESPN, who owns the rights to so many league games that the Huskies rarely rate as a high priority, UConn basketball would be one of Fox's most marketable commodities.
As an added financial bonus for UConn, playing in a superior basketball league would lead to more NCAA Tournament shares — the portion of revenue doled out to conference-mates based on the success of the league in March. Playing in a league with Villanova alone is worth more money to UConn than any combination of their current AAC partners (this could be mitigated slightly if Mick Cronin didn't choke every year).
The Big East is also far more regionally appropriate for UConn, making travel easier and less expensive for the low-revenue sports. The same goes for fans who are more likely to head down Route 6 to Providence than Tulsa to support the Huskies, as well as for the athletes who would spend less time on buses and planes and more time resting or, you know, in class.
Harder to quantify, but equally important, a move to the Big East would represent some positive momentum for a fanbase that has become increasingly cynical and complacent. (who, me?) UConn fans are desperate for something to be excited about, and for a more secure long-term vision for the athletic program.
Why it might be bad:
Did you notice how we made it through the entire "why it might be good section" without mentioning football? That's because it is the biggest question mark, and the only thing that really matters — as you might remember from the entirety of conference realignment.
Moving all non-football sports to the Big East is only an option if UConn can find somewhere for its football team to play. More on this in a moment.
Even if that plan were to succeed, and UConn football had a conference of its own, the Big East would never accept the Huskies into the fold without assurances that they wouldn't bolt for the first Power Five opportunity that came their way. Remember, there's a reason the current Big East schools broke off from the football-centric disaster of the AAC in the first place.
If UConn ends up in the Big East, its chances of finally securing an invite to the ACC or the Big 10 are likely over for good. Not only does that end UConn football's path towards national relevance, it ensures that UConn will always be on the outside looking in as the P5 schools dictate the rules of the road. (It should be noted that this is also the case as long as UConn remains in the AAC.)
The buyout for leaving the AAC currently stands at $10 million — a gigantic sum for a low-revenue conference — and that's with 27 months notice. UConn was more than willing to pay that ransom to escape into a P5 league, but would have to leverage its donor base to come up with the money for a more incremental conference upgrade.
How would it actually work?
There are only four possibilities for this to work, and they all involve finding solutions for football that range from unlikely to no-chance-in-hell. The easiest from a logistical perspective is to leave football where it is in the AAC. Only, why would the AAC allow that to happen? UConn's value to the conference is rooted in its basketball success. Given that the AAC would still need to replace UConn as a member in all non-football sports, there's not a ton of rationale in letting the Huskies stay and join Navy as a football-only member — and even less when the precedent might result in Cincinnati seeking the same deal.
The counterpoint here being: who else are they going to get? UMass (pause for laughter…)? Is maintaining a New England presence valuable enough to look past UConn's current on-field product? Is the conference willing to bet on the Edsall-Lashlee regime turning UConn back into a money-making venture? Maybe.
The more likely scenario is that UConn finds a home in a lesser football conference like the MAC. One roadblock here is that the MAC booted the aforementioned UMass (lol) last year precisely because they didn't want a football-only member. Is the UConn brand strong enough to grant an exception? What if it comes with a guarantee to schedule 2-3 MAC teams in basketball each year? It could work, but don't hold your breath.
That brings us to the the most and least-likely answer — and they are intrinsically linked. UConn can attempt to go independent of any league if it's willing to abandon FBS football if/when that experiment fails. Consider it a hail mary.
To make it work, UConn would have to find a way to build a full schedule every year without the ease of built-in conference opponents. It's possible that Fox would be so enamored with the idea of having UConn in the Big East that it would help cut deals with several of its other football TV partners. More likely, the Huskies would struggle to book 12 games with former conference foes (Syracuse, Boston College), low level regional opponents (UMass, Buffalo, Army), and others — an exercise that may not be worth the effort, or the risk. Without some immediate success under this concept, the team would struggle to recruit and to retain the quality of coaches that athletic director David Benedict has brought in alongside Randy Edsall.
UConn would have a very small window to make that plan work before the only option became abandoning the entire concept of FBS football. Given all that the university has invested in the program — and the state investment in Rentschler Field — it would be politically challenging, and a striking admission of failure, to drop down to FCS.
The takeaway:
Any chance of UConn joining the Big East hinges on finding a suitable home for football. With options limited, and of questionable validity, a move seems unlikely (the ADB staff places the chances anywhere between one and ten percent). The smart money is on UConn staying where it is, leaving its current sports in the AAC.
That would render these rumors (and the leaking of them) as posturing — leverage against the AAC. It's smart. In addition to putting the conference on notice that UConn is unhappy and unwilling to settle for less than it's worth in the next TV contract, it put UConn back in the national conversation for a few days.