2016 was an eventful year for UConn sports, though not often for the right reasons. We had some cool stuff happen (Jalen Adams hit an historic shot; the women won their 284th consecutive national championship; IceBus continues to gas up), but we also saw the men's basketball team struggles through much of last season and all of this one. The football team has reverted back to an embryonic state (can embryos attempt forward passes?) and eventually had to fire the head coach and his staff.
As we finally flip the calendar to 2017, we've made a to-do list for the athletic department. Things they should resolve to do in this new year (there should be a term for this). Let's look program-by-program.
FOOTBALL
In 2016, UConn signed contracts with two head coaches. First, Bob Diaco's hilariously awful extension in May, and then Randy Edsall's comeback tour which was announced last week. Getting a functional adult to man the ship is a good start but the football team has an awful lot of work to do in 2017.
Don't fuck up the coordinator hires
This is the most immediate concern. Accepting that Edsall will be back in Storrs for at least three seasons, it is imperative that he (and David Benedict, who has shown a heavy interest in getting involved in staffing decisions) can find the caliber of assistant coaches necessary to win in the AAC. Fortunately, that was a strong suit of Edsall's in his last stint at UConn.
Getting stuck with a defensive coordinator who can't reignite UConn's secondary, or an offensive coordinator who forgets to practice actual pass plays for the first four weeks of the season, will prevent the Huskies from returning to any form of relevance. They need to get these hires right.
Find a QB, recruit well in general
- Advertisement -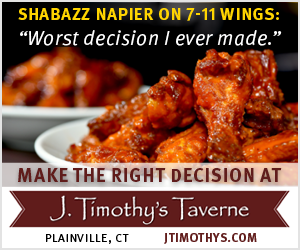 Ever stop to wonder what Edsall's career would look like if Dan Orlovsky had gone somewhere else instead of UConn? While it's unrealistic to expect Edsall and his eventual staff to immediately pull in another NFL-caliber quarterback, they need someone who can come in and run a modern passing offense. This team needs points, but it also needs a star. Having a talented, marketable QB is the fastest way to get both.
Edsall earned his reputation as a developer of unheralded talent, and that will need to remain true. Especially with a roster full of Diaco's recruits, a heavy dose of coach-em-up will be required. But, as Big Meach noted in his cautionary review of Edsall's return, the landscape of recruiting is much different for UConn now than when Edsall left. He needs to find a way to get UConn back in the hunt for legitimate Northeast talent.
Get creative with ticket sales
A lot of folks have taken Edsall's return as an excuse to trot out some old UConn attendance data. In 2004 and 2005, the program sold out every home game. Which is very good, and will absolutely be repeated assuming UConn can build a new stadium and join a new conference before opening day. Otherwise, it's absolutely meaningless.
There are two factors needed to sell tickets to UConn sporting events: a schedule full of name brand opponents and a Husky team that can beat them. UConn will have neither this upcoming season. It's possible Edsall's return will drum up enough interest to recover some of the 14,000 game attendees that have stopped showing up since he left in 2011, but not all of them. Benedict and the department (and the Aspire Group, if they're still around after a disastrous showing in 2016) are going to have to get very creative in filling the Rent. Much was made of the new "gameday experience" this year, and it was not even close to enough to stem the bleeding of UConn's attendance loss. They need to do better in 2017.
MEN'S BASKETBALL
The men's team has been ravaged by injuries, to the point where they absolutely did not lose at home to Wagner and Northeastern with their full roster. You may have a memory of those things happening, but nope. Considering this season is all but lost already, how can the program move forward in 2017?
Priority One: fuck the world up in Hartford
It's a new year, let's dream big. While this team has absolutely no chance of making the NCAA Tournament based on their regular season performance, there is one gigantic shot at redemption waiting for them at the end of their schedule, the AAC Tournament in Hartford.
Despite the current standings, UConn shouldn't finish in last place in the conference. Instead, a much more "respectable" eighth place seems about right (thanks for being you, Tulane, USF and ECU). That would give them a one-game tuneup against a fellow bottom-dweller, followed by a matchup with the one-seed. You think Cincinnati (who has never beaten UConn in the AAC Tournament) is eager to face the wounded Huskies in that situation? Probably not since Cincinnati has never beaten UConn in the AAC Tournament.
Win that game, feed off Mick Cronin's hot, naked anger, then win two more games and go dancing. Easy.
Priority Two: develop the guys that are coming back
Ok, if that plan doesn't work then it's imperative UConn spend the last three months of its season preparing its young players for a big bounce-back year. This includes Jalen Adams, who could blossom into one of the best players in the country next year if given additional tools for improvement (specifically on defense) and an improved supporting cast.
Freshmen Christian Vital and Vance Jackson have had impressive moments this year, but have also spent much of the time looking like, well, freshmen. Experience is important, but given the low stakes of the remaining schedule, Kevin Ollie and his staff should focus that experience, putting each in a position to learn — through trial and a lot of error — what it will take for them to be successful next year and into the future. For Vital, that means improving his point guard skills. He should stop launching four threes per game and instead work on his ball-handling and facilitating. Jackson actually probably should keep launching threes. He's been the worst three-point shooter in the AAC this year (27.6 percent, min. 50 attempts). The Huskies might as well let him get all of his misses out of the way now and hope an offseason of personalized instruction (Ray Allen has free time, just sayin') can pay off next season.
Similarly, Steve Enoch has shown flashes of downright usefulness in the post this year. He displays a nice touch near the rim and some natural rebounding instincts, but he is still adjusting to the speed of the college game. Per-40 minutes, Enoch is averaging 6.8 fouls. That is a lot (five is the per-game limit, you see). Ollie and whoever UConn's big man coach is these days need to train Enoch to control his body better and let him play 20 minutes a game until he figures it out or fouls out.
Reevaluate assistant coaches
Recently, there's been a lot of chatter about Kevin Ollie's seat and its temperature. Some look at his teams' regular season underachievement, questionable development of several high-potential players and this year's soufflé of awful and question if the time for a change of leadership might be upcoming. Others view his improbable and impassioned run to a national championship in 2014 as a permanent get-out-of-jail-free card.
Both of those takes have varying levels of validity to them but ignore the basic fact that Ollie is likely one of the best 30-35 coaches in America. That's not a super easy pill to swallow for many fans following the tenure of Jim Calhoun (who was no worse than the fourth best coach in country for the final 20 years of his career), but is perfectly fine considering: UConn has other structural advantages that should keep them a top-20 caliber team; Ollie is still a young coach and should continue to improve; and the parts of his repertoire that are lacking should be easily handled by quality assistant coaching.
We've discussed this topic ad nauseam in the past. Essentially, Ollie is a great defensive coach, has shown an ability to compete for top recruits and land other impressive four-star players. He also provides a huge narrative boost in that his very presence on the sideline is a reminder that UConn is historically badass. Bonus points for #culture, having deep connections to famous and important alumni and keeping his players on the straight and narrow.
The areas where he lacks — offensive game-planning, big man coaching, set play design — could be alleviated with one or two strategic hires. Once UConn gets all of those skill sets on the same bench, there's no reason the Huskies can't return to their perennial title-contender status. They should start in 2017.
Fill the roster
This year is riddled with extreme circumstances, but it's not the first time that injuries or performance issues have rendered the team devoid of depth. In each case, the Huskies had unused scholarships. That is a practice that should end. This is easier said than done. Scholarships are (in theory at least) a four-year commitment, and quality players aren't going to be super pumped to come to UConn to be the fifth guy off the bench while they bide their time for a shot at the starting lineup. Conversely, taking a low-quality recruit onto the roster to mitigate depth issues one year could end up sabotaging you if there isn't enough space for a better recruit a year or two in the future.
Still, those risks are minimal compared to the alternative — which UConn fans are currently living through in the form of losses to Tulsa. No more unused scholarships.
Give Brimah, Purvis, Facey something good on the way out
Although each has had his ups and downs in their UConn careers, Amida Brimah, Rodney Purvis and Kentan Facey deserve much better than this season. Each has been a model citizen, admirably representing the university off the court. Facey has blossomed this season, rewarding fans with a glimpse of his superior rebounding ability. Purvis stepped up big in the 2015 AAC Tournament when Ryan Boatright got hurt, almost willing UConn to a trophy. A year later, he was the Huskies best player in their abbreviated tournament run. Brimah will finish his UConn career in third place on the all-time blocked shots list, and his three-point play against St. Joseph's in 2014 was the catalyst that propelled the Huskies to their surprise national championship. Shabazz Napier's legacy looks a lot different without Amida Brimah.
In 2017, as their collegiate careers come to an end, UConn should give them something good to go out on. If not an AAC Tournament trophy, maybe that means a few more signature wins (Cuse at MSG was a nice start). Something like knocking SMU out of the tourney, or beating Cincy at home on Senior Day.
WOMEN'S BASKETBALL
2016 was actually pretty damn dope for the UConn women. They didn't lose a single game. Hard to get much better than that. Here's what they should do in 2017.
Keep everyone healthy
The one WBB depressing note in 2016 was when Katie Lou Samuelson got injured in the Final Four, missing the chance to play in the final game of the season on the biggest stage. This year's squad needs to avoid a similar setback, not only because it sucks when someone gets injured, but because they lack the depth of last year's team. The Huskies have four truly irreplaceable players — Samuelson, Napheesa Collier, Kia Nurse and Gabby Williams. Keeping them all healthy could be the difference between a trophy or a sad plane ride home from Dallas.
Keep winning
The Huskies win steak is now up to 88 games. No reason to stop now. Goal for 2017: don't lose. Some people still don't seem to get that UConn is the greatest and Geno Auriemma is their one true god. Maybe a few more throat-crushing beatdowns will convince them.
Buy Geno an international airport
Geno could use an international airport.