Did you enjoy The Jalen Adams Game?
We're going to struggle through this recap because we've gone from overdosing on pure fear and adrenaline for three hours to whiskey – victory whiskey.
UConn outlasted Cincinnati on Friday in a four-overtime classic that featured heroics from both teams. Of course, there's one indelible moment that will tattoo this game in everyone's memory.
Yeah, that.
- Advertisement -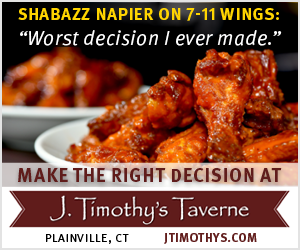 Jalen Adam's last-second heave to force the fourth and final overtime is instantly iconic. Well aware of the bias of immediacy, I'm still safely calling it one of the five biggest shots in the program's history (it's A Dime Back, of course we'll do a list at some point). Not only did the shot keep UConn in the game, but it may have saved their season.
Had the Huskies lost they would likely be on the outside looking in come Selection Sunday. Friday's win provides reason for optimism. Having their highlights running constantly on ESPN for the next 18 hours can't hurt either. At last check, Joe Lunardi (the Bracketolist-of-record) has UConn in the field.
Just as important, the Huskies displayed a quality on Friday that they've been missing all year: resiliency. UConn looked terrible in the first half. They trailed by as many as 13 — nine at the break. I'd give you some half-by-half statistics but the multitude of overtimes appears to have broken the AAC's stats website. Suffice it to say, it was ugly.
Rodney Purvis earned the start (as did Phil Nolan because guts). He responded by keeping UConn in the game as Shonn Miller got into immediate foul trouble and Sterling Gibbs and Daniel Hamilton struggled to find their shots.
In another rarity, the Huskies made successful adjustments at the half.
UConn clamped down on Cincy's three-point shooters and ran a shockingly efficient offense. Back on the court, Miller dominated for a stretch and Daniel Hamilton got in a groove. Each scored ten points in the second half. Unfortunately, a Hamilton three with 4:38 remaining, and UConn up seven, would be the team's last field goal of the half as Cincy tied the game, sending it to the first overtime.
Hamilton scored all five of UConn's points in that period. It ended with a weird set play for Gibbs in which he missed a contested three.
In the second overtime, Cincy managed to get their lead up to four (which felt gigantic at the time). Amida Brimah — who managed to stay out of foul trouble — slammed home a dunk off an assist from Hamilton and put back a miss by Adams to keep the Huskies in the game. Following a Troy Caupain layup with 14 seconds left, Adams would pull off his first magic trick, knocking down a tough driving layup to tie the game up.
We know how the third overtime ended, but it began with a huge three from Gibbs and a fast break layup by Purvis. In a 60 minute game, everyone needs to contribute, and the Huskies managed to pull big plays from all of their important players down the stretch.
In the final period, Hamilton knocked down two jumpers and the Huskies made all eight of their free throw attempts to mercifully end the game and secure a spot in the AAC semifinals Saturday against Temple.
Five Huskies played more than 40 minutes on Friday. Hamilton led them all with 55, followed closely by Gibbs with 54. Hamilton had a super-sized JCDH stat line with 32 points, 12 rebounds and eight assists. Adams scored 22 to accompany eight rebounds. Gibbs, Purvis, Miller and Brimah also scored in double-figures.
Hamilton was probably UConn's best player on Friday, but when people discuss this game for years to come, the first name mentioned will be Adams'. Not only did he knock down one of the most incredible shots we've ever seen, but he came up big time and time again in the overtime periods. Adams has displayed supreme talent at times this season, but Friday's game felt like his coming-out party; the moment when the world became aware of the next UConn superstar.
It will be interesting to see how well UConn can recover for Saturday's game. Temple didn't get much of a fight from South Florida in their quarterfinal matchup. They will be relatively fresh, and as you probably recall, have already defeated a well-rested UConn team twice this season.
We've seen past UConn teams use transcendent tournament moments to vault themselves into improbable strings of victories, and the occasional championship. Can this team do the same? We'll see. In the meantime, enjoy your victory whiskey and tell people where you were for The Jalen Adams Game.