Hi, and welcome to Ranked Week. It's the time of year where we manufacture content to generate page views during a typically dead part of the UConn sports calendar.
Today we're going to be backing you down in the block with a list of the ten best centers to wear a UConn jersey (since 1987 or so). In an effort to keep Rebecca Lobo from being #1 on every list this week, we're calling her a forward.
[If you have requests for #RankedWeek, tweet them at us or use the contact form.]
10 (tie.) Amida Brimah & Kiah Stokes
Both shot-blocking extraordinaires. Brimah was the better scorer (slightly), Stokes the better rebounder. Both played key roles on championship teams.
9. Hilton Armstrong
Was the Big East's Defensive Player of the Year in 2006, blocking over three shots-per-game, after three unnoteworthy years as a role player. His biggest accomplishment (other than sneaking into the NBA Draft Lottery) is being the go-to comparison for every junior big man who "could make the leap this year."
8. Jake Voskuhl
- Advertisement -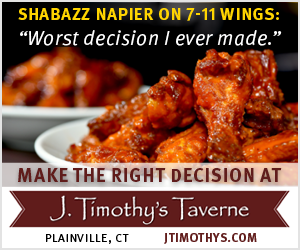 Voskuhl was pretty. He fouled people. He set hard screens. And he ruined Elton Brand's college career. He averaged over six points and six rebounds in his career that culminated with UConn's first national championship.
7. Travis Knight
Knight's play was overshadowed by his starring teammates like Donyell Marshall and Ray Allen, but his play was strong enough to nearly average a double-double in 1996. Recently, Knight was a hot topic on social media as at least one award-winning twitter account briefly made #TalkAboutTravis the most important hashtag in America.
6. Stefanie Dolson
One of only six UConn women's players to have at least 1,000 points and 1,000 rebounds in their career. Dolson was the first AAC Defensive Player of the Year. She is generally delightful.
5. Cliff Robinson
The OG of this list, Robinson averaged 18.6 points and 7.2 rebounds from his sophomore through his senior year. Only two other UConn players in the last 30 years have averaged at least 20 points and seven rebounds in a season: Donyell Marshall and Caron Butler.
4. Hasheem Thabeet
An ineffective NBA career has hurt his legacy, but Thabeet was dominant on defense during his UConn career, and blossomed into an offensive weapon, earning Big East Player of the Year honors in 2009. He led the conference in blocks in each of his three seasons and was second in the nation in 2009.
3. Kara Wolters
Wolters averaged 15.6 points and 8.7 rebounds during her UConn career. Alongside Rebecca Lobo, the "Twins Towers" guided the Huskies to an undefeated season in 1995. Wolters was the AP National Player of the Year in 1997. She missed only 58 shots from the floor that year, and had 96 blocks.
2. Tina Charles
Charles is the best rebounder in UConn history and, at one point, held the school's all-time scoring and rebounding records simultaneously (her teammate Maya Moore eventually blew past her in the former category). Charles was the consensus national player of the year in 2010 and won two championships during her career.
1. Emeka Okafor
Okafor's 2004 is one of the greatest individual seasons in UConn history. He averaged 17.6 points, 11.5 rebounds and 4.1 blocks per game. He was the Big East Player of the Year, a consensus All-American, and the NCAA Tournament's Most Outstanding Player. He led the nation in blocks as a junior and in rebounds as a senior. Okafor was one of the most dominant players to wear a UConn jersey.