Stop watching Gabby Williams' Instagram Live feed and start reading this mailbag.
Remember: If your question wasn't answered or you've been living under a rock and are just hearing about this, you can submit your questions here or on Twitter (@ADimeBack).
---
Storrs South asks: in most sports, successful assistants tend to leave for head coaching positions; any thoughts on how Geno has kept CD in Storrs?
My initial reaction was: money. Dailey is getting paid $245k to be Geno's second-in-command — a sizable salary for an assistant, tabulated before the outside income she can secure as a Connecticut celebrity (Glen Miller is the men's highest-paid assistant at $267k to answer your inevitable follow-up). Yet, with Dailey's remarkable resume, she could be making a lot more cash as a head coach elsewhere. Tournament-level programs are now paying their head coaches in the $650k – $1M/yr range, and it's hard to believe they wouldn't have interest in the most successful assistant in women's college basketball history. So if not the cash, then what? "I've learned as I've gotten older that there is nothing wrong with being happy where you are," Dailey told the Associated Press in 2015. "And I'm happy." CD's relationship with Geno has always been more partner than employee. Her fingerprints are all over UConn's decades-long dynasty and history will remember her as a great coach regardless of job title.
---
Bob asks: For those who complain abt Geno getting the best hschool players, how have the #1 recruiting classes done, vs UConn, since 1995?
- Advertisement -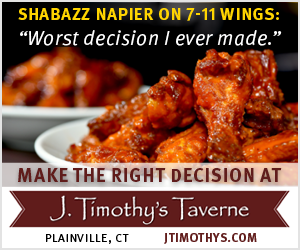 Because the sports world at large is still really bad at caring about women's sports, the top recruiting class info going back that far is really hard to track down. In fact, I only managed to find the info beginning with the 2009-10 season. (If anyone has sources going back further, let me know and I can update.)
In the past eight years, UConn has had the top-ranked recruiting class only once (hi!) in 2012 — though they will almost certainly have the number one class heading into next season. The Huskies have gone 7-2 against the other #1 classes (exclusively Duke and Baylor). They also went 2-0 against the Texas A&M team that ranked second in 2012. And they play Maryland in two weeks who has this year's #1 class, so stay tuned. To backup the point that Bob was getting at, Geno is just much better than everyone else.
---
Jared asks: given what you've seen of the team so far…predict each game in AAC play
KenPom predicts the Huskies (we're talking MBB here, btw) to go 10-8 in conference and that feels about right. The AAC is not very good this year, but unfortunately that includes UConn. As witnessed in the Huskies' upset win over Syracuse, they're still capable of hanging an L on a better team. I think they'll get Cincy or SMU at least once (Cincy on senior day would be ideal). I figure they'll split with two of Temple, Houston and Memphis (now that they have an adult coach) and lose twice to the third. If there's a bonus WTF loss in conference, it might come from UCF (stop laughing). Sure, they just got their brains beat in by George Washington, but they play defense and have the *best player in America on their roster in actual giant Tacko Fall (*ignore the asterisk, this is a damn fact). If UConn loses to ECU, Tulane, Tulsa or USF we can pool our funds to get a great deal on bleach in bulk. Cheers!