America gathered 'round its smartphones Monday night as UConn women's basketball stars Gabby Williams and Katie Lou Samuelson blessed us with a two-person Instagram Live Panel of Wokeness, where they covered topics from coffee, to Ben Simmons, to the election.
Russ and Meghan happened to tune in to this spectacle and, well, they have questions. The following is their conversation, which took place this morning in the A Dime Back Slack room.
Meghan: Yo
Russ: yo
Meghan :Let's talk about Gabby
I know you have questions
I have questions
- Advertisement -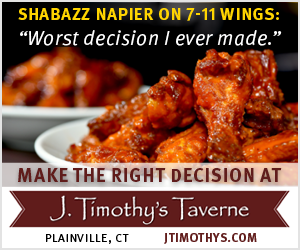 Russ: Anyone who watched that has questions
but it was amazing
Meghan: It was just delightful
Russ: I think the biggest takeaway from the whole experience was the Rubik's Cube revelation
But I guess my first question is: Is that true? Can Gabby really solve a Rubik's Cube in under 90 seconds?
Meghan: I have never solved a Rubik's Cube in my life, but I want to see Gabby solve one
Russ: Same
though i have come close
Meghan: I am always blown away by people who can do them
Russ: there's gotta be some sort of trick that we don't know that makes them insanely easy
Meghan: GABBY WHAT IS YOUR SECRET
Russ: I thought it was a little suspicious that she conveniently couldn't find the Rubik's cube
Meghan: #rubiksgate
Here's my question
I know there's an in-season Twitter ban
Is there special IG dispensation?
Russ: The ban is only Twitter specific, and even then, we know it only applies to sending out-going tweets
(we know this because Stewie and Lou both fav'd us on Twitter during the season last year)
Meghan: I, for one, am very glad that IG is allowed
Russ: same
because it allowed for last night
Meghan: Russ, how do you pronounce "Nevada"?
Do you pronounce it the Gabby way?
Russ: I'm #TeamLou on this
Nuh vah duh
not nevaaaaaaaaaada
like a sheep
Meghan: I also am #TeamLou. Also, I just got a new phone, so I really don't want to have to throw it
Russ: was that when gabby said to throw your phone or was it if you liked Starbucks over DD? Because I'll fight her on that.
Meghan: Think it was Nevada
Though I do like Starbucks more than DD
DD is fine
Starbucks is better
Russ: I'll allow you to say DD is fine
Meghan: (Sarah's Coffee in Hartford and Silk City in Manchester the best)
Russ: I'll take your word for that
Meghan: DD is there
It is always available
They give you caffeine for American dollars
It's fine
Russ: I go to both Starbuck and DD, but DD is the GOAT in my mind
Meghan: I like an espresso beverage
(Secret shame, tho, is I get McDonald's coffee a lot because it is good and v cheap)
Russ: I never liked McDonald's coffee. I don't even know why.
Meghan: It's different now
It used to be terrible
Russ: DD I like because everything basically tastes like a candy bar
Meghan: That is true
I like my coffee to taste like coffee
Russ: i'm a child
Meghan: We know
Here's another question
Where were Kia and Napheesa?
Because I just assume Gabby and Kia, and Pheesa and Lou are always together
Russ: I found it stranger that so many people were asking that and that some people thought Gabby was Kia
Meghan: How do you mix up Gabby and Kia?
That's dumb
Russ: Someone asked Gabby if she was Canadian
But it's finals week, so we can assume Napheesa and Kia were being responsible students
Meghan: Oh right
People study in college
That's a thing
Russ: And we can assume that Lou and Gabby are in some weird social media class and were using us as subjects in some sort of final project
Meghan: God I hope that's true
Russ: I'd be honored
Meghan: Same
Do you feel more woke after having watched?
because I know I do
Russ: i was just about to ask you that
i'm woke af now
Meghan: Gabby's mere presence inspires woke af-ness
Russ: I liked when she showed us her black santas
Meghan: I need some black santas
Russ: Question: why is the one Halloween sign still up?
Meghan: I missed that!
Russ: it was hanging on the wall, I think behind Lou. They got it for a second before the christmas tree and black santas
It seemed out of place but maybe it's some really woke sign that i'm not woke enough to understand
Meghan: Maybe they just really dig Halloween
My keen senses told me that was the Hilltop Apartments (I'm like 85% sure)
Russ: Since I did not go to UConn, I'll trust you on that
As a Connecticut native, however, I will say that I didn't like how much they shat on CT
justified though it was
Meghan: It has its charms, but you gotta know what you're looking for
Though Storrs is way less boring now than when I was there
Russ: Gabby kept calling it Snores!
Meghan: young people don't know how good they have it
(Get off my lawn!)
Russ: I have a question
What makes Sparks, Nevada so darn special?
Meghan: I just assume Nevada is desert, Vegas and scorpions so I got nothin'
Russ: (Gabby, if you read this, please comment below. thx)
Oh so I had a question actually answered by them, but I think we need to discuss it
I asked if they knew Geno's height, and KLS said he's 5'4. I know she wasn't being serious, but as a short person who has stood next to him in an elevator, I must say that's not an outlandish guess.
I'd peg him at around 5'7 but was wondering if you had any insight
(Google Geno Auriemma height and it says he's 6'1 and I can't stop laughing)
Meghan: uploaded an image: Here is a pic of me standing next to Geno
I am 5'8″
So 5'7″ about right
Russ: Mick Cronin is google listed at 5'7 and I'm a little skeptical about that too
Just thought it was worth noting
Meghan: I feel like we should invite Gabby to come on our podcast to get everyone woke af
Russ: We're already woke, but our audience could use a real wokening up. Oh here's a question
Speaking of wokeness
She alluded a couple times to how much she was dreading inauguration day. Will politics in January somehow cause her or another player to break the Twitter ban?
Meghan: Ooooh good question
I too am dreading the day Obama is no longer our president and the melting orange creamsicle is. And then the Russian overlords.
Russ: I'd be ok with it if our Russian overlord ended up being Svetlana Abrosimova
Maybe that's Trump's end game, in which case i'm fine with it
Meghan: Yeah, that's good
Russ: Were you there for the Ben Simmons thing?
Meghan: Yes, and I was dying
Russ: who was that?
Meghan: I'm not sure. But the questions people were asking cracked me up
Russ: I liked that Kyla Irwin made an appearance
Meghan: Me too
Russ: I couldn't tell if she was joking about the crocodile hunter thing
Meghan: unclear
I want to know when the next episode is going to be
Russ: I would like for them to leave the apartment in the next episode and spread their joy around campus
maybe jonathan can be in it
Meghan: Ooh yes
Or live from the Dairy bar
Russ: Or Live with Jonathan from the Dairy Bar
Meghan: That's a winner
Russ: Let's make sure Tyler posts this on IG so they can see it. We need answers.
Anyway, I have a meeting. Think we BS'd enough to post?
Meghan: yup