A few days late – had to give that diva Big Meach room to shine – we're back in your face for a special Monday Mailbag.
Remember: If your question wasn't answered or you've been living under a rock and are just hearing about this, you can submit your questions here or on Twitter (@ADimeBack).
---
Two-fer!
Mark asks: knowing what you know right now, tell me the men's starting lineup next year
Chris asks: any updates on Justin Jackson?
- Advertisement -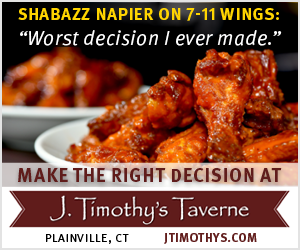 Well, at the moment, my guess would be (assuming Brimah returns) that Adams, Purvis, and Brimah are lock starters, and Larrier is probably close to being one as well. The only spot that leaves is power forward. With Juwan Durham coming off two knee injuries and Mamadou Diarra probably too raw to start as a freshman, Kentan Facey would appear to be the favorite for that spot, unless Kevin Ollie manages to snag UNLV decommit Justin Jackson, in which case he would be the likely starter.
As far as that goes, there was a lot of positive UConn buzz around Jackson late last week and early this week, but we haven't heard much since Monday or Tuesday, and several Oregon insiders seem to think the Ducks are the favorites to land him. He should be deciding soon, but it sounds like most of the external factors are pushing Oregon, even though Jackson himself may prefer UConn. Hopefully he sticks to his guns on this one.
---
Jon asks: is it realistic to think that next season's men's basketball team will be better than last season's team?
It's realistic, sure, though I wouldn't label it a certainty. Assuming Brimah returns, next year's squad should be deeper – especially if they can find another useful piece like Jackson before the season begins.
But they will also have lost 60 percent of their starting lineup and a ton of talent. As we saw this past year, it can be a slow and arduous process to build up the on-court cohesiveness needed to make a deep run. I'm pretty excited to see what an Adams/Purvis backcourt looks like with a full season together under their belts, but for the team to exceed their performance during the 2015-16 season, they'll need a few freshmen to step up. That's always somewhat of a scary proposition.
---
Jon again asks: of the sports for which UConn has never won a national championship, rank them by most likely to win one in the near future
1. Women's soccer
2. Hockey
3. Baseball
4. Women's Lacrosse
5. Football