The thing about meeting Bob Diaco in person is that it's impossible to tell whether you're dealing with an incredibly polished salesman, or the truest true believer who sincerely says things like "Love is on the rise!" to sell UConn football to cynical 20- and 30-somethings in a bar.
The answer is probably "both," but the real gift of Bob Diaco, Human Billboard for UConn Football, is that you really don't care either way.
A night after entertaining fans at a bar in Hartford, Diaco was in the heart of UConn Country Wednesday night, charming between 150 and 8,406,000 denizens of the Sixth Borough in Midtown Manhattan. He bounced around the room in a majestic maroon sportscoat, his hair feathered and long like the world's mightiest lion, his answers to our questions simultaneously well-rehearsed and mind-alteringly believable.
He's touring the major cities of UConn nation (and Branford?) this spring, a goodwill tour that is absolutely necessary for a program with talent on the roster but few household names, a program with only six seasons above-.500 out of 16 at the FBS level, the last of which was six years ago. Thankfully, the UConn athletic department has realized that Diaco can be that household name, a face everyone recognizes (one that also makes men and women weak-kneed) and a rallying point for a moribund program on the rise.
At Van Diemen's, Diaco seemed to blend into each group he spoke with, everyone hanging on his every word, and genuinely interested in talking about football and/or haircuts. He raved about an offensive line that averages 307 pounds (290 including tight ends) and the smash-mouth style of football he wants to play. He told our group that Matt Peart would be a beast on the O-line and a future NFL Draft pick. He named several impressive incoming freshmen who will be impact players here, but that, unlike in past years, almost none of the frosh would play in 2016 because of how far the upperclassmen in the program have progressed. He was on point with every "UConn!" "Husky!" chant. He yelled out the 2016 schedule in a way that makes me want to punch September in the face. He is aware that Syracuse delenda est.
- Advertisement -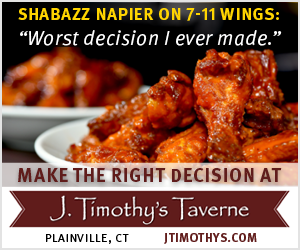 Diaco's personal magnetism – and the contract extension he signed keeping him here until 2020 – makes you believe he's 100 percent sincere in his love of UConn and his goal to build a championship-level program that can succeed over the long haul, in a way that neither Randy Edsall nor The Cryptkeeper were. (Yes, I know he'd bolt for Iowa or Notre Dame if they offered. Still: shut up.) The results on the field have been credible enough: though he hasn't yet had a winning season, his two losing seasons have felt like building years that will pay off soon, the way those occasional NIT years under Jim Calhoun were.
The team sucked out loud in 2014, though (mostly) on purpose, as untested and overmatched freshmen and sophomores picked up experience and the debris of the P—–loni era was cleaned up. The team was thoroughly mediocre in 2015, but that's a cause for celebration around here lately; an unexpected bowl trip, following a win over otherwise-undefeated Houston that ranks as the most- or second-most impressive win in program history (it's either that or at Louisville in 2012), makes it feel like Diaco's program is even ahead of his ambitious schedule. It was arguably the most successful 6-7 season in college football history – at any rate, that much progress makes UConn football, I'm sure to the relief of the athletic marketing office, an easier sell to the fanbase.
The Houston win and the bowl appearance have earned Diaco a fair amount of faith, along with real, live expectations for the very first time (8-4 or bust!). The timing is fortuitous: the 2016 Huskies are loaded with experienced starters, two years of playing underclassmen bearing fruit with a team of juniors and seniors with built-up continuity. There's a very good defense here – and a very good defensive scheme – paired with an offense good enough to win a lot of football games the moment it receives competent line play, led by a quarterback who performed to an average FBS level as a sophomore (a milestone for a post-Orlovsky UConn QB).
The signs are there, if you pay attention. It's a good time for reluctant UConn fans to jump on the football bandwagon, with the impossibly handsome and charismatic coach leading the program back on a positive track, and with conference realignment making it imperative for us to support the only sport that the other, dumber, parts of the country care about. At this moment, 10 weeks before the players report back for training camp, there's every reason to believe in a better future for UConn football.
I guess what I'm trying to say is, love is on the rise. Now let's go run through a wall.