A decade ago, UConn owned the NBA. Ray Allen, Caron Butler and Rip Hamilton made the 2007 All-Star team (UConn having the most representatives other than "no college"). Ben Gordon was scoring over 20 points per game. Rudy Gay made the All-Rookie first team. Emeka Okafor was third in the league in blocks and sixth in rebounds, averaging a double-double.
Cliff Robinson played his final NBA season that year, Josh Boone, Marcus Williams and Hilton Armstrong their first. Charlie Villanueva averaged 11.8 points for the Bucks.
14 former Huskies took the court for an NBA team in 2007, the highest total in the program's history. It was the second in a string of ten consecutive years in which ten or more UConn alums played in the league. Their presence amplifying, and serving as a near-constant reminder of their college's basketball dominance.
Those numbers have thinned markedly over the past few seasons. Hamilton retired. Allen kinda/sorta/maybe did as well. Four of the players to enter the league since 2007 (Jerome Dyson, Hasheem Thabeet, AJ Price, Jeff Adrien) are no longer active. Butler, Villanueva, Okafor and Gordon are also in no-man's land: not retired but unemployed.
As the 2016-17 tips this week, only five Huskies remain on NBA rosters, the lowest total in over two decades.
- Advertisement -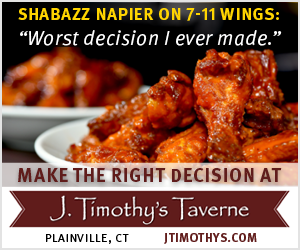 This could just be a blip on the radar; a result of the players from the golden era of UConn aging out of the league, making way for the next wave. But it's also problematic.
Not that readers of this site need to be reminded, but with UConn entombed in the AAC, opportunities for national publicity are now few and far between. If you haven't noticed, the days of UConn facing off against a conference opponent at noon on CBS are gone for the most part. It's unlikely that the casual college basketball fans who once flipped channels, landing on UConn/Villanova are finding their way to ESPNNews to watch UConn/Tulane.
Relatively pedestrian regular seasons (UConn has been ranked in the top ten nationally for exactly 14 of the past 1,753 days) have further constrained the Huskies' national reach. While still a respected brand, it now requires a strong postseason showing to capture the same amount of on-court attention and respect that was once omnipresent in Storrs.
Having well-known surrogates at the professional level is one way to mitigate the negative impact of the AAC. It also presents the program with recruiting sales pitches and a built-in donor base. As the number of Huskies in the NBA declines, so too do those advantages.
Now, fortunately for UConn, Andre Drummond and Kemba Walker are legitimate stars — the most marketable players on their teams, and gigantic human billboards for the type of quality professionals that UConn can produce.
An added benefit with Walker and Shabazz Napier — and to a lesser extent Jeremy Lamb — is getting to relive UConn's most recent championship runs during broadcasts. It's incredibly common to watch Walker star in a Hornets game in which his Husky tenure is mentioned. The same is true of Napier, though he has yet to earn much playing time for any of the three franchises he's been a part of.
Gay is the fifth Husky in the league. Mired in Sacramento, he continues to play well enough to be a household name (over 20 points per game last season), despite playing on forgettable teams.
While Walker and Drummond can keep the flame burning for the next decade or more, UConn needs to start placing more young stars in the league. Its last two draft picks — DeAndre Daniels and Daniel Hamilton — are not currently on NBA rosters. Ryan Boatright, Sterling Gibbs and Shonn Miller all participated in the NBA Summer League, but none landed a roster spot.
Currently, NBADraft.net has sophomore Terry Larrier projected as a first round pick in next June's draft, with seniors Amida Brimah and Rodney Purvis going in the second round. Jalen Adams appears late in their 2018 mock draft.
DraftExpress projects Brimah to be selected with the third-to-last pick this year. No other Huskies appear in their 2017 or 2018 mocks.
The Huskies have NBA talent on their roster — and will certainly be importing more in the next few offseasons with high-end recruits — but the impetus is on coach Kevin Ollie to develop them into professionals. UConn needs every advantage it can get.