The UConn men got the shit kicked out of them by SMU on Thursday night, dropping to 7-11 on the season — an appropriate record since the team's play is the basketball equivalent of what happened to Shabazz Napier the last time he was at 7-11.
It's not what you want.
Some quick lowlights:
Jalen Adams was 1-10 from the floor, finishing with a season-low of three points.
Rodney Purvis was worse, going 0-4, his only two points coming on free throw attempts earned after an SMU technical foul.
Amida Brimah took himself out of the game in the first half by picking up two personal fouls and throwing the ball off the backboard in anger following the second. At the time of technical (9:22 in the first half), the Huskies trailed 13-10. They would miss 14 of their next 15 shots and trail by 16 at the break. He played only 15 minutes.
With Steve Enoch out with a foot injury, the team was even more shorthanded than usual. Only seven players saw action.
Adams, Purvis, Brimah, Christian Vital and Juwan Durham combined to go 7-32 (21.9%) from the floor.
It was bad. But we here at A Dime Back are beacons of optimism; bright lights in the ever-darkening sea of misery that is UConn athletics and, in all likelihood, the sad lives of our readers. So the rest of this post will be dedicated to the good news.
[Please hold while the whiskey kicks in…]
- Advertisement -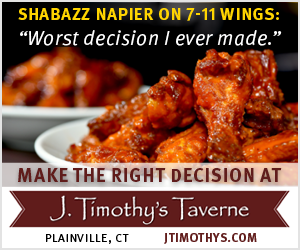 Kentan Facey!
Who'd've thunk that Facey would be UConn's best senior this season? By Win Shares (1.8), Facey has been the team's best player, period. He had his third double-double of the season on Thursday, finishing with 13 points and ten rebounds. On offense, he is asserting himself and delivering with impressive efficiency, now shooting 60 percent from the floor this year.
What's interesting (I guess) about Facey's season is that his numbers per-40 minutes are relatively consistent throughout his four years at UConn. Given the opportunity of significant playing time (36 minutes per game over the Huskies' last nine), he has produced pretty much exactly how we should have guessed. The biggest difference is that he is keeping himself on the floor by not committing fouls — a progression you'd expect to see in a senior big man.
The other bright spot for UConn continues to be freshman Vance Jackson. Despite a rough first half (0-5 from the floor, 0-3 from three), Jackson joined Facey as the only Huskies to realize games have a second period after the locker room part with the speeches and the Gatorade. He came out of intermission firing from deep, hitting five of seven for a team-high 17 points.
Remember right before New Year's when we told you that UConn was an awful three-point shooting team, in part due to Jackson's sub-thirty percent output? Since that article, Jackson has gone 17-33 from three. That's 51.5 percent!
The point here is that our articles are working. (This team is now on pace to be only the second-worst three-point shooting team in the program's history.)
Jackson's emergence as a potent weapon on offense has been fun to watch this year, but is obviously more important for the long-term health of the team. He is now ahead of the curve, progression-wise.
Lastly, the men's basketball team might be soul-crushing. You may be buried underneath the weight of hypocritical national media coverage surrounding UConn football recruiting. But if you flip to ESPN2 on Sunday afternoon, you'll notice some downright fun sporting things happening at UConn when the women's team takes on Tulane (who is garbage). Better yet, go to Gampel and tell your grandkids about the time you saw a UConn team have more assists than turnovers in 2017 (the men's team has done this six times this season but the burn feels like it should be correct, so whatever).
The UConn women are invincible and impossible to get angry about. The team's star players are young, athletic and very very good. Here's the per-40 minute numbers for the #sQuad:
Katie Lou Samuelson: 26.7 pts

 

5.2 reb

 

3.1ast
Gabby Williams: 17.1 pts

 

12.0 reb

 

7.2 ast
Napheesa Collier: 25.6 pts

 

11.0 reb

 

2.6ast
Kia Nurse: 15.4 pts

 

2.8 reb

 

4.8 ast
You'll get to see some fast breaks. You just know some three-pointers will go in. You'll see a team that is overly prepared, remarkably poised and very unlikely to give up a windmill alley-oop dunk in transition.
Before the darkness envelopes you completely, you should at least watch some fun basketball.