Odds are, if you've watched more than a select few minutes of UConn basketball this season, you're keenly aware of the Huskies' offensive deficiencies. According to KenPom, UConn runs the 203rd most efficient offense, and the 304th fastest out of 351 Division I programs. It's bad, is what we're getting at.
There are a myriad of reasons why, including heavy roster turnover and a plague of injuries (narrative!), but perhaps the most puzzling is that this year's UConn squad simply can't shoot. At 30.1 percent, the Huskies are one of the worst three-point shooting teams in the country. Currently, this is worst three-point shooting UConn team since the three-point shot was introduced permanently in the 1986-87 season.
To make matters worse, the Huskies also shoot the three more frequently than any team in UConn history, averaging nearly 21 attempts per game.
Some of that is poor luck — or at least somewhat unexpected. Rodney Purvis, a career 37.5 percent three-point shooter coming into this season, has shot a dismal 29.1 percent so far this year. Yet despite the poor results, Purvis is attempting over seven threes per game. The only UConn player to shoot threes more often in a season was Ray Allen in 1996 (he made 46.6 percent of them).
- Advertisement -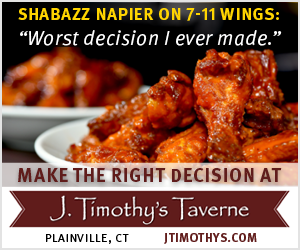 Some of UConn's poor outside shooting can be explained by its reliance on freshmen on the perimeter. Historically, outside shooting is one of the hardest adjustments to make going from high school to college. Think about your average high school gym. Imagine yourself at the three-point line staring at the rim. Now imagine that same view but at the XL Center in Hartford. The entire perspective is changed. It's a wholly different shot. Some of the most highly-regarded UConn shooters struggled as freshmen (DeAndre Daniels: 24%; Niels Giffey: 32.4%; Shabazz Napier: 32.6%).
Christian Vital and Vance Jackson are not immune to those growing pains. Since 1993-94, only nine UConn freshmen have shot under 30 percent from three (min. 25 attempts); Vital and Jackson are two of them.
To bring this all full-circle, since the introduction of the three-point shot, only three UConn players have shot under 30 percent while attempting at least 4.5 three-pointers per game: Vital, Jackson and Purvis.
Despite not making threes, this team can't stop shooting them.
This is a tremendous strategic error that is long overdue for correction. Coach Kevin Ollie seemed to grasp this in his postgame remarks following Friday afternoon's home loss to Auburn in which his team went 4-28 from behind the arc.
"It's a bad formula, when we take 28 threes and make four and we give up 19 offensive rebounds," Ollie said. "I wish our guys have a good holiday and get away from basketball a little bit, but when we come back we have to make sure we execute the game plan and shoot a little better. Also, get the rebound and feed our big guys."
Many of UConn's three-point attempts are owed to trying to crawl its way back into games late in the second half. Others are a byproduct of opposing teams showing the Huskies nothing but zone defense. But without a concentrated adjustment of strategy, the results will remain the same.
Somewhat quietly, while the guards have struggled from the outside, UConn's inside game has bloomed into a legitimate threat. Kentan Facey has emerged as a capable offensive player with 35 points and 23 rebounds in the team's last two games. Amida Brimah continues to be underutilized despite his high field goal percentage and propensity for drawing fouls. Even sophomore Steve Enoch has showed himself capable of contributing on offense recently.
The UConn offense should continue to revolve around star guard Jalen Adams — one of the premier talents in the conference (and a 43.3 percent three-point shooter this year). However, for the team to enjoy any modicum of offensive success from now until March, the rest of the roster needs to stop taking so many threes and focus on getting the ball into the paint.