Every UConn game this season is essentially the same. The only variables are how long the Huskies are able to maintain consistent effort and how well their opponent is able to rise above the slow, ugly style of play that UConn is reliant on to win these days. Against relatively talentless teams like Coppin State and Columbia, the Huskies, even while playing much of the game in slow-motion, are able to eventually wear down their opponent, run out the clock and pull out a victory. Against good teams, UConn can hang in for a while based on effort and luck, but will almost certainly not have enough talent to win.
That was the case on Saturday against Wichita State. The Huskies played good enough defense for most of the game, genuinely dominated the glass in the first half and mustered just enough offense to lead for nearly seven minutes and have the #8 team in the country tied with 9:25 to play. UConn lost 72-62.
The sellout crowd at the XL Center tried to will the Huskies to victory, but as Wichita's shots started falling late, the fans knew the game was over. Hartford became as quiet as a weeknight and the spectators started filing out into the snowy streets with several minutes left on the clock.
After the game, it seemed coach Kevin Ollie was acknowledging the team's slim chances of succeeding this year. "These are the guys we've got," he said. "I think they're going to make shots eventually."
In defense of a late-game play that saw freshman Josh Carlton get an entry pass in the low post before immediately traveling, Ollie emphasized that he wanted Carlton to be in that position to prepare the big man for the future.
- Advertisement -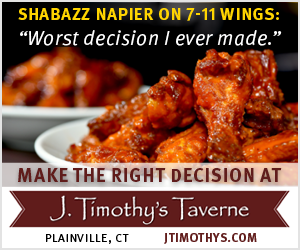 It's hard to believe that it's not even January 1st and UConn is already looking ahead to the future, but here we are. The Huskies are now 7-6 on the year with only one semi-noteworthy win, no point guard and in need of a miracle to prevent missing the NCAA Tournament for the second year in a row.
Let's bullet point:
Ollie's explanation for the Carlton play is bullshit, right? The Huskies were down three with 5:46 to play. From what we can gather, the team hasn't run more than a handful of designed plays all season, but at that moment Ollie chose to put the ball in the hands of his fifth-best offensive option? The instinct to try to explain away bizarre happenings as some part of a masterplan is maddening.
Wichita guard Austin Reaves was asked after the game about defending UConn. "Whatever they did, we knew what was coming," he said. His coach, Gregg Marshall, said they had UConn perfectly scouted. This isn't news at this point, but it's still somewhat jarring to see it repeated after every UConn game with no adjustments from the team.
For the first time this season, KenPom now predicts the Huskies to finish under .500 at 15-16. The team is ranked 125th, three spots below Lipscomb. In just about every advanced statistical category, this team is equal to, or worse than, last year's squad, which was the first UConn team in 30 years to lose more games than it won.
If UConn duplicated this exact performance, it could probably win a decent amount of conference games. The defense — especially the zone defense — was good enough and the scoring from the three players who can score was there. The question is whether the team is willing to extend the same amount of effort when not playing a top-ten team.
The starting lineup featured David Onuorah, Isaiah Whaley and Antwoine Anderson for some reason. The trio combined to score zero points.
UConn was 4-14 on layup attempts, 3-16 on three-point attempts and finished with single-digit assists (9) for the seventh time in 13 games.
Wichita had 16 second-chance points on 17 offensive rebounds.
On the plus side, it was the first sellout since February of 2016. That bodes well for the Villanova game in three weeks. Good for UConn managing to get people to pay $53 to watch them play.
Terry Larrier, Jalen Adams and Christian Vital combined to score 53 of UConn's 62 points. They all had some brutal moments — either ill-timed turnovers or crazy-ass shot selection — but all showed enough ability to get points on the board against a good team. Unfortunately, the trio was 20-51 (39%) from the floor and was 2-12 from three (both makes by Vital). That's probably as efficient as they can get in UConn's no-motion offense.
Carlton and Diarra seem like they're clearly the two best post players on the roster at this point (especially since Eric Cobb thinks he's a shooting guard). Avoiding foul trouble is always going to be an issue for each — especially Diarra — but if we're all about looking to the future at this point, they should be on the court as much as possible.
Large Dave was -11 in only five minutes. Cool.
Karl Hess has been a consistently terrible ref (and seemingly bad person) for as long as UConn has been relevant. We're not even three years removed from Hess being fired by the ACC. That the AAC keeps running him out there for nationally televised games speaks to the amateurish leadership of the conference.
Shout to Big Red, who was honored at halftime. He is delightful and deserves as much recognition as possible. He also scored as many points as 60 percent of UConn's starting lineup.
Happy New Year.
Up Next:
UConn visits Tulsa on Wednesday night — a perennial WTF Game contender. Tip is at 7pm and the game is on ESPNNews.