Kevin Ollie added to his sterling 2016 recruiting class today when 6-2 combo guard Christian Vital announced that he will be attending the University of Connecticut (Jeff Goodman reported the news first on Twitter). Vital, who decommitted from UNLV in March after the school fired head coach Dave Rice, chose UConn over Louisville, among others. It is likely that his friendship with UConn freshman Steve Enoch, with whom he attended St. Thomas More in 2014-15, was a major factor in his decision.
New England you stuck with through my hardships and struggles I'm glad I have the chance to repay you back! 🐾 #Huskies

— Christian CV Vital (@I_AMCV) April 29, 2016
Vital told scout.com that Kevin Ollie's personal touch was what sold him on the program.
"Basically, he's texted me before 9:00 every day this week," Vital said. "Just letting me know about the Lakers situation and that he loves me and he's staying at UConn. That really means something to me, to have that kind of relationship with the head coach, knowing he has a million things to do."
And, surprising no one, KO won over Vital's mom, as well.
- Advertisement -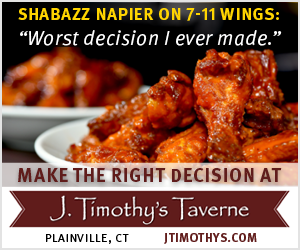 "I loved both campuses and both universities put full support into the men's basketball program," Vital said. "I think with my mom she wasn't too sure with me committing to UNLV. I told her when I decommitted that I would listen to her a little more."
"She loved both places as well and met with both coaches and thought they were great people, but she felt the hands on, family and father-son type relationship with KO would be the best situation for me."
While Vital is well-shy of being a top prospect (ranked #215 nationally in 247 composite), he was one of the best players still available in a particularly dry spring recruiting season, hence offers from Louisville, Iowa, and Connecticut. For UConn's purposes, he provides much-needed depth in the backcourt following the graduation of Sterling Gibbs and Omar Calhoun and the transfer of Sam Cassell, Jr. Even if Rodney Purvis returns as expected, Vital will be the second guard off the bench after Alterique Gilbert, a role that looks to provide him with a significant allotment of minutes.
On the court, Vital's best asset is his outside shooting and the attitude to use it – he takes and makes a lot of big shots in big moments, something that Husky fans will enjoy about him. He doesn't have game-changing quickness, but he has the ball-handling necessary to handle the point at times, even if his instincts are more attack-centric.
This leaves the Huskies with a lot of talent and two scholarships left to fill. One target, Alpha Diallo, just committed to Providence. The team is still in pursuit of big man Taurean Thompson, but may have to consider looking to the grad transfer market to fill out its roster.