As we noted in our annual "Top Posts" ranking, 2017 was absolute shit. Really, it was the worst. But, because we are nothing if not optimistic, we wanted to close the year by reminding you of the few moments of the past year where non-terrible things happened.
The On-Campus Bling
The UConn Field Hockey team capped off a perfect season by winning its third national title in five years. Coach Nancy Stevens is basically the God of Field Hockey. Her squad — consistently very good — was next-level great in 2017. Noted German Charlotte Veitner also won a ton of individual awards.
The Ancillary Bling
Maya Moore and Renee Montgomery won the WNBA title this year with the Minnesota Lynx. It was the team's fourth title, and they won it be beating noted crybaby Candace Parker (who, you'll remember, is not as good as Breanna Stewart).
George Springer was the MVP of the damn World Series. His Astros defeated the Dodgers and the former Husky CF showed the world that the only good baseball players come from UConn.
Rookie of the Year
UConn alum Aaron Judge became a national phenomenon in 2017. He set the rookie record with 52 dingers and easily won the American League Rookie of the Year award. Judge and Springer clashed in the ALCS this season and began in earnest a UConn-on-UConn rivalry that will continue into the 2018 season.
Still Really Good
- Advertisement -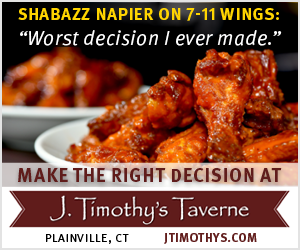 The UConn women's basketball team suffered a brutal defeat in the 2017 Final Four (2017 was awful, you see), but they managed to collect some great achievements along the way. The team concluded an insane 100 game winning streak. Coach Geno Auriemma captured his 1,000th career win. For good measure, the Huskies also added (arguably) the nation's best recruiting class.
GOAT
In June, Diana Taurasi become the WNBA's all-time leading scorer. Taurasi is up to 7,867 career points. For good measure, earlier in the year she became the league's top three-point shooter. If you're keeping track, UConn alums are now officially the best three-point shooters in the history of both the NBA and the WNBA. Pretty cool.
VICE GOAT
Taurasi's life accomplice, Sue Bird, created history of her own this year. She became the WNBA's all-time assist leader. Bird has a case as the best point guard in women's basketball history and she has the stats to back it up.
ALL-STARS AND PATRIOTS
Six former Huskies made the WNBA All-Star team this year: Stefanie Dolson, Tip Hayes, Tina Charles, Bird, Moore, Taurasi and Stewart. All six will represent America when competition for the national team begins. They'll be joined in the player pool by fellow Huskies Napheesa Collier, Katie Lou Samuelson and Morgan Tuck. UConn is America and America is UConn, essentially.
Kemba Walker made the NBA All-Star team this year for the first time. 2017 proved to be the best season in his young career and he's still trending up as the year comes to a close.
REBOUND MONSTER
Through 24 games this season, Andre Drummond is going insane. He is currently averaging fifteen (15) rebounds-per-game. Although voting won't conclude until 2018, Drummond is having an All-Star caliber year.
SHABAZZ IS THE MAN
Don't look now, gang, but Shabazz Napier has turned into a damn good NBA player and he's only getting better as 2017 comes to a close. In the Trailblazers' last five games, Bazz has averaged over 17 points, three assists and two steals. Check out some highlights in this week's Mailbag. In addition to his success on the court, Bazz is also an internet sensation (at least on this site) due to his appearance in this truly bizarre coffee commercial.
WEDDINGS AND BABBIES
Swin Cash had a child. Svetlana Abrosimova had two! Diana Taurasi got married. Niels Giffey and Sterling Gibbs got engaged (not to each other). Ryan Boatright got a dog. Not everything in 2017 was terrible.