The Ultimate UConn Challenge is cruising along. Last night, Meghan caught you up on the results from the first two days of matchups. Since then, four other battles have concluded with one significant upset.
Jake Voskuhl shocked the world! Again! Or Rudy Gay failed to meet expectations! Again! Two sides to every coin, I suppose.
Yes, the world's favorite Toronto Raptor (Voskuhl) upset Gay in a 4/13 match that came down to the wire. Gay had a narrow lead with about an hour to spare before choking down the stretch (I assume), ceding the contest to Voskuhl, 140-129.
Elsewhere, the favorites held serve.
Art Quimby beat his own grandson (I assume) Travis Knight.
- Advertisement -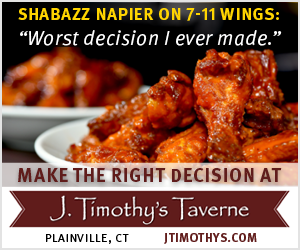 Emeka Okafor swatted Edmund Saunders back to Waterbury.
Player/coach Kevin Ollie took the elevator – and tossed Bob Staak down the open shaft.
***
Four other matches remain open overnight, anxiously awaiting your votes.
#7 Mike McKay vs. #10 Jeremy Lamb
#3 Wes Bialosuknia vs. #14 Karl Hobbs
#3 Cliff Robinson vs. #14 Ryan Boatright
#2 Chris Smith vs. #15 Jack Rose
***
As always, four additional contests will be posted tomorrow, including the arrival of the third #1 seed. Thanks for reading and thanks for voting.