The A Dime Back staff was pretty unanimous in hoping that if UConn was going to lose games this season, they would at least be decent enough to give us some entertainment along the way.
Well, congrats! We're here now.
In front of a few thousand hardy souls on a stupidly hot Sunday afternoon at PAWS-ARF, UConn rallied from 20 points down in the third quarter, only to watch Michael Tarbutt push the game-tying field goal wide as time expired in a 41-38 loss to East Carolina.
For the second straight week, UConn's offense moved the ball up and down the field, only to let a few scoring chances go by the wayside. Against a Virginia team that appears to have some kind of pulse, that meant a three-touchdown defeat in a game that was non-competitive for the final 30 minutes. Against the worst FBS opponent on the schedule, that meant an early deficit that the Huskies very nearly salvaged with some fourth-quarter heroics.
There are positives you can take away — Arkeel Newsome finally seems to have found the perfect role (so long as he's not carrying the ball up the middle on 3rd-and-short); Kevin Mensah looks like the most promising running back to play here since Jordan Todman; the Huskies looked noticeably better when they subbed in younger players on both sides of the ball.
- Advertisement -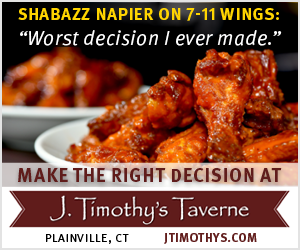 But it's hard to be too optimistic: UConn won't play a worse team this season, and UConn looked decidedly worse than that team on their home field until the final quarter and a half. If you had any remaining notion that this team could sneak into a bowl game, you shouldn't anymore. The Huskies will likely be 1-4 after games against two of the AAC's better teams, SMU and Memphis, and then Edsall's challenge will be keeping the team motivated and preventing a complete collapse a la 2016.
Having said that, there are still winnable games on the schedule, and I wouldn't be surprised if UConn beats a team they shouldn't over the next two months. A bowl game was always an ambitious goal for 2017, but at least the possibility exists that this team can be fun to watch even in defeat — there are some interesting players, they appear able to execute a competent college-level offense for the first time in eight years, and watching the youth develop into the world-smashing 2019 UConn Football Juggernaut will at least bring me back every week. Unlike some other infamously bad losses (Temple in 2012, Towson in 2013, Navy and Syracuse in 2016), I personally can't get too upset over a bad loss to a bad ECU team. If you haven't already abandoned the program, 1) bless you and 2) this loss isn't a reason to do so.
My two biggest takeaways from Sunday's game are as follows:
#1 UConn doesn't have the players to compete, yet.
When Edsall returned, the big narrative was that the old coach was returning home to the program he built up. But after three games, it's clear that what's actually happening is that Edsall was returning home to the program as it was in 2000 or so, minus the conference affiliation and motivated fanbase, plus the modern facilities and stadium. Watching UConn's deathly slow pass rush and two-steps-behind pass coverage indicates just how far the talent level has fallen — it sure feels comparable to what Edsall was working with in the transition years, when his teams struggled (winning 4, 3 and 2 games against sub-AAC schedules in 1999, 2000 and 2001) before he found a quarterback and an appropriate amount of FBS-level depth.
After watching UConn be evenly matched with Holy Cross, and after looking noticeably slower on defense than Virginia and East Carolina, can we maybe admit that the program isn't recruiting at an adequate level? It never has, really. UConn's recruiting has ranked in the bottom half of its conference nearly every year since joining the Big East in 2004, and UConn has finished in the bottom half of its conference nearly every year. Stars matter.
Edsall 1.0's great achievement was making the program competitive just about every year despite this, and building legitimately top-40ish teams in 2007, 2008 and 2009, not-so-shockingly coinciding with his best-ranked recruiting classes. He's clearly a better recruiter than Old Paul and Wacky Bob, but it's going to take time and relentless effort to bring in enough good players for UConn to even belong on the same field with the top teams in the AAC East every year. This isn't a quick fix. so sit back and find a way to enjoy UConn's up-and-comers learning on the fly.
#2 Three games in, Rhett Lashlee already feels like the best positional coach UConn has ever had.
It speaks to the incompetence of the previous coaching staff that UConn had the worst offense in FBS last year AND graduated its only receiver of note, but Rhett Lashlee has this motley crew scoring 27 points per game. The play-calling has mostly been creative and has put the players in position to succeed (some inside runs on 3rd-and-short notwithstanding), and it's allowing just about everyone on the two-deep to contribute in ways that make sense.
Don't get it twisted, the offense isn't good, per se. East Carolina allowed 120 points in games against West Virginia and Virginia Tech, and UConn's 38 points were only slightly more than James Madison scored on the Pirates. But even "slightly below average on offense" is a huge, important step forward for this program; the Huskies' 596 yards of total offense Sunday were almost five goddamn times as many yards as a similar roster gained against Boston College last year.
We've been burned before by overpraising a new coach who shows some promise before, but count me very impressed at how Lashlee has imprinted his offensive vision on the talent here.
Onto the position grades:
Quarterback: C+
Bryant Shirrefs continues to show that he is what he is. At times, he's a very effective quarterback. At other times, he'll miss a wide open Hergy Mayala deep despite perfect pass protection. It's hard to watch QBs from Virginia and ECU effortlessly drop deep balls into the pocket of their receivers while our third-year starter is overthrowing open men consistently.
That being said, Shirreffs led a hell of a drive for what should have been the game-tying field goal — eerily similar to the Navy game last year — and he looked good throwing the ball on crossing routes, middle-of-the-field post routes, and screens. It was nice to see a couple RPO plays, including one decent completion (that probably should've been picked, but still). Shirreffs' flaws are well-known now, but UConn can score with him at QB. That's fine enough.
Running backs: B+
Kevin Mensah! The ESPN announcer described Mensah as a "stick your foot in the ground and go" running back, which is exactly the way announcers used to describe Donald Brown. Mensah hits his hole quickly, can take a hit, and has a little bit of speed. A 100-yard game in his second career appearance is a terrific sign, and between him and Nate Hopkins, UConn is suddenly in a good spot at RB for the first time in a while.
Arkeel Newsome technically goes here, but I'm happy to report that the coaches have turned Newsome into a slot, screens and flat receiver who occasionally carries the ball. This is an exciting development! For all the talk of Newsome as a "burner" (he's not), his actual strength is his shiftiness in the open field, and this new role could let him blossom into the playmaker we thought he could be.
Wide receivers: B+
Hergy Mayala looked to suffer a bad leg injury one play after Shirreffs overshot him on a would-be 75-yard TD, which is awful news. But Mason Donaldson had a terrific game in the slot, including one touchdown on a short drag route and another on a screen. Quayvon Skanes and Keyion Dixon both got their share of touches (including Dixon on a couple of well designed end-around runs), and Aaron McLean made a clutch 35-yard catch on 3rd-and-long on UConn's final drive. And for the third straight week in a row, minimal dropped passes!
Offensive line: C+
The key indicators were pretty solid Sunday, as UConn ran for 5.0 yards per carry and allowed just one sack. And if we could get more pass protection like the very first play of the game, we'll score millions of points. Like Shirreffs, this line is far from perfect but it was good enough to put 40 points on the board Sunday (against a terribad defense, but still).
Watching closer, I continue to see why Matt Peart gets so much praise, and look forward to seeing how good he can get before he leaves to play on Sundays; peep the crushing block he threw on Hopkins' 4th-and-goal TD run just before halftime. Freshmen Cam DeGeorge and Ryan Van Demark were both solid at times, most notably Van Demark putting a hat on a defender 15 yards downfield on Newsome's long TD catch in the fourth. Losing center Ryan Crozier to injury is very unfortunate, and some of backup Dan Oak's snaps were a little low, but Oak is a veteran and that should get cleaned up.
Defensive line: D
Foley Fatukasi managed a TFL, and that is about the extent of the positives I can find for this unit. ECU QB Thomas Sirk was able to sit in the pocket all day and complete easy passes, and that's been an ongoing theme in all three games this season. Not all the line's fault, but UConn's current DL personnel isn't a great fit for the 3-3-5; Fatukasi has been OK in the middle, but Luke Carrezola and Cole Ormsby have gotten pushed around a bit and have struggled to pressure the quarterback off the edge. In the second half, Billy Crocker rotated in backups Kevin Murphy, Connor Freeborn and Sheriden Lawley, with not-awful results.
Linebackers: C
Junior Joseph is a very good football player. He had 14 tackles, including a sack and another assisted TFL, as well as the key tackle short of the sticks on 3rd down on ECU's final possession.
Vontae Diggs and Chris Britton were OK, although they were also unable to get to the quarterback when they blitzed. Eddie Hahn wasn't bad in a reserve role, and freshman Darrian Beavers actually succeeded in pressuring the QB on one of his snaps, hurrying Sirk into an incompletion on a 3rd down late in the 3rd quarter.
Defensive backs: D-
The lack of pass rush is making the secondary look worse than it should be, but this soft zone scheme is maddeningly ineffective and there's just not enough speed or physicality in the secondary to make up for it. UConn has one interception in three games; opponents are completing 31 passes per game at a 68.9% clip, and on average 18 of those 31 completions have gone for first downs.
At times, it literally looks like UConn's corners are mirroring their receiver's route, just 10 yards beyond them. The scheme is giving opposing receivers an incredible amount of space to run free, the players are reacting late to short and intermediate throws; combine that with an unpressured quarterback and some abysmal open-field tackling, and you've got a defense that is capable of allowing a career high in passing every single week.
Jamar Summers got burned on one touchdown today, but I still think he's going to be OK. Tre Bell got burned on two touchdowns and numerous other plays, and I think it might be time for the coaching staff to look elsewhere for its No. 2 corner. Tyler Coyle seems like he'll be a playmaker and Tahj Herring-Wilson did fine once he came on to relieve Bell, but something (either schematically or by rotating through every single player on the roster until we find someone who can cover) is going to have to change, quickly, if the Huskies hope to hold the better AAC teams under 50 points.
Special teams: F
Gotta make 33-yard field goals. Just gotta.