Hi again. Since half of UConn's roster bolted earlier this offseason, we've been periodically checking in with lists of basketball players that UConn could add as replacements. In the last few weeks, almost all of those doors have closed.
The Huskies added exactly one (1) of the players we mentioned, Fordham grad transfer Antwoine Anderson — who is getting me fired up over on IG. They also brought aboard true freshman Isaiah Whaley and Cornell grad transfer David Onurorah — two players that jumped onto the radar seemingly out of nowhere — to compete for minutes in the front court, of which there are a lot available.
With two scholarships left open, obvious needs still in place, and two starters (maybe three) returning from season-ending injuries, it'd be nice for the Huskies to get actual basketball players onto the roster instead of leaving spots open or, more likely, doling them out to walk-ons.
We'll get to the available options below, but first, here's a complete list of the players we mentioned this spring that will be playing for bad schools that aren't UConn.
| | | |
| --- | --- | --- |
| PLAYER | OLD TEAM | NEW TEAM |
| Sean Obi | Duke | Maryland |
| Christian Sengfelder | Fordham | Boise St |
| Kameron Rooks | California | San Diego St |
| Kerem Kanter | Green Bay | Xavier |
| Khris Lane | Longwood | VCU |
| Jack Whitman | William & Mary | Kansas |
| Tremont Waters | Recruit/Georgetown | LSU |
| Cam Johnson | Pitt | UNC |
| Mamoudou Diarra | Recruit/Washington | Cincinnati |
| Kenny Wooten | Recruit/Arizona St | Oregon |
| Darien Williams | St. John's | Nevada |
| Mark Alstork | Wright St. | Illinois |
| Jeff Beverly | UTSA | Iowa St |
| Hans Brace | Princeton | Iowa St |
| Jeremy Combs | North Texas | LSU |
| James Daniel | Howard | Tennessee |
| Cullen Neal | Miss | St. Mary's |
| Kassius Robertson | Canisius | Missouri |
- Advertisement -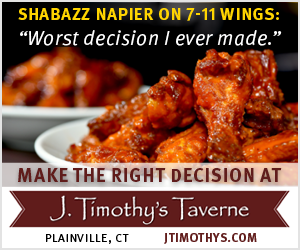 Cool.
There are several players connected to UConn that are traditional transfers. VCU transfer Samir Doughty will be visiting campus this week, via Bill Paxton. The UMass duo of DeJon Jarreau (good) and Brison Gresham (bad) is also still on the market though, despite engaging with UConn in the past, have listed Georgetown, Seton Hall and Creighton.
(Quick note: getting Jarreau is not worth wasting a scholarship on Gresham, in my opinion)
All of the above would have to sit out a year, which isn't ideal considering the Huskies need depth now, and could really use a rebound season. So we'll focus the list below on players that can help right away.
Let's start with the guys we've mentioned before.
Eric Ayala, High School, Wing
The biggest question about Ayala remains when he'll choose to begin his collegiate career. A potential reclassification into the 2017 class has been rumored for over a year now. Via Andrew Slater, that decision might come after July. Ayala is probably the best-case scenario for UConn — a bigger guard who can knock down threes and can be part of a larger rebuild. Unfortunately, everyone on Earth thinks Ayala is going to Syracuse.
MiKyle McIntosh, Illinois St, Forward
When last we checked on McIntosh, he was considering joining this year's NBA Draft. He's since withdrawn and is searching for a new school. He's got good size and was an efficient scorer and rebounder the last few years at Illinois State. Unfortunately for UConn, schools with more recent success are already involved.
[Update: lol he's off to Oregon]
Rashad Muhammad, San Jose St./Miami, Wing
Like McIntosh, Muhammad is already drawing interest from some big name programs. He's a wing with size who consistently knocked down threes at San Jose State. After being kicked off the team at Miami without playing a game, Muhammad hasn't played in a game since 2015.
Zach Lofton, Texas Southern, Guard
Lofton is the reigning SWAC Player of the Year. He's a volume shooter, and not great from three-point range, or a great ball-handler (2.3 turnovers per game last year). But he can score (16.8 points per game) and has been great at getting to the foul line (6.7 attempts per game, shooting 78.6 percent). Lofton is essentially the two-guard version of James Daniel, former MEAC Player of the Year at Howard who landed at Tennessee. And surprise! Lofton has big name suitors as well.
Leland King, Nevada, Forward
King is among the half dozen escapists from Nevada. After transferring from Brown, King lasted only one year at Nevada and is a late entrant into the transfer market — he announced on June 3. King has the size (6'7″, 220) to handle either forward position. He wasn't super impressive at Nevada (3.7 points, 2.6 rebounds in about 10 minutes per game) but he showed enough talent as a sophomore at Brown (14.6 points, 7.8 rebounds and a 54 FG%) to be an attractive target.
Aaron Jackson, Akron, Guard
Jackson's numbers are wholly unremarkable, but I'll remind you we're shopping for depth and specific needs here. Jackson shot 39.7 percent from three last season (slightly over two attempts per game). At 6'8″, he's big for a guard, but that wasn't enough to earn him much playing time at Akron. Akron. As a depth piece who can possibly come in to keep a zone defense honest, however, Jackson is not without value.
Trace Young, High School, Wing
Young is the 285th ranked recruit in the 2017, according to 247, but has drawn varying levels of interest from some big name programs, including UConn. Ordinarily, I'd be leery of taking such an unknown recruit, but it's not like Kevin Ollie's rosters are overflowing with players on scholarship. Young is athletic with a decent looking lefty shot. At this point it's worth bringing in a four-year player that the coaching staff likes and trying to turn him into a valuable bench piece.
Devante Doutrive, High School, Wing
UConn hasn't been linked to Doutrive at all, but he might be the best recruit left on the board. Doutrive's stock has been rising, as he really blossomed in his senior year, earning L.A. City Section Player of the Year honors. He's 6'5″ and athletic, with a decent mid-range game. Given the California-to-UConn pipeline we all seem to be building, it's probably worth a phone call.
---
Time is fleeting for UConn to fill its roster. Let's hope the Huskies get a few of these fish in the boat before the next time I have to write one of these posts.