No, you're starting to panic.
The college basketball offseason continues to churn on, and UConn continues to have a roster full of empty space and talented players with ligaments made of mashed potatoes. Since we last had one of these chats, some help has arrived. Antwoine Anderson, a 6'1" guard from Fordham, has joined the cast. Ordinarily, we'd say something snarky here but, hey, a basketball player is a basketball player.
Problem is, there are still four open scholarships and two or three critical areas of need on Kevin Ollie's roster as he tries to wrap up his offseason. Some of the solutions we've talked about — guys that could come in and at least provide a nice serving of optimism. However, most of those doors now appear to be closed.
- Advertisement -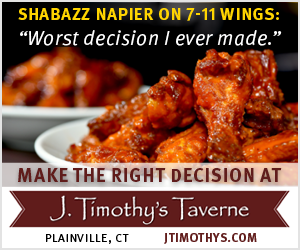 There were the big ticket items. Sean Obi is headed to Maryland. Cam Johnson is the most popular college graduate since that movie The Graduate (never saw it). Johnson can write his own ticket to Kentucky or Arizona.
Tremont Waters is still out there, and rumored connections to UConn are allegedly heating up. But Anderson's arrival complicates that relationship — one that UConn has seemed oddly disinterested in pursuing in the first place. Swipe right.
Mamoutwo Diarra picked Cincy, of all places. Kenny Wooten picked Oregon.
Eric Ayala could have begun his career this year and reclassified into the 2017 class, but it appears he's not yet ready to leave Putnam Science Academy, the grown man crying on a park bench of prep schools.
Of the others we've mentioned, St. John's forward Darien Williams seems the most likely. In fact, it's too likely. Please join the staff of Russ Steinberg's A Dime Back Pod Dot Com as we welcome Darien Williams to UConn. His nickname will be Cool Ranch. More later.
Several fine-to-bad bigs from this piece are still on the board, including Kameron Rooks and Jack Whitman. Gimme both. Why not?
[Update: Whitman to Kansas, so that's why not.]
Now here are some new names — many of whom are trash — but are still better than beginning a basketball season without basketball players (and possibly a basketball. Can the AAC afford basketballs this year?).
Presented in a… order, all of these humans are immediately eligible to play basketball next year if the sport still exists.
Mark Alstork. Wright State
Turns out Wright State was in the wrong state, bitch. Because Alstork is flying down (?) to Connecticut. Maybe. The fit would be perfect. A guard, Alstork can play off the ball and get buckets. He averaged 19 points per game last year, shot 38.7% from three and earned 6.5 free throw attempts per game. Alstork solves many of UConn's problems. (Insert very clever "stork" reference)
Jeff Beverly, UTSA
Ok look, UConn needs a true wing. One, as knee insurance for Terry Larrier, and two, as emotional insurance for me who can't handle watching a walk-on start a game at the three this year. Beverly is 6'6" and a beefy 250. He scored nearly 16 points and just under six rebounds per game for some team whose acronym I have yet to figure out. Undertaker Sword A-vengeance?
Hans Brase, Princeton
The numbers say Hans is 6'8", 231 lbs, but there's no way with a name like that it's any smaller than the Game of Thrones dude who smooshed the other human man's head. Brace also scored in double-digits during its last two full seasons with Princeton. It can score. It can rebound. It can sink an occasional three. And it'll fight on your behalf if you get into trouble for brother/sister stuff. [Update: no UConn on its list.]
Jeremy Combs, North Texas
I know what you're thinking and, yes, UConn is in the Conference UCA with North Texas. So, it's weird you've never heard of Combs. He's a 6'7" forward who rarely takes threes, turns the ball over and can't make free throws. He can, however, do real damage from midrange and pull down rebounds. UConn could do worse than stealing this conference foe. [Update: he's off to LSU.]
James Daniel, Howard
So this one doesn't really make sense. But that's also not really our brand. Daniel can fucking score. He averaged 21 per game as a freshman and crescendoed to 27.1 in 2016 — winning the MEAC Player of the Year award. Sadly, he got hurt and now wants to shoot a billion times per game at a new school. Now, UConn has a few (a few) good players remaining on the roster. The Huskies probably shouldn't bring in an undersized guard to launch 19 shots per game. Conversely, UConn played the slowest offense in America. Maybe Daniel can boost the tempo by Roscoeing a bunch of random half-courters.
MiKyle McIntosh, Illinois State
I feel like there's some good material to work with in that name. I'm not going to put too much thought into now, but just know, should McIntosh come to UConn, we'll be ready. And so will he. The dude averaged double-figure scoring two years in a row. At 6'7", 234 American pounds (he's Canadian) he can hold his own on the glass and still pop a three when necessary. He's temporarily declared for the NBA Draft. Denham Brown once scored 111 points in a game.
Rashad Muhammad, San Jose State
Rashad 2.0 went to Miami, got kicked off the team, and is now leaving without ever playing a game. The year prior, Muhammad scored nearly 14 per game for San Jose State. He made threes, got to the line and "met team expectations," something he didn't do in Miami.
Cullen Neal, Ole Miss
Neal played three generally productive seasons at New Mexico before a year at Ole Miss. His minutes dropped at the racist school but his three-point shooting improved. At 6'5", Neal functions more as a point guard than a wing. He turns the ball over too much while racking up a noteworthy number of assists. It'd be interesting to see if his skills improve off the ball, or if he's bad, actually.
Kassius Robertson, Canisius
A man named Kassius leaving Canisius shows me the kid can't handle the adversity of hearing one bad joke all the damn time. It's concerning. On the other hand, Robertson has been a dynamic offensive player recently. In 2017, he averaged 16.1 points, shot 41 percent from three and over 50 percent from two-point range. He even got to the free throw line for 3.4 attempts per game. He's originally from Ontario. Denham Brown once scored 111 points in a game.
Darien Williams, St. John's
We mentioned Williams above. He visited campus recently and, despite not being very good during his college career, seems an inevitable member of next year's squadron. Williams has some decent size (6'8", 230) yet couldn't use it with double-digit minutes to crack four points per game.
Let's play a game!
Player A: 11.9 MP 54FG% 72.7FT% 2.6 REB 0.6 BLK 2.2 PF 3.8 PPG
Player B: 12.1 MP 41FG% 68.2FT% 2.3REB 0.6 BLK 1.9 PF 3.4 PPG
Player A is Darien Williams. Player B is Louisville phenom Steve Enoch.
FINAL THOUGHT:
Just get basketball people to play sports already come on.