Oh hey, remember when we used to mailbag every Friday. We stopped because all of your questions were awful. But now we're back. So congrats.
Remember: If your question wasn't answered or you've been living under a rock and are just hearing about this, you can submit your questions here or on Twitter (@ADimeBack).
---
Storrs South asks: Realistic player additions to @UConnMBB?
There's no good way to answer this question at the moment because I don't think we have a very good grasp on UConn's place in the world right now. Husky fans — staff of this site included — seem to be putting a lot of eggs in the Raphael Chillious basket (seasonal Easter metaphor at no extra cost). That's partially owed to his history of landing premier recruits at Washington, but also a reflection of a sudden change in perception of UConn's returning staff. The current 2017 recruiting class of Tyler Polley, Josh Carlton and JuCo transfer Eric Cobb isn't super confidence inspiring. Losing out on Makai Ashton-Langford and two four-star freshmen from the season prior (Vance Jackson, Juwan Durham) has really dimmed the view of UConn's recruiting abilities.
That said, landing a quality player in the next few weeks would alleviate some concerns and get the wheels moving in the right direction. If we learn that Tremont Waters (New Haven native and recent Georgetown decommit) or Pitt transfer Cam Johnson will be wearing a UConn jersey next season, then the Huskies look more appealing and it wouldn't surprise me to see other high-quality players follow suit. At the moment, I'm more mired in pessimism and think the more likely scenario is that UConn picks off one or two of Chillious's former Washington commits (Mamoudou Diarra, Blake Harris), adds another JuCo player (Raynere Thornton?) and possibly a transfer that will sit out a year, or another fifth-year guy to soak up some minutes (more RJ Evans than Shonn Miller, ya dig?). Couple those moves with the requisite two unfilled scholarships that have become Kevin Ollie's trademark.
- Advertisement -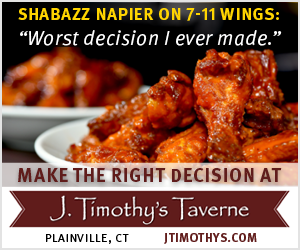 Contrarily, the delusional, overly positive answer to this question that doesn't send you jumping out your window is: Waters, Johnson, Mustapha Heron, Sean Obi and Mohamed Bamba.
---
Storrs South asks: How will incoming FR for @UConnWBB affect rotation?
This is a very good question, the short answer to which is, I have no fucking idea! This is going to be hella complicated, getting minutes for all the people on this roster who should really get minutes. On its face, the only missing spot in the line up is at the PG, which Crystal Dangerfield could just slip into, with the rest of the line up staying the same. More realistically, Kia Nurse will move into the starting point guard role and the lineup alongside her will shift as well.
Duke-transfer and Honorable Mention All-American Azure Stevens, who as 6'6″, is listed as a guard/forward and will be eligible next year. And the number one recruit in the country, 6'1″ Megan Walker, who is listed as a wing, will also be joining the squad. The person who played most out of position last season was Gabby Williams, who at 5'11" was ostensibly playing center (I love her so much), a role Stevens could be well suited for. But I am more likely to make a meal of my shoes than Geno is to take a Second-Team All American (such bullshit) and doer of all of the things (particularly the hustle plays that Geno values so much) out of his starting line up. So what then? Do we move Gabby to the two? Or maybe Lou goes to the two and Gabby goes to the three? Or do we move Napheesa to the three?
That's not even considering the rest of the incoming class, which includes No. 14 on ESPN's ranking, guard Mikayla Coombs; No. 29, wing Lexi Gordon; No. 37, guard Andra Espinosa-Hunter and available transfer, forward Batouly Camara. These are all very good players, and there aren't a lot of available minutes. It's all very difficult, is what I'm saying, and I don't envy Geno this decision. The no positions thing worked pretty well for this team, so anything is possible. I'm just not going to be making any bets on this.
---
Big Ron asks: If we're going to add WSU why are Dayton and VCU not also in this league?
That's a good question, Mr. Ron. Dayton and VCU both have the qualifications: basketball programs with a history of sustained success, rabid and supportive fan bases, etc. They also happen to be much more geographically convenient for the schools in the league that matter (mainly UConn and Cincinnati). And, if you're going to take a non-football school like Wichita State, why not take the best programs available as well?
Mike Aresco sees it differently. He reiterated on a conference call on Friday that he did not want the American to invite multiple non-football schools, fearing the league would become too divided, much like the old Big East. As for why they chose Wichita over Dayton or VCU, Aresco said a few times how well the Shockers fit the profile of what the AAC was looking for. By this, I can only assume he means Wichita State has a basketball team, is located in the middle of nowhere, schedules classes sometimes, and actually does not mind playing Tulsa.