As you likely have seen by now, or maybe inferred from his absence over the past month, Alterique Gilbert will miss the remainder of the season after undergoing surgery to "repair damage to his left shoulder."
Although the official diagnosis appears to be somewhat of a mystery, UConn said that a hard hit against Michigan State on November 25th "aggravated" the shoulder malady that ended his season a year ago. That injury was a dislocated shoulder. How you aggravate that is unclear, but Gilbert will be operated on for the third consecutive year, this time by famed ligament-repairer Dr. James Andrews.
There are some unanswered questions about the cause of Gilbert's latest injury, the successfulness of his prior surgeries and what makes this latest corrective attempt more likely to permanently correct the issue. What we do know, however, is that the Huskies will play out the remainder of their season without their starting point guard.
Some thoughts.
This Might Buy Kevin Ollie Another Year
The #narrative is powerful. By the end of the 2016-17 season, the injuries of several prominent players (including Gilbert) were wielded as the most common excuse for UConn's struggles. By the time the team limped to a 16-17 finish, most of the world had seemingly stopped remembering the full roster losing consecutive home games to Wagner and Northeastern. As the big-picture struggles have continued this year, the chorus of UConn fans calling for Ollie's job has grown.
- Advertisement -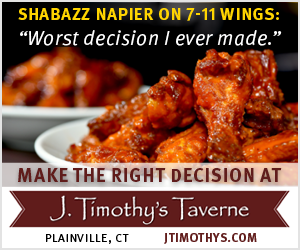 With Gilbert officially done after only six games, does this season get written off as another injury-affected anomaly? Maybe. Especially since this particular team looks so desperately in need of a point guard. At the very least, if AD David Benedict and other decision-makers at UConn were looking for an excuse to give to angry boosters to extend Ollie's leash, they have one — even if many don't accept it. Never doubt the #narrative.
This Was Foreseeable
Gilbert suffering a shoulder injury really shouldn't be a surprise at this point. Yet the Huskies were, apparently, incredibly reliant on him being the main driver of the offense. In his limited time on the court, Gilbert attempted ten field goals and over three free throws per game. Without him, the Huskies are incapable of pushing the tempo on offense, getting open shots for their best players or playing the intense UConn-style defense we've grown accustomed to over the past 30 years.
Makai Ashton-Langford's summer de-commitment, annoying at the time, looks devastating now. Entering the season with no real backup at point guard (due respect to Antwoine Anderson) will be one of the main reasons this team fails to meet preseason expectations.
There's A Lot Riding On James Akinjo
As the only incoming point guard next year, the Huskies need James Akinjo to show up ready to lead. Fortunately, the four-star guard from California is earning rave reviews this season. He's been lauded for his intensity on the court, his leadership and his defense — all things that UConn has severely lacked recently.
The Huskies need to assume, at this point, that Akinjo will be the starting point guard next year and start planning now for how to prepare him for that role through the summer and into the beginning of the 2018-19 season. Is it a great place to be to place this much responsibility on the 97th-ranked recruit in the country? Of course not. But the Huskies can't afford adjustment periods. They need to start winning again and they need a point guard to lead them.
Keep Recruiting Over Gilbert
Ollie needs to prepare as if the team will be playing most of its games without Gilbert next year. Assuming the opposite has burnt him and we have no idea how Gilbert will rebound from this surgery or if the likelihood of future injury is decreased. Anything Gilbert can provide should be considered a bonus.
The team is currently one scholarship over the limit for next year but more spots should open if Jalen Adams and/or Terry Larrier leave (likely) and if at least one of the Non Larrier Big People transfers (very likely). Ollie and his staff should go hard after the best point guards who will answer the phone. A roster where Antwoine Anderson 2.0 is the backup point guard is probably not a great idea.
Maybe Gilbert Is AJ Price?
Before the 2005 season, incoming freshman guard AJ Price suffered an aneurysm and (when paired with some electronic thievery) missed the entirety of the 2005-06 season. He came all the way back to become a good player in 2007 and a great player in 2008, when he was a First Team All-Big East selection before blowing out his knee in the NCAA Tournament. Then he came back again! Price was the leader of the 2009 team that made a Final Four. He went on to become a second-round draft pick, play 261 games in the NBA and have a nice career overseas.
Hopefully Gilbert finds similar success. By all accounts he's a hard-working kid with a good attitude, a lot of people who support him and a clear desire to keep trying to overcome the injuries that are stealing the game from him.
Gilbert should get heathy; get his handle back; get his shot back; get his confidence back and then help get UConn back on top.
Heal fast, Alterique.