This year we're thankful for you, the readers! Lol, just kidding, you trash.
Remember: If your question wasn't answered or you've been living under a rock and are just hearing about this, you can submit your questions here or on Twitter (@ADimeBack).
---
Matt asks: What was the dumbest, kind of illegal yet harmless activity you committed while in Storrs? Bonus points for Vespa-related answer.
Now that Jalen Adams' brush with the law has been settled with a $50 fine for driving on the wrong side of the road (lol), this is actually funny enough to answer. Most of the ADB crew is pretty law abiding (a couple real squares here), so outside your typical underage drinking, most of us can only add things like trespassing on Horsebarn Hill to go sledding using purloined dining hall trays (or to partake in other, less-than-legal activities we won't mention here), or participating in a dorm v dorm snowball fight in the middle of the street at like one in the morning.
But I do have a good one for you. My senior year, a few people at the Daily Campus who I won't incriminate and I TPed the USG house. They had some meeting that left their building empty, and just for laughs, we toilet papered the whole place. It was beautiful. We disposed of the evidence, and returned to the scene of the crime to see the reaction, and it was everything we could have wanted and more. Our Editor-in-Chief did get a late night phone call from the police, requesting that we clean up our mess before morning if we wanted to avoid any trouble. We complied, but it was the talk of the campus the next day. There may also be a photo of the participants in that year's Scampus.
- Advertisement -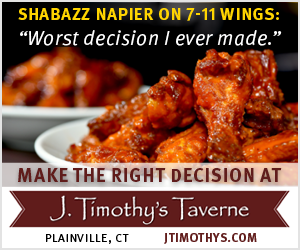 I was also among the people who hopped the fence at the last home game at Memorial Stadium during the infamous pepper spray incident, though I was not one of the people arrested. My parents were also at this game. (BardMom, as we're hopping the fence: Don't get arrested! BardDad: But if you do, we'll bail you out!) Oh, and while this isn't exactly illegal, we did also refuse to give up the people who sent a picture into the Daily Campus of themselves taking down the goalposts at Memorial Stadium. Campus police wanted names and we said hell no! (We did not, we just politely refused.)
---
Kevin asks: Given the solid play of Polley, Whaley, Cobb, Carlton and #LargeDave do you expect Diarra to completely fall out of the rotation?
It's certainly a possibility, but it would require a couple of those players to start providing consistent production. Certainly Diarra will continue to get opportunities in practice, and if he outplays guys like Whaley and #LargeDave, he'll get opportunities in games. Ultimately, the reason Ollie brought in so many fungible big men for this season is that he couldn't get anyone good enough to reliably and functionally eat up 25+ minutes a game, so my bet is that nobody locks down a spot anytime soon, which means it's unlikely that anyone is locked out of the rotation.
---
Nick asks: Will Gabby Williams get a triple double against Nevada?
Man, I sure hope so. Gabby had her only triple-double (so far) last year against East Carolina when she had 16 points, 16 rebounds and 10 assists. She can get to double figures in all those categories but also probably steals, too. Keep in mind that Nevada is trash, and Geno is sure to get Gabby tons of minutes in her homecoming game, so I wouldn't bet against Gabby racking up UConn wbb's sixth ever triple-double.
— Meghan again
---
Matthew asks: Do you see Niels Giffey ever making the jump to the NBA?
I do not. Niels is living his best life right now. He's got a nice gig on his hometown Alba Berlin and should sign a contract extension this year or next that will both put some real money in his pocket and keep him in Germany for the foreseeable future. Also, he's getting married (mazels!). There's no good reason to move across the ocean to attempt making an NBA roster. For what it's worth, Niels also hasn't been lighting the world on fire in Germany. He's (as you probably could have guessed) a really good role player. In eight games this season, he's averaging about seven points (11-20 from three though, naturally).
---
Jungle Husky asks: Where would UConn football be now if Hathaway had hired Steve Addazio instead of Pasqualoni?
Probably still in the AAC. Addazio has been solid at BC, but not anything resembling great. The guy I wanted at the time was Mike Leach, who has taken Washington State from straight-up putrid into one of the best teams in the PAC. He would have been expensive, and there would have been distractions relating to his dismissal from Texas Tech, but ultimately the guy knows how to run a big-time college football program, and hiring him might have been the difference between UConn getting passed over and UConn getting into the ACC over Pitt or Louisville.
One of the primary reasons Louisville was picked by the ACC was that they were spending a lot of money on their athletic programs. UConn hiring Pasqualoni (or even Addazio) because he was cheap was a terrible look at the worst-possible time.
— Peter again
---
Grumpy Tim ask: Does UCLA still want UConn?
Poor, naive UCLA. While I do commend them for trying to amp up their fans (they managed to get 9,263 fans into Pauley Pavilion, which has a capacity of 12,829, not bad but not great. In contrast, last year Maryland sold out the Xfinity Center, which seats 17,950) talking smack to the best team in the country, a team that beat you by 15 in the Sweet 16 last year and then got demonstrably better, is mayyyyybe not the best tactic.
Especially given the fact that you are engaging Troll-in-Chief Geno Auriemma, who did not disappoint us.
Looking forward to a great game tomorrow night! Here is a message from @GenoAjustsayin to the good people at the @uclatheden pic.twitter.com/q6do85G1qf

— UConn Women's Hoops (@UConnWBB) November 20, 2017
But UCLA, that sweet summer child, got UConn in their house, and UConn did as UConn does and just kicked their ass. And they did it without Preseason All American Katie Lou Samuelson whose foot continues to be stupid. But it's fine, because Azura Stevens stepped into the starting line up and that's really not much of a drop off. So thanks for trying UCLA, but we're just gonna be over here counting our rings.
— Meghan again