The UConn season kicked off last night with a forgettable win over Holy Cross. Read Big Meach's recap (and the chemically induced rantings of Russ's uncle) to get caught up.
Remember: If your question wasn't answered or you've been living under a rock and are just hearing about this, you can submit your questions here or on Twitter (@ADimeBack).
---
L.E.S. Miles asks: what do they do with the QB situation? Pindell looked great before the INT and Shirreffs showed flashes of the old him even on the comeback.
Kinda tough to say Shirreffs shouldn't start next week, isn't it? He was the far more effective and poised quarterback Thursday, and the last 17 minutes of the game showed just how much improvement Pindell needs to make in terms of reading the game and commanding the offense. Ultimately, I don't think it's a good sign at all if Shirreffs ends up starting multiple games this season, because he's kind of a finished product (and Pindell is a better thrower and athlete). However, USF isn't a team I'd throw an inexperienced quarterback in against if I could help it. I don't think you can argue with whatever decision Edsall makes, but probably the leash should be short, probably.
---
- Advertisement -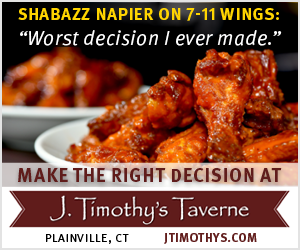 Big Ron asks: For a solid decade UConn fans have said, "if we're gonna suck, can we at least play fast entertaining football while we suck" — so, one game in, how do you like it?
If you'd asked me this question at halftime, you probably would have gotten punched in the face. But after a (not nearly long enough) night's rest and some reflection, I can safely say that, yeah, I do like it! I don't think I can overstate how incredibly frustrating the offensive was last year. The botched play calls, the slow-as-shit getting to the line, the delay of game nonsense, all of it was just amateur hour. But I have to give props to Lashlee, who is running a thoroughly modern college offense, and when Shirreffs took the reins, that was some hella fun football to watch. Shirreffs still telegraphs his passes, but when you're skipping the huddle and getting the ball off quick, it matters much less than when everyone has like 5 years to figure out where the ball is going. A first quarter touch down, and three more in the second half was really, actually very nice. Scoring didn't rely on trick plays and field goals and turnovers caused by the defense. The offense actually scored touchdowns on actual drives down the field. The O line still makes me very sad, but the final 15 or so minutes of the game completely turned me around, and I'm really impressed with Lashlee's play calling (with one notable exception, but hey, we're all learning). I will totally double down on "give me four touchdowns a game and I'll be satisfied – for now." (Please ask again next week when we give up 60 points to USF.)
---
Matt asks: Can we move Arkeel to a Pats style slot receiver? Seems like we found a frosh that runs well behind this line and Newsome thrives in space.
It might be his best role in this offense, yeah. He's dangerous catching screens, he's got good hands, and if he gets the ball with a running lane available of him he's very good at finding it. The difference between he and Nate Hopkins was pretty stark; Hopkins broke more tackles, looked more decisive, and seemed to get around the edge better. (Of course, some of this may be because Bryant Shirreffs is better at reading a defense than David Pindell.) Whether or not Newsome can be an effective running back, I think he'd be outstanding running slants, bubble screens and a wheel route every now and then.
— Big Meach