More than the new, sudden quarterback controversy, more than the emergence of a promising freshman running back, more than the linebacking corps' unintentional tribute to the 2016-17 UConn men's basketball team: the main takeaway from Thursday night's 27-20 comeback win over Holy Cross Thursday at PAWSARF is that UConn football has a much longer road to travel than we thought, or hoped.
It should go without saying that the Huskies' fourth consecutive one-score win over an FCS team is another terribly blown opportunity for the program. Fewer than 25,000 people were in the stands at the Rent, continuing the trend that seems pretty indicative of a fanbase losing hope over time. After seven losing seasons in a row, all UConn can sell is hope. After trailing a Patriot League also-ran by two touchdowns for the better part of two full quarters, UConn didn't give those diminishing numbers of optimists much reason to stay hopeful. Every game can't be a litmus test on UConn football's existence, but the clock is ticking and the money is frittering.
These two teams looked even, talent-wise, and that's a scary sight. Holy Cross executed their offense with precision while UConn's defenders seemed to be tentative, a step slow whether rushing the quarterback or chasing a receiver over the middle. The secondary lived up to my worst fears, gashed constantly by a fifth-year senior quarterback who may as well have been a 10-year NFL veteran. The Huskies' offensive and defensive lines looked, somehow, overmatched by FCS recruits. The Crusaders were held scoreless in the second half, but had four possessions of 30-plus yards and drove inside the UConn 40 three times before they were finally repulsed.
If Holy Cross can pile up 447 yards of offense, what on earth is Quinton Flowers going to do next week? If UConn doesn't have enough talent to sweep away the No. 199 team in the Sagarin ratings, is there even another plausible win on the schedule?
If you're still feeling optimistic, you can look at it as inevitable growing pains that come with two entirely new systems, be happy with the win, and hope for the team to remain focused and improve in the weeks to come. And if you want some good takeaways, look no further than Bryant Shirreffs, who came off the bench to jumpstart the offense. He led five drives, including three touchdowns and a fourth drive that successfully ran out the final 3:46 of the game. Hergy Mayala caught 9 passes for 106 yards and the go-ahead touchdown, and looks like he might just emerge as the #1 receiving threat. Hurrah to Nate Hopkins, the freshman running back who found a way to get going (20 carries, 130 yards, 3 TD) when Arkeel Newsome could not. And while the defense was atrocious overall, it should be noted that Holy Cross' two touchdown drives were set up by egregious fumbles that gave the visitors the ball at UConn's 21- and 34-yard lines.
- Advertisement -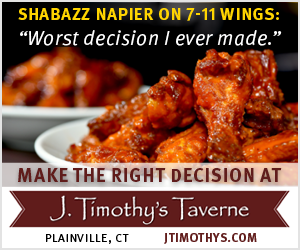 Let's grade out each position:
Quarterbacks: B
David Pindell is going to get blamed for UConn scoring seven points in the first 44 minutes of game play, but I'm not sure that's entirely fair. He completed a good percentage of his passes, and he was on target with most of the short throws he had to make with defenders bearing down on him. The offense was in a nice rhythm late in the first quarter and early in the second; and he led UConn to 117 yards on two drives in the third quarter before he was pulled. UConn's offensive line did him no favors, giving Pindell no time to throw, and forcing him to make all the plays because the running game was nonexistent.
That being said, Pindell certainly looked like a quarterback making his first start at this level. He made a couple poor decisions throwing the ball — especially in the second half, when it felt like he forced things downfield — and probably didn't keep the ball enough on zone reads. One of the few he did keep led to a nice 11-yard run, but it ended in a real bad fumble. Learning experience.
And it's inarguable that the offense turned around when Shirreffs came in. The biggest thing for me was Shirreffs' ability to adjust to the defense and take what it gave him; if Pindell looked like a newbie at this level, Shirreffs looked every bit like a third-year college QB. The best example I can recall was the big 3rd-and-7 play on the drive leading to the go-ahead touchdown, when Shirreffs recognized a safety blitz that would leave Mayala in one-on-one coverage. Shirreffs made his check, Mayala ran a good hitch route and broke away for a 22-yard gain.
But despite UConn looking 100 percent better with him in the lineup, Shirreffs' flaws are still there. He locked his eyes onto Mayala consistently and made some dangerous throws that might have been picked off by better defensive backs. Just based on his effectiveness in 17 minutes of game time, Edsall almost has to start Shirreffs against USF. If he's our best QB, so be it, because winning games comes before all else. But I still think UConn's going to be better off in the long run if Pindell gets a chance to work through his inexperience.
Running backs: B
Can we all agree that Arkeel Newsome shouldn't be running in between the tackles? (Looking at you, Rhett.) Newsome is very good when he's running outside the tackles, catching screens and swing passes. When he wasn't doing that, he ran for negative yards. Even if Newsome isn't carrying the ball 20 times a game, there's plenty of ways to utilize him effectively. But that's an adjustment that needs to come sooner than later.
Hopkins looks like he could be the workhorse running back UConn needs, as his cuts were more explosive and he read the sporadic blocking he received well. Here's a stat: Hopkins' four best carries gained 95 yards; in Newsome's long career, he's only run for 95 yards or more in five games.
Wide receivers/tight ends: B
No drops to speak of, Mayala had a terrific game, and the ball was spread around to a bunch of different receivers. Solid. Keyion Dixon and Tyraiq Beals each caught five passes, while Aaron McLean's 24-yard reception over the middle was probably Shirreffs' best throw of the night.
On the downside, only one completion to a tight end — Alec Bloom ran a little flat route and took it 18 yards, because he's good. Please let him and Tommy Myers eat.
Offensive line: D
I'm gonna have to watch the tape and figure out how much of Hopkins' success was his own ability vs. the offensive line's, but I don't know if there's any film that is going to exonerate the O line. Just by looking at my two favorite stats to track, UConn did fine (4.3 yards per carry, 0 sacks). But the pass blocking wasn't great, and the interior of the UConn line was completely overwhelmed throughout the game. It's going to be a long season if the line plays as passively as they played in this game.
Defensive line: C-
Turns out we were all right when we picked Foley Fatukasi as UConn's defensive MVP, because when he was ejected from the game due to a (fair) targeting call, UConn's extra-undersized three-man front got pushed around for most of the night. HC only averaged 3.4 yards per carry, but had a couple of 20-yard runs that weren't a great look. That being said, I thought Luke Carrezola had a really nice second half, and Cole Ormsby came up with a couple strong plays. But Thursday night seemed to justify my suspicions that UConn's only hope of having a good defense is for Fatukasi to be a constant in the lineup.
Linebackers: B-
Chris Britton was solid, picking up a sack and another tackle for loss. Cam Stapleton put good pressure on the quarterback and came up with the big stop on Peter Pujals' fourth-down scramble when Holy Cross was driving for the tying touchdown late in the fourth.
Unfortunately, Junior Joseph went down with what looked like a painful arm injury. Hopefully it's something like a dislocated shoulder, because UConn really, really, really cannot afford to lose their best linebacker for an extended period of time. Santana Sterling wasn't bad in reserve, and one would think he'll get the start against USF if Joseph's injury is serious.
Secondary: F
I got a sinking feeling on Holy Cross' second offensive play, when safety Brice McAllister tried to…actually, I'm not really sure what he tried to do. It should have been a fairly easy tackle and a modest 10-yard gain, but either McAllister wanted to go for a big hit (even though he was about three steps(!) too late) or he completely misjudged what the receiver was doing. Either way, he gambled and lost spectacularly, and the only reason it didn't cost UConn 40 yards was a holding penalty.
The Huskies' secondary was as porous as I feared. Without the benefit of a second look, it felt like Jamar Summers played OK, but Tre Bell did not, and the safeties were worse. Holy Cross receivers ran free and caught the bulk of their 33 receptions without a Husky defender within three yards. It did not look like a very cohesive unit; perhaps that's to be expected in game one of the new scheme, with a bunch of freshmen playing meaningful snaps, but woo boy.
Special teams: C-
Jordan Swann had a rough night. He had one decent kick return and one decent punt return, but he also fumbled a kickoff that led to one of the Holy Cross TDs — if we return a kick to the 25, let's just ignore any penalties that require a re-kick going forward, yeah? — and, in the most frustrating play of the night, he let a line drive punt bounce over him and down to the 1-yard line. This feels like it's going to be another one of those "growing pain" deals. Freshmen!
Michael Tarbutt had four touchbacks on five kickoffs (good!), but shanked an extra point (bad) that might have ended up being important. So that's another thing to be slightly worried about.
Brett Graham averaged 40 yards per punt. Good enough.
Coaching: B-
Credit where it's due: I wouldn't have pulled Pindell. Edsall did, and it worked out immensely. The offense looked organized and modern, the play-calling mostly solid. UConn gained 438 yards despite having catastrophically bad blocking. Lashlee's biggest sin was the 4th-and-2 run up the middle that (obviously) failed. He'll hopefully learn quickly that this line can't be trusted on short-yardage situations.
The defense…I'm not sure I can even blame Billy Crocker. UConn simply lacks speed at every level of its defense (and losing arguably your two best defenders for most of the game didn't help), and that's just not something you can scheme away. What was frustrating was the lack of adjustment to Holy Cross' adjustment; after UConn brought good pressure on the quarterback early in the game, the Crusaders adjusted and began to run plays with quick, short timing routes to mitigate the pressure. UConn never really attempted to tighten up the coverage on the receivers, and Holy Cross executed as if they were running against a practice squad. There was far too much bend-but-don't-break Thursday night.