I love my uncle. He's great. During most UConn sporting events, he'll jump into my DMs and add his two cents, and he holds nothing back. Nothing. So you could imagine he had some things to say last night while UConn was busy falling behind double digits to Holy Cross in its football season opener.
I don't want to embarrass my uncle — as I just said, I love him and he is great. So I won't reveal his real name. I won't even tell you which of the 30 sides of my family he is on, so you don't know his last name. We'll give him a flattering pseudonym, instead. Let's go with Uncle Beyoncé.
Uncle Beyoncé made his season debut sometime late in the first quarter (I think).
You can laugh at the colorful language and excessive punctuation, but let's be honest: You were thinking the same thing around this time.
- Advertisement -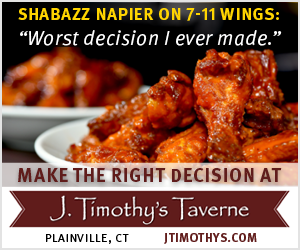 When the score got to 20-7, things got real dark. I redacted a little bit, not because we are afraid of naughty words here at A Dime Back, but more out of respect for Uncle Beyoncé, who probably wouldn't want this language even anonymously shared with the world. Use your imagination and know it was sexual in nature.
This next part isn't as fun, but you always need to throw in some complaints about the broadcast team (not to mention SNY itself, which decided to go out during a crucial part of the game. Some amateur hour CBS Sports Network stuff right there*.).
*how on Earth does this happen during EVERY UConn sporting event that isn't on an ESPN network? Every. Damn. One.
When the game ended, I reminded him that UConn had won and actually kept Holy Cross off the board in the second half. Uncle Beyoncé did a good job of putting me back in my place:
If you're nice to me, I'll try to dig up what Uncle Beyoncé had to say during the Wagner basketball game last year.