Despite our general hostility towards our readers, we really do enjoy answering your questions in our weekly ADB Mailbag. However, some of your queries require a level of insight, research or actual journalism that we're usually just too lazy to undertake in providing our answers. Our solution is to take some of these questions and answer them individually, in longer posts. Welcome to #MailWeek. Let's start with one from Don.
@ADimeBack Top 5 greatest non-conference regular season wins (not including pre-season tourneys)

— Don Tinker (@dontinker) July 14, 2016
Don loves qualifiers. Eliminated from consideration are UConn's NCAA Tournament wins, and their wins in preseason tournaments (sorry Denham Brown in Maui). However, because we're semantic barbarians we've concluded that one-off neutral-court games should count. Also, five isn't enough for a proper ranking so we're bumping it to ten.
Below are the games I've deemed the Best Games. If you've got beef, just tweet at Russ. He's used to it. Let's do this. Reverse order. Videos from UCHG, obvs.
10. 2004 vs. #6 Oklahoma
- Advertisement -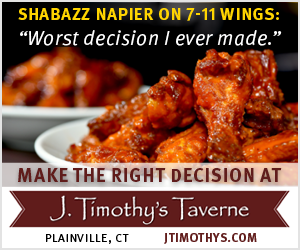 The 2004 team was supposed to be good. Before they had played a game, they were deemed the best team in the country. But, with a really soft early schedule, and an unexpected blowout loss to Georgia Tech in November, it wasn't until #6 Oklahoma came to Gampel Pavilion on January 11 that Emeka Okafor and Ben Gordon truly proved how dominant their team could be. They dismantled Kelvin Sampson's Sooners 86-59, displaying the explosive talent that would lead them to a championship three months later. [Also, I take credit for this win because I accidentally spied on Oklahoma's morning practice before Sampson had me removed from the arena.]
9. 1999 vs. #9 Michigan State
Michigan State was the best team that UConn faced in the early part of the 1998-99 season that saw them start 19-0. The game was heated, and began a mini-rivalry between Tom Izzo and Jim Calhoun during the peak of their careers. Both teams reached the Final Four in 1999, with Calhoun winning the title. One year later, the tables would turn as Michigan State beat UConn during the regular season and later took home a title of their own.
8. 1989 vs. Virginia; 1994 at #12 Virginia
I'm including these games as a pair to help illustrate how rapidly UConn grew into a national powerhouse. Early in the 1988-89 season, Jim Calhoun scored the biggest non-conference win of his young UConn career by defeating Virginia on the road. Five years later, Calhoun returned to Virginia leading a program on the brink of dominance, destroying the 12th-ranked Cavaliers 77-36 in the season-opener. While nothing about the game was supremely noteworthy, UConn loudly signaled to the college basketball world that it was not to be taken lightly.
7. 2011 at #12 Texas
13 games into the 2011 season, we knew that Kemba Walker was good — very good, even. But it wasn't until he took the court at Texas on January 8 that we knew he was a damn wizard. His circus three-pointer in overtime, followed in short order by his step-back game-winner gave UConn fans a glimpse of the future. Also fun: Alex Oriakhi had 21 boards in the game and Roscoe Smith Roscoe Smith'd.
6. 2008 at #8 Indiana
In his postgame remarks, Calhoun declared this UConn's greatest performance since they captured the 2004 championship. Guards Jerome Dyson and Doug Wiggins were suspended before the game, as we'd find out later for smoking the pots. Short-handed, Calhoun rode his remaining starters: Jeff Adrien, Stanley Robinson, Hasheem Thabeet, Craig Austrie (shout) and AJ Price to end Indiana's 29-game home winning streak.
5. 2014 vs. #15 Florida
It turns out Shabazz Napier was a damn wizard also. Coming off the infamous lost season, and now relegated to the AAC, UConn was eager to prove that it still belonged on the national stage. When Billy Donovan's Florida team arrived in Gampel Pavilion on December 2, it was the perfect opportunity. Napier was eager to rise to the moment. "Growing up I wanted to be Superman. Everyone wants to be a hero," he said postgame. After a crucial four-point play late in the game, Napier nursed a sore ankle as he missed a game-winning attempt, only to catch a tip from DeAndre Daniels to bury the iconic foul-line jumper that gave the Huskies the victory. Following the loss, Florida would win their next 30 (!) games, losing again in the Final Four to Napier and the Huskies. [Shout to Niels Giffey for managing to jump on the press table directly in front of me while avoiding stepping on my laptop.]
4. 1999 at #4 Stanford
To appreciate this game fully, you need to appreciate the psyche of UConn fans in the 1990s. After enduring a decade that saw often-dominant teams fall short of the Final Four — and often in painful fashion (Duke in 1990, Florida in 1994) — Husky fans were constantly teetering on the edge of breakdown, always expecting the next thing to go wrong. So when Rip Hamilton got hurt, and UConn managed only 42 points in a February blowout loss to Syracuse, the sky was falling. Without their star player, the Huskies flew across the country for a matchup against #4 Stanford. The crowd was famously dickish, chanting "fat boy" and "deadbeat dad" at UConn guard Khalid El-Amin. The Huskies responded by hanging a 70-59 victory on the Cardinal. El-Amin scored 23 points. Everyone in Connecticut temporarily relaxed.
3. 2013 vs. #14 Michigan State (Armed Forces Classic)
With a brand new head coach and an NCAA Tournament ban hung around their necks, UConn took the court to begin the lost season of 2012-13 on the Ramstein Air Base in Germany and told all who were watching what happens when you ban them. Napier scored 25 points as UConn surprised Michigan State with their intensity. On display was the dynamic backcourt defense of Napier and Ryan Boatright that would become the hallmark of Ollie's UConn teams, and lead the Huskies to a championship the following year.
2. 2010 vs. #1 Texas
In a down season sandwiched in between two Final Four runs, the 2009-10 team pulled off a unique feat, becoming the only UConn team to beat the number one team in the country during the regular season. It turned out that neither UConn nor Texas was particularly good that year. After being humiliated at Gampel, Texas would lose six of their last 12 games and fall in the 8/9 game of the tournament in March. But for that day in January, Gampel was as electric as it's ever been. The Huskies dominated. Stanley Robinson had one of the greatest dunks of all time. And UConn let the students storm the court without pepper spraying them. Good times all around.
1. 2000-2002 vs. Arizona
You may not think of UConn/Arizona as a great rivalry — probably because UConn has never lost to Arizona — but for three straight seasons around the turn of the century, the two programs squared off in some epic clashes. Though arguably the least memorable, Arizona was ranked second in the country when the #3 Huskies hung a 78-69 loss on them in the Great Eight. One year later, on national TV, a controversial goaltending call gave UConn a win over a fifth-ranked Arizona team that featured Gilbert Arenas, Richard Jefferson and Luke Walton. "I don't goaltend shots," an obviously incorrect Loren Woods said after the game. In 2002, the game was even closer, going to overtime and eventually being settled when #10 Arizona missed a three that would have won the game (if this sounds familiar, see: 2011 Elite Eight). Emeka Okafor had a coming-out party in that final game, with 19 points, 15 rebounds and nine blocks.