Reflecting on UConn's epic 100th consecutive win against South Carolina last night, one thought kept sticking in my mind.
It shouldn't have happened.
Leaving aside the utterly bananas concept of winning 100 games in a row — of going more than two years without a loss (that alone boggles the mind) — this "rebuilding" team has managed to face nearly every top opponent in the country and come out victorious.
This "rebuilding" team lost the top three draft picks in the WNBA, including arguably the greatest women's player of all time. This "rebuilding" team had a schedule designed to include a few losses — something everyone anticipated. This "rebuilding team" is undefeated.
It shouldn't have happened.
- Advertisement -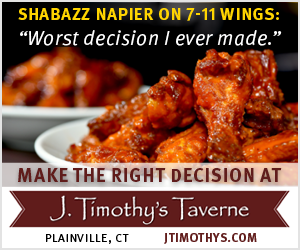 And last night, all the things we said could cause a loss happened. Katie Lou Samuelson was ice cold from three, missing every shot she took in the first half and finishing 2-12 from the floor. It was her worst shooting performance of the season.
Injuries? UConn had those too. Kia Nurse was struggling with an ankle injury, limiting her to only 18 minutes. Her poise and steady hand has kept this team together all season. It should have been devastating. But freshman Crystal Dangerfield played 30 electric minutes off the bench and dished out seven assists, while only turning the ball over twice. I think someone is definitely ready for primetime now.
And foul trouble? Yup, that too. Napheesa Collier spent much of the game trying not to get called for (garbage) fouls, and was relegated to the bench when she fouled out with over three minutes to play.
A serious size disadvantage? Oh yeah. UConn definitely had that. A'ja Wilson, who you may remember as the best player coming out of high school in 2014 (she picked South Carolina over UConn), is 6'5" and Alaina Coates is 6'4". UConn's post? Collier at 6'1" and Gabby Williams at 5'11". Yet the Huskies actually out-rebounded South Carolina because, it turns out, Gabby Williams is an actual superhero who can leap tall women in a single bound.
I wrote about Gabby's performance against Notre Dame earlier this year, saying she "did every damn thing." Last night, she did that and more. With her team struggling, Gabby seemed to be everywhere, in the middle of every play on offense and defense. ESPN's Holly Rowe mentioned a chat she had with Gabby, recommending the junior channel her inner Maya Moore. It worked.
Gabby scored a career high 26 points while going 10-19 from the floor. She also managed to grab 14 rebounds, dish out four assists, snatch four steals and block two shots. A more complete player I have never seen.
We talk about her athleticism, her incredible leaping ability, but during the broadcast Kara Lawson kept harping on her "activity level." And she's spot on. Gabby played all 40 minutes, and played with tenacity and toughness and indefatigable effort. I am in awe of her talent and her grit.
One of our favorite ADB games is the men-to-women comp (example: Breanna Stewart is Kevin Durant; Diana Taurasi is Michael Jordan), but there simply isn't one for Gabby. There is no other player with her breadth of skills. And when everything seemed to be going wrong for UConn last night, Gabby just took the game over. If you think she isn't the best player in the country right now, we're gonna have words.
One hundred wins is an otherworldly accomplishment. It's obviously about more than just one game — even if that game is played at home in front of a raucous, sold-out crowd, and a batshit crazy student section (words cannot describe the happiness in my heard that comes from seeing the student section at Gampel packed and lit af for a women's basketball game. Well done, all.).
The glory belongs to more than just the players on the court. It belongs to the players that came before them, too. The ones who started doing things "the UConn way." It belongs to the coaches, to Geno and CD and their entire staff, who have set a standard that no one will ever be able to live up to.
100 wins in a row. It shouldn't have happened.
But it did.