Last night, your No. 1 ranked UConn women's basketball team defeated the No. 2 Notre Dame Fighting Irish in South Bend 72-61. (That sentence was really fun to write. How you like them apples, Muffet?)
In what is supposed to be a "down year" (lol) for UConn, the Huskies have managed to extend their winning streak to 83 games. In doing so, they've knocked off ND, Texas, Baylor and DePaul. Still waiting in the wings are South Carolina and Maryland, but I ain't scurred.
Gabby Williams just did every damn thing last night, finishing with this utterly stupid stat line: 19 points, 12 rebounds, six assists, five steals and two blocks. Williams was everywhere on the court, getting in the passing lanes, tipping every ball within a 10-foot radius, and fiercely yanking down rebounds despite being outsized. Gabby's leaping ability is incredible. Jay Bilas called her a stud. I don't know that this program has even had a player with this much pure athleticism before.
In our ADB Slack, we were trying to come up with a comparable UConn men's player, but couldn't pinpoint one with her range of skills. The closest we got was Nadav Henefeld, though he lacked Williams' leaping ability. In the global men's game, how about this colorful Charles Barkley comparison? Still not perfect. Turns out, defensive prowess that ranges from blocked shots in the paint to playing the passing lanes on the wing is hard to come by, making Gabby's performance all the more impressive.
Toward the end of the game, Gabby took a forearm to the throat. Not only did she not come out of the game, but she also sank both of her foul shots. If she didn't play with so much fire, I'd say the girl had ice in her veins (we also learned that she sits on a heating pad during timeouts, so I dunno). Her performance last night was the result of an incredible amount of effort. She played every minute of the game and didn't take a single play off. Hat tip, Gabby. You killed it.
- Advertisement -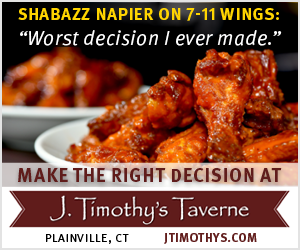 Not that Gabby did this alone. Napheesa Collier had a team-high 20 points and Katie Lou Samuelson added another 18. Lou was less than her usual sharp-shooting self, hitting only one of her four three-point attempts. But she made up for it inside the arc, going 6-12 from two.
Collier's impact cannot be overstated. She picked up her second foul during the first quarter and had to sit for the rest of the half, leaving Natalie Butler to battle with Notre Dame down low. It didn't go very well. UConn was +7 with Collier in the first quarter and -7 without her in the second.
While UConn missed Collier's offense (she was 7-9 from the floor), the team also struggled on defense without her. If you told me a month ago how much worse the team would look without Collier on the floor, I wouldn't have believed you, but here we are.
The game was closer than we have become accustomed to, but UConn led most of the way through. And, quite frankly, they looked like the better team from start to finish.
The Huskies' schedule gauntlet isn't over quite yet. Still to come: No. 12 Ohio State on 12/19, No. 4 Maryland on 12/29, and No. 6 South Carolina on 2/13. That last one could (potentially) be for consecutive win number 100. So while last night showed that UConn is still the best in the nation, there's still plenty to play for over the next few months, including a fifth consecutive Geno Auriemma Trophy (assuming that's what the NCAA renames it).
Next up the Huskies head to Manhattan (not the good one) to face Kansas State on Sunday at 2 p.m. You can (maybe) see the game on FS1.