The UConn men have completed their four-game Pacific trip, returning home with a 2-4 record, a depleted roster and a whole mess of problems. Here's where things stand after Maui.
Fuck
It's not what you want. By any reasonable measure, a 2-4 beginning to the season is awful at best and catastrophic at worst. I think this feels worse because the UConn natives are already restless. Another round of conference realignment ended without a Power Five invite. The football program has disintegrated. Hell, even the field hockey and women's soccer teams couldn't find some championship luck this fall. If the women's basketball team doesn't make a Final Four, what's even the point anymore?
You're also seeing a lot of roiling concern start to rise to the surface. Isn't the AAC a garbage conference that the historically great Huskies should be dominating? Barring a small miracle, this year's men's team will finish with ten or more losses for the third consecutive season and the fourth in Kevin Ollie's five years as head coach. The last time that happened: Jim Calhoun's first five seasons, 1987-1991.
That's helpful, because it is important to remember that Kevin Ollie is still a young coach figuring out how to run a program. But he also inherited a national powerhouse and isn't trying to build one from scratch as Calhoun did. Ollie has deservedly earned a pretty long leash to figure this stuff out following the surprise 2014 title run, but I think it's fair to say that he's under more pressure now than ever before. More on this at the end.
Convenient Excuse
The injures to Alterique Gilbert, Terry Larrier — and to a somewhat lesser extent — Mamadou Diarra will likely be what we remember from this season should the team fall short of the NCAA Tournament. That's fair, because it's highly unusual to lose two starter-caliber players in the same year and be successful. But the injuries also help mask the fact that this team was playing the worst UConn basketball in a generation when the full roster was healthy and participating.
- Advertisement -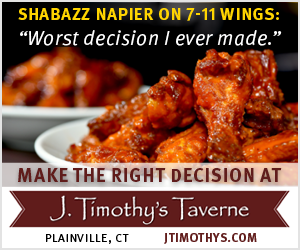 Injuries didn't lose to Wagner and Northeastern at Gampel Pavilion, ya dig?
Holy shit, Jalen Adams
Let's get to a positive, which is, oh my god Jalen Adams. After struggling to begin the season, and playing one of the worst halves of basketball I've ever seen against Oklahoma State, Adams has been the best player in America. Take a look at Adams' per-40-minutes stats beginning with the second half against OK St. through the Huskies' final game in Maui against Oregon:
34.5 points, 8.5 assists, 6.3 rebounds, 2.1 turnovers
66.7 FG% | 55.6 3P% | 75.0 FT%
Uh, yea, that'll do.
Despite the slow start, Adams is now averaging 19.8 points, 5.7 assists and 5 rebounds per game this year. Only four other players in the nation can boast similar numbers. No UConn player has put up 19, 5 and 5 in a season since at least 1993-94 (when Play Index begins). Perhaps most encouraging, his three-point shooting has improved markedly. Granted, he likely wasn't as bad last year as his 27.3 percent implies, but he's currently shooting 47.1 percent from deep. Even if that drops (which is almost certainly will), at 40 percent, Adams is likely one of the best guards UConn has seen — in the conversation with the usual suspects.
Of course…
An All-American caliber season will likely push Adams into this summer's NBA Draft (we couldn't do a wholly positive segment in thish post, could we?). With this season looking incurable, UConn fans are in an odd position of needing Adams to become a star, but not so fast that he doesn't return to Storrs for his junior season.
What's success now?
Fatalistic blog post aside, this team can still make the tournament. It's an uphill climb, sure, but the AAC is still trash. I'd be pretty surprised if the Huskies could play themselves into an at-large bid but under no circumstance am I betting on sad Mick and Cincinnati to beat UConn in the AAC Tournament (because they never have) in Hartford. UConn will need a lot of improvement and a lot of good luck, but there's plenty of time left this season for both.
Young team?
Here's a nitpick. I'm getting kinda tired of hearing how this is a young team and how that excuses their inability to play both defense and offense. Early this season, Ollie mentioned that, because of the youth on the roster, he hasn't been able to implement his full preferred offense, stripping down the playbook to account for his players being unable to learn it. Here's the thing: I've covered Ollie for all five seasons, and I've heard this same thing for three years in a row now. If not now, when? If this team — where, by the way, the original starting lineup featured three seniors, a third-year sophomore and Jalen Adams — can't run your offense, maybe it's a problem with your offense.
Learning experience
Speaking of offense, did you notice that it ran infinitely better after Gilbert and Larrier went down? Did you notice how the guards got to the rim more often? How Amida Brimah wasn't constantly invisible at the rim? How freely Adams wove through the defense? There's something to be said about what you can learn about your team when the roster is stripped down to its barest parts.
My main takeaway is that roles are important. Let's do a quick A/B comparison with the most successful of Ollie's teams, the 2014 champs. In the final five halves in Maui, there was a clear hierarchy on offense, led obviously by Adams (Napier), with Rodney Purvis as the second scoring option (Boatright). Vance Jackson and Christian Vital played tough defense and filled in as many of gaps on offense as possible (Kromah, Giffey). Amida Brimah did the exact same things he did in 2014, because he's still that exact same player (Brimah). Enoch, Facey and Durham were just kind of around (Olander, Nolan).
In the two season-opening losses, none of that hierarchy existed. It was very much every-man-for-himself on offense, and the result was a disjointed, ineffective brand of basketball. Now, as I hope is obvious, you want as much talent on the roster as possible, and this team without Larrier and Gilbert isn't good enough to win much, but I think there are lessons to be learned in the importance of establishing those roles when designing the offense at the beginning of the year. Clearly that didn't happen.
Big picture
In the grand scheme of things, a down year isn't the end of the world. Should this team seesaw their way through the season, ending up in the NIT like, say, in 2015, whatever. It happens. However, this is the earliest I can remember a season feeling virtually over and I sincerely wonder how that will affect ticket sales for both this year and next.
The first true test will be next week when Boston University comes to the XL Center on Wednesday night. Can they top 10,000 tickets for that game? The home schedule is notably devoid of exciting non-conference games this season. How low will attendance drop?
Related: if this team limps to a 17-13 record, and Adams goes pro, UConn will have a very difficult time energizing the fanbase next season. The last thing the university needs is to have their two biggest potential money-makers (MBB and football) both struggling to sell season tickets. I'm not entirely sure the best way to do it, but somehow UConn needs to try to keep fan interest high over the next 11 months.
On another note, we've been beating this drum for a few seasons now, but Ollie and the other basketball decision makers need to do a full-scale reevaluation of the assistant coaching staff to ensure that they're getting the most value as possible out of those positions. No head coach in America can do it all by themselves. We've long praised Ollie for his defensive coaching, his recruiting chops and his leadership of young men. But the areas where his teams consistently fall short (rebounding, offensive execution, frontcourt development) should be mitigated by strong assistant coaching. UConn is putting itself at a disadvantage by not maximizing all of their staff positions.