Hello Wichita State, and welcome to the American Athletic Conference! My name is Russ and I've been asked to lead your orientation/conference tour and answer any questions you may have about your new home.
First, some general info about the conference. It's important to keep in mind that this is technically the old Big East Conference. When the Catholic 7 split in 2013, they took the name with them. But that doesn't change reality. We are a league founded on a rich basketball history (Tulsa made the Elite Eight in 2000), massive television markets (the Tulsa market is the 60th-largest in the country), coaching legends (Frank Haith has won over 200 career games), and rabid fan bases (Tulsa drew over 4,700 fans per game last season). By joining our conference, you have taken on the responsibility of honoring our past by strengthening our future.
I've looked at your resume and there's a lot to be impressed by. You regularly sell out your home games and are a mainstay in the NCAA Tournament. That Final Four run a few years ago was impressive, and when you followed it up with an undefeated regular season the next year, we knew you were truly a national power. There's no question that you will bring value to this league.
But before we go further, please take your wallet out. You'll see several collection envelopes on the table in front of you. We're a charitable conference in that we're always looking out for those less fortunate. Therefore we must insist that you cripple your own athletic department so that East Carolina and Tulane can pretend to matter. Your precious dollars will be sent to Greenville and New Orleans, and we promise you will never hear from those two programs on a national scale again.
Just a couple more quick housekeeping items, then we can get started.
- Advertisement -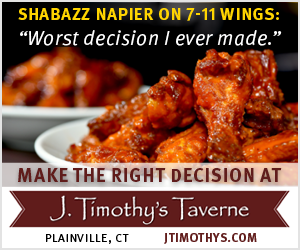 First, please sign this form indicating that we have informed you of CBS Sports Network and you consent to having your games shown on that channel, at the same time as NFL playoff games.
This other form here just says that you consent to having half your games unavailable to be streamed online.
Sorry, what's that? Do they have the Internet in Wichita? OK, sorry, you don't have to worry about that one.
Last thing: how do you feel about 11 a.m. Saturday games and five 9 p.m. Tuesday games per season?
Great, thanks.
We'll begin our tour at the school closest to you, in Tulsa, Oklahoma. Here you'll find the Golden Hurricanes, plural. Their student section is called The Storm Front, and they have the best burns in all the land.
T-shirts for tonight. UConn't but HurriCANe. Get it? As in you can't, they can. #livinontulsatime pic.twitter.com/U7y0aETtVh

— David Borges (@DaveBorges) January 14, 2015
Next, we head to Texas with two rising stars in college basketball. We'll start with Southern Methodist University, a school steeped in athletic history. The Mutstrangs are the only football program to ever receive the dreaded "death penalty," handed down in 1987 after it was discovered that the university made $61,000 in booster payments from 1985-86 and that SMU officials knew about a slush fund that had been used to pay players for a decade. But the Mutstrangs rebounded from that scandal nicely, building their football program back up to respectability. They've even played in four bowl games since then!
What's that, you ask? Has their football tradition carried over into basketball?
Yes, of course! The university hired Hall of Famer Larry Brown in 2012-13 and, just as he did at Kansas, he left after his own violations resulted in a postseason ban.
Hey, speaking of NCAA violations, here's Houston, led by the great Kelvin Sampson. You may remember him from his five-year show cause penalty for a whole bunch of violations while coach of Indiana. He's back though, and is leading Houston through a hardwood resurgence. The Coolers went 12-6 in conference this year and went to the NIT for the second year in a row. Eventually, I expect people to notice and perhaps they can even draw 4,000 fans to a game.
Next, we take you through New Orleans, home of the Tulane Green Waves. To be fair, Tulane does offer a lot to our conference, including an elite academic institution, a world-famous tourist destination, and a strong media market.
What'd you say?
No, we do not have the conference tournament here, where there is also a state-of-the-art, newly renovated NBA arena. We play it in Hartford and probably Tulsa soon as well. No, we don't think this is a complete waste of the best that Tulane has to offer.
All set? Time to head east where we see the only Florida school in our conference, the Central Florida Orange Knights. Why Orange? Well, their original mascot was a citronaut, which, as we all know, is a mix between an orange and an astronaut. Here's a picture:
This is a real thing. This is what you've decided to associate with. I hope you're proud.
One thing before we move on: UCF is very good at video games and if you make fun of them for being giant nerds, they get mad. It's best to leave that one alone.
Before we head up the coast, we'll take a quick detour and visit the Memphis State Grizzlies. Their fanbase is almost as paranoid and insecure as UConn's. But they're not all bad. In fact, some of them even took the SATs! Want to have some fun with them? Talk about how the Big 12 took time from its own incompetence to publicly embarrass their "university."
I think John Calipari is their head basketball coach, but don't quote me on that.
OK, back to the coast where we meet the East Carolina Buccaneers. You're never going to have to deal with them, as they do not sponsor a basketball program. Just know they exist, and actually play in North Carolina due to the rising sea levels that flooded their home state of East Car- what's that? Yeah, that's all a hoax, you're right.
We'll now travel northwest of here, to our friends in Cincinnati. The Blackbears are a fun conference rival to have. Your basketball games against them will be close, you'll learn to love and hate their head coach, Nick Cronin, and you can make jokes about the name of their arena once they're done renovating it. Here's the best part about their basketball program: they're really, really good and will probably beat you during the regular season. They make up for it in March, however, by routinely rolling over for whoever they're matched up against. I think it's because they don't want to help the rest of this league with tournament credits. It's hard to blame them.
I can see you're getting tired, but that's ok. Want to stop for a quick bite to eat? How about some classic Cincinnati cuisine?
Hahaha, no, sorry I'm not that cruel. I'll let you find out on your own.
Just two more stops to go. Next, we'll take you through Philadelphia, home of Temple University, the 1938 Helms champions and the annual second- or third-best Big 5 program. We like the Eagles. They're good people over there. Here's a video for your enjoyment.
OK, last stop. Welcome to Storrs, Connecticut, home of the four-time national champions. Come to UConn and you can major in paranoia and gridiron ineptitude, with a side of- oh wait watch out. You don't want that falling piece of roof to hit you.
Where was I? Oh yes, UConn is known for boasting a mediocre basketball program that will occasionally win the national championship just for fun. You'll sweep the Huskies in the regular season, then they'll beat you 55-52 in the AAC Tournament. They'll hang that fluke of a game over your head for years to come, no matter how many future January victories you amass.
Well, that concludes our orientation and conference tour. Please take this AAC-branded t-shirt as a souvenir. Our league slogan is on the back:
The American Athletic Conference. We hate each other, but not as much as we hate ourselves.