As UConn's season rapidly draws to a close (hopefully not too rapidly for those of us owning full-session AAC Tournament tix), let's look back on the careers of the Huskies' three seniors and how history will remember their time in Storrs.
Amida Brimah
Best Game: vs. Coppin State (Dec. 14, 2014)
This remains the most inexplicable game in UConn history. Brimah exploded for 40 points (!!) and 12 rebounds. He was a perfect 13-13 from the floor and 14-16 from the free throw line. Brimah's career-high in scoring at the time was 12. It was his first double-double in 47 career games. Dunks are good. Coppin State was (and is) bad.
Best Moment: vs. St. Joseph's (Mar. 20, 2014)
A lot of people owe a debt of gratitude to Amida Brimah. Without his unforgettable offensive rebound and three-point play against St. Joes in the 2014 NCAA Tournament, the legacies of Shabazz Napier and Kevin Ollie look a lot different. Hell, the current perception of UConn would be a lot different.
How he'll be remembered:
Brimah was a revelation as a freshman. He played above his expectations as an unheralded three-star recruit and wowed fans with his shot-blocking ability (he had seven blocks against Yale in only his second game in a UConn uniform. His role on the Huskies' most recent championship team will likely sweeten the appreciation of his career as time wears on.
However, as he closes his collegiate career, Brimah never made the progress many expected of him. In 130 career games to date, he has two double-doubles (one being the aforementioned Coppin State affair). His effectiveness, most notably on offense, has changed little from his first season to his last. Yet, during the stretches when he wasn't on the court due to injury or foul trouble, it was always apparent how much UConn needed Brimah. His shot-blocking ability allowed Napier and Ryan Boatright to play intense on-ball defense. His presence in the paint changed countless shots, unreflected in the stat sheet. And his penchant for finishing alley-oops often ignited listless UConn crowds.
Kentan Facey
Best Game: vs. Temple (Jan. 11, 2017)
- Advertisement -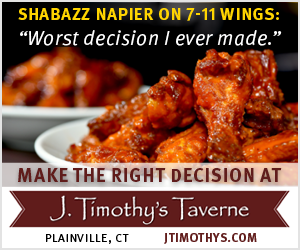 Facey scored a career-high 23 points in (what seemed like) a big UConn win over Temple earlier this season. It was his second double-double of the season and the high-water mark in what has been a revelatory season. He had ten rebounds, two blocks and was nine of 11 from the floor, while committing only two fouls.
Best Moment: 2017 Generally
Finally given an opportunity, Facey has blossomed into one of the best rebounders UConn has had in recent years. His current per-game average of 7.5 boards is the 23rd highest in the program since 1992-93, in the vicinity of guys like Kevin Freeman, Caron Butler and Andre Drummond. He has recorded six double-doubles this year, and ten game with ten or more rebounds. It's been very rewarding watching Facey develop into a good college player.
How he'll be remembered:
In 10-15 years when the 2014 championship is being honored at halftime of some game, Facey will get a warm round of applause. His contributions have been dulled somewhat by the team's disastrous performance this year, but over his four years in Storrs he was always a hard-worker and a model citizen. He will be remembered as a tenacious rebounder.
Rodney Purvis
Best game: vs. SMU (AAC Tournament, Mar. 15. 2015)
The more statistically appropriate answer to this question is probably the game UConn, you know, won against SMU two weeks earlier (below), but it was in the AAC Tournament finale, with Ryan Boatright injured and ineffective, that Purvis showed the very best of himself. He scored a career-high 29 points — over half of UConn's 54 points — and was the only Husky in double-figures. With the season on the line, he did his damnedest to pull his team into the NCAA Tournament, but came up just short.
Best moment: vs. SMU (Mar. 1, 2015)
Purvis's dunk against SMU is probably his most memorable play in a UConn uniform (you know it's good when you get the UConnGIFs treatment). Alternatively, you could pick the final of his five three-pointers in UConn's win over Syracuse this year. However, his best moment may have come off the court when Purvis played host to a young boy last year — leaving a lasting impression on a struggling family and UConn fans.
How he'll be remembered:
Purvis's legacy is complicated by high expectations. He never turned into the player his recruiting ranking suggested. He battled personal trauma and bouts of ineffectiveness, all during a historically weak three-year period in UConn history. In hindsight, coach Kevin Ollie's "Ferrari in the garage" comment during the gap year of Purvis's transfer to UConn was detrimental, placing undue pressure on Purvis and building an assumption of immediate greatness into a fanbase desperate to replace Napier.
In a vacuum, his statistics are in line with that of a good role player (though it's worth noting that he led the 2016 team in scoring). He was more Donny than Donyell, you dig? More 2009 Jerome Dyson than 2011 Kemba Walker. And, although it may not feel like it, that's high praise.
With different roster construction, and a lot more luck, Purvis's legacy likely looks very different.
While reviews of his on-court play have been contentious, what can't be argued is that Purvis has been an impactful representative of — and salesman for — the program as a whole. He has courted recruits, participated in youth camps and been a supporter of UConn's other athletic programs.