During this interminable round of conference realignment madness, we've seen a multitude of universities make blatant, fawning pitches to the Big 12. UConn has kept its efforts under the radar. But that doesn't mean the rest of us can't let the Power Five deciders know what's up with UConn. If I were going to pitch UConn to the Big 12, this it what I'd say:
Let me tell you about my alma mater, the University of Connecticut, which is situated in bucolic Storrs, Connecticut. We are an elite academic institution – a Public Ivy – and an athletic powerhouse known across the country. Our players and coaches are stars in their sports, gracing magazine covers, and eliciting media coverage far exceeding that of our rivals. Our brand is a national brand. People know UConn; people respect UConn.
We've given you the financial reasons why UConn makes sense for the Big 12, but the university's true value may best be measured in gold… gold trophies to be precise.
Since 1995 UConn has won four men's basketball national championships, 11 women's basketball national championships, two field hockey national championships and one men's soccer national championship. And that's not even counting all the conference regular season and tournament championships that we've won. We've got banners on banners on banners. Have you seen the rafters in Gampel? We're running out of room.
And what about football, you ask? Well, please allow me to turn your attention to exhibit A:
- Advertisement -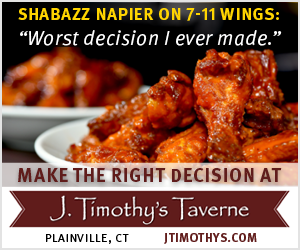 We've invested heavily in our football program. We have a brand new, state-of-the-art practice facility. Rentschler Field is conveniently located roughly 15 minutes from Bradley Airport. It's an excellent arena with room to grow, easily expandable to hold 50K people when it's time to sell out those home games against Texas and Oklahoma. And we have hired a talented, exciting and really very nice to look at coach who has revitalized his team, landing them in a bowl game in only his second season. Just think what Bob Diaco can do when he can recruit in the Big 12. I don't know if you're aware of this, but he is actually made of magic.
While we may not have the football history of our Big 12 brethren, I'd like you all to keep in mind how quickly UConn managed to build its program. Our first official year as a Division 1-A program was 2002. Since then, we won the Big East Conference title twice, and have played in six bowl games, including the 2011 Fiesta Bowl against our friends from Oklahoma. Also worth remembering, the last time an underperforming UConn program was invited into a major conference, its basketball team dominated the Big East for the better part of two decades. We grow quickly.
Connecticut sports fans live and die with UConn. The university is the only game in town. And when we match up against quality opponents, our fans show up. Last year we sold out the XL Center against Georgetown, and they're not even good anymore. Ask UConn's current AAC conference-mates about the Hartford crowd during the 2015 AAC Tournament. Our fans are well aware of what playing football against Texas, TCU and Oklahoma, and basketball against Kansas and Iowa State would mean. They will buy those tickets.
And, really, are you going to pick Tulane? Or Memphis? Tulane is a fine school, but their athletics are terrible and they have no fans. Also, as dope as NoLa is, it's not a significant media market. And Memphis? Memphis is a garbage school with a tiny athletics budget and a vacated Final Four to show for it. They're the kid at school no one talks to because they won't stop picking their nose and eating it. You do not want to hang out with that kid.
We're UConn. We're a land-grant institution. A state, flagship public university in a state where only this school matters. Prestige is our middle name. The most populous county in our state that eats, sleeps and breathes UConn is Fairfield County, which is part of the New York City media market. You want New York? We already have it.
Our women's basketball games air on SNY (SportsNet New York), a station that forked over more than a million dollars a year to show a mere 18 games, excluding the best events because ESPN likes to keep those for themselves. I don't think I can oversell how batshit crazy the old rich people in Connecticut are about UConn sports. And that's leaving aside the fact that we can pack the house in NYC. We essentially played two home games at MSG in the 2014 NCAA Tournament. Did you see how much money people were paying to see UConn play Michigan State in the Elite Eight? It was easier to see the Final Four that year (UConn won that Final Four, by the way). Connecticut knows how to commute, my friends.
The number of television sets within UConn's footprint is greater than the number of sets in the entirety of the Big 12 footprint outside of Texas. Real talk, folks. The LHN isn't getting renewed. And then what are you going to do? You need a network, or you're going to be left behind. The Power Five will become the Power Four. You need a network. You need UConn. Because in addition to a media market that dwarfs our competition, we have nationally competitive baseball, hockey and soccer programs, and a variety of other Olympic sports. You want content? We've got content.
Oh, and don't forget, ESPN is right down the road in charming Bristol. Wouldn't you like to come visit the Worldwide Leader in Sports when you're in town? I'm sure we can make your trips to Connecticut worth your while.
So that's where we are, folks. We're the last true Power Five program not in a Power Five. We're the best choice because of our athletics, our academics and our media markets. We also have the Dairy Bar. You've seen the numbers. You know who we are. You won't do better than us.
We out.