It's odd to say that a team is at a crossroads in Week 2 of a season, but that's where our caped crusader and his Huskies will find themselves Saturday afternoon against Navy.
As I noted in today's mailbag, picking UConn to win a tough road trip to Annapolis game as a win would have been optimistic back in those glorious summer days, when all things seemed possible. After a lackluster, uninspiring performance against an FCS team last week, it feels downright crazy to expect the Huskies to defeat what appears to be another solid Midshipmen squad.
And yet, this game will tell us so much more about the state of UConn football than last week's at-times-infuriating win. (Key word here being win, right, Virginia?) A loss here, even a competitive one that would be completely understandable — predicted so by both Vegas and the advanced numbers, both of whom seem to have Navy as 4-to-6 point favorites — will make it very difficult for UConn to stay above .500 through that rough three-game midseason stretch (at Houston, Cincinnati, at USF all in a row), meaning the Huskies will be scrambling in November to pile up enough wins to return to a bowl.
A win, though, would signal real improvement (Navy, after all, did come into the Rent last year and cruise to a 28-18 win that wasn't really that close) and make a 4-0 start a real possibility. That would alter the whole calculus of the season, turning the UH/Cincy/USF swing into a complete house-money situation.
But we're getting ahead of ourselves. UConn will need to prove that it can stop the triple option, which it has struggled to do on the three occasions a Bob Diaco-coached Husky squad has tried.
- Advertisement -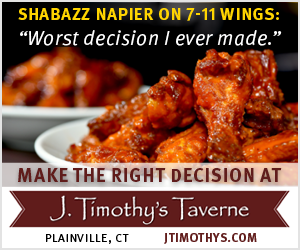 The first, the 35-21 loss to Army at Yankee Stadium in 2014, was an all-around disastrous defensive performance, as UConn allowed four long touchdown drives (average number of plays: 11.8) out of seven total non-kneeldown offensive possessions, and had no answer for the option.
A year later, a more experienced (and talented) UConn defense dominated Army, as it should. The Black Knights scored just 10 points until a late garbage-time touchdown, didn't have a drive of more than eight plays, punted four times and turned the ball over twice on nine real offensive possessions.
Navy is quite a bit better than Army, but here's hoping the second time around against them is better than last September's throttling, in which the Midshipmen scored on all three of their offensive possessions in the first half (on 12, 10 and 14-play marches), followed by another long 10-play TD drive at the end of the third quarter that essentially salted the game away.
Navy executed their offense to perfection last year, to their credit. They were an impossible 8-for-9 on third down conversions in the first three quarters – most of their third downs being short-yardage situations because an option offense is perfectly placed to take all the 4, 5 and 6 yard gains that a bend-but-don't-break defense will give it.
On the plus side, UConn's front seven was very good against the run last Thursday, with the unit's most glaring hole being the lack of pass rush, which should be mostly a non-issue against Navy. The Huskies will have to control the line of scrimmage. They have the personnel to do so — although I'm less sold on having an impact defensive end than I was before last week — particularly in taking away Navy's fullback dive with Foley Fatukasi and Mikal Myers up front and a strong group of linebackers in support (Fordham, Navy's opponent in Week 1, allowed 176 yards and two TDs to fullback Chris High. If UConn allows anywhere close to that number, they'll get blown out).
Navy will be starting a new QB, Will Worth, after starter Tago Smith tore his ACL last week. The Midshipmen even resorted to pulling a dude out of the stands to suit up at QB (dogs having been banned from the position in the late '90s, following a prominent documentary exposing a loophole in the rules), although "Navy quarterback" feels like an extremely interchangeable position. Whether they can stop QB Thankfully Not Keenan Reynolds and disrupt the outside runs will likely decide the game, although I am also worried about UConn's safety play – Navy will definitely take at least one or two deep shots – after what Diaco called an "average" performance against Maine, the absolute meanest thing he has ever said.
Of course, all of the triple option talk doesn't mean much if UConn's offense is in struggle mode, as it was against Maine (and everyone else since, oh, December 2009).
At the very least, rewatching the offensive performance from the Maine game without the rather exhaustive meta-commentary of "oh my god, the Big 12 is never going to take a team that can only gain four yards on an inside handoff on 2nd & 7" was more encouraging than the first go-around, sort of.
Yes, the first ~2.75 quarters were just as dreadful as you remember. UConn's first seven possessions of the game saw them squander amazing field position to only reach field goal range twice (or apparently once, since Diaco elected to not to try a 52-yarder at the end of the first half) in a truly inept offensive effort.
It all started with repeated failure on first downs, with a meager first-down success rate of 35.2% (6-for-17) on the first seven drives. And the conservative first-down play calling didn't help (13 runs, four passes, only one of which was a deep ball — a great one from Bryant Shirreffs that Noel Thomas dropped), but the primary factor was UConn's inability to run the ball in between the tackles, and their insistence on repeatedly trying to do so.
Things turned around over UConn's last four possessions, which saw the Huskies actually display an efficient, semi-explosive offense. To some extent this was due to UConn's size and strength finally wearing down the lesser FCS athletes. But it also seemed to be UConn making an adjustment and opening up the passing game a bit more, combined with a shift to more off-tackle running plays, which were much more successful.
With Maine stacking the box and overwhelming the interior linemen, UConn finally made them pay beginning late in the third quarter by getting the running backs into space on the outside – most notably with Ron Johnson's 21-yard TD run on a stretch play, keyed by a beautiful pull from guard Richard Levy.
I did a little bit of game-charting to figure out what worked and what didn't in the run game, and, well, if you're mad that UConn kept running up the middle, you're not wrong:
| | | | |
| --- | --- | --- | --- |
| Play | Carries | Yards | YPC |
| Center/guard | 15 | 20 | 1.33 |
| Guard/tackle | 8 | 35 | 4.38 |
| Outside tackle | 12 | 63 | 5.25 |
| QB scramble | 15 | 86 | 5.73 |
On a day when the offensive line didn't play particularly well (13 scrambles and 2 sacks on 38 QB drop-backs strikes me as less than ideal), it was heartening to see that at least something worked. Even though all of these numbers were generated against an FCS team, and even though their inside run game was about as successful as the British at the Somme, you can squint and see some progress there.
Of course, it would help the run game immensely if UConn showed a commitment and ability in throwing the football. Shirreffs played an ultraconservative game, taking some quick-hitters to Thomas, targeting impressive freshman Tyler Davis (who also did a decent job as the de facto fullback) a few times, and otherwise running for his life.
The throw to Lemelle on a deep curl to set up Bobby Puyol's game-winner was obviously the play of the game, but Shirreffs did leave a few big plays on the field, including the aforementioned deep ball to Thomas, as well as another throw to a wide-open Thomas that could've been a huge gainer just before halftime. If those plays are made, and he doesn't take the bewildering blind-side sack in the red zone leading to a Maine fumble return TD, UConn likely wins fairly comfortably, rather than needing to come back late. Those are plays that need to be made this week, because UConn's best chance of knocking off Navy is to score early and force the Middies to play catch-up.
So to put a bow on this entirely too long preview, there's reason to think that UConn played a worst-case-scenario game against Maine last week (while still winning, due to Maine bad), and that the improvement we expected is there, lurking, buried under a handful of 50-50 plays that fell the wrong way.
I believe this group can limit Navy's offense, and I believe that it can score points, and it maybe can even (maybe) run the ball (maeby). UConn can win this game, if they're as good as we thought they were 10 days ago.
Or they might give up 400 rushing yards and lose, and you can join us for Panic Sunday here at A Dime Back dot com.
Prediction: UConn 20, Navy 16