Are you ready for an evening of sports? We've got ourselves a double-header happening, folks. The UConn women return home to go for consecutive win 102 against Temple (trash), while the men travel to Houston (trash) to take on Houston, who is trash.
For efficiency purposes, let's preview both games at once. In reverse chronological order, obviously.
MBB: UConn at Houston, 9 p.m., CBS Sports Network
A New UConn Team
Way back on December 28, Houston beat the shit out of UConn in Hartford, 62-46. You might remember it as The Worst Game Ever Played. Jalen Adams missed that game with a concussion, leaving Christian Vital, Rodney Purvis (who was 1-7 from three) and Vance Jackson as the only Huskies who scored more than five points. It was: bad.
More recently, however, the Huskies have been clicking (knock on wood). They've won four straight games, the most recent of which was a road matchup against Temple (trash). Adams, now unconcussed, has emerged as one of the most dynamic players in the league. Vital and Jackson have played well for the most part. Kentan Facey has become an offensive weapon. And Rodney Purvis has salvaged his senior year, playing solid ball over the past month (knock on wood, knock on wood, knock on wood).
The UConn team that takes the floor against Houston tonight will be a far different one than the squad that got its brains beaten in earlier in the season.
Is Houston Actually Good?
- Advertisement -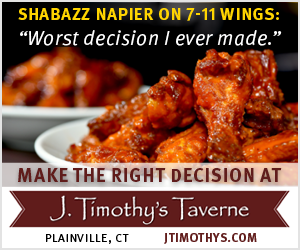 This might be a trick question since, historically, Houston hasn't needed to be good to beat UConn. Since both teams joined the AAC (trash), Houston has won four of six over the Huskies, including several truly awful affairs.
The Sad Panthers (assuming this is Houston's team name, I dunno), currently sit in 40th place on KenPom. They are 18-8 this season and 9-5 in conference, a record equal to UConn's. Houston takes care of the ball, plays efficiently on offense and features Rob Gray, one of the premier players in the conference.
Houston's bigs are nothing to write home about, but Gray and Damyean Dotson are the truth. Wes VanBeck (no relation to the van that Beck tours in) is a three-point threat off the bench.
Here's the thing though: Houston might be trash. Its best win of the year is a home victory over Rhode Island way back on December 10. Houston's second-best win? Probably UConn (refuse to acknowledge the existence of Vermont). The Sad Panthers have won five of their last six, but (similar to UConn) have done so against the ass end of the conference. Every game in which Houston had a chance to prove itself, it lost — including most recently to SMU at home on Saturday.
Houston is trash.
Weeknight 9 p.m. Game
These games are the worst. As part of the AAC's godawful TV deal, UConn consistently gets stuck in this time slot. To make matters worse, it's not even to accommodate ESPN. Tonight's contest will be seen (not streamed) on CBS Sports Network, the Tulsa of television stations.
Entering this year, since the AAC's inception, UConn was 3-7 in 9 p.m. conference games. Several of those contests were pushed later in the evening to accommodate conference opponents in fake non-east-coast time zones — indicating that an altered travel and practice schedule could adversely affect the Huskies.
However, UConn has won both of its 9 p.m. games so far this year. So who the hell knows?
How UConn Wins
The recipe for a UConn victory is pretty much the same for every game these days. Jalen Adams needs to be the best player on the court, the three-point shots need to fall and the defense needs to be solid. It'd be even more helpful if Houston goes cold from three.
UConn has done a good job recently of clamping down on opposing shooters (its 32.1 percent allowed is the 43rd best mark in the nation). But the Sad Panthers might be the best outside shooting team the Huskies will face this year. As a roster, they average over 40 percent from deep. Beck's Van (52%), Dotson (47.1%) and Gray (39.7%) are all extremely dangerous, especially if UConn resorts to zone defense for long stretches.
If UConn's bigs can stay out of foul trouble (no given these days), the Huskies should have an advantage inside. Houston's bigs are more utilitarian than good. Kentan Facey will be the best rebounder on the court and Amida Brimah won't have to defend on the ball too often. Getting one, or both, involved early on offense could go a long way in helping UConn open up the floor for its guards.
Prediction
KenPom predicts Houston to win by nine, but KenPom doesn't seem to be factoring in all the knocking on wood we did above. Therefore, UConn wins 68-66.
---
WBB: UConn vs. Temple (XL), 7 p.m., SNY
Consecutive Bad Games
Be real. You were a little nervous on Saturday when the UConn women let Tulane hang around. Everything about that game was off. Katie Lou Samuelson was bricking everything. Gabby Williams looked downright mortal. Napheesa Collier got called for 88 fouls in the first half. Soniya Chong and Crystal Dangerfield — Dangerchong — couldn't handle the point guard duties with Kia Nurse out.
But they won. Like they always do.
Now, what are the odds that UConn plays two shitty games in a row? The Huskies haven't played consecutive games in which the margin of victory was fewer than ten since February of 2008. It could happen, but it won't.
Kia Nurse Out
Hey, it turns out Kia Nurse is kinda important, eh? Please go back and read the previous sentence in a Canadian accent.
UConn's offense looked completely broken without Nurse on the court. She will miss this evening's game as well, and may sit the remainder of the regular season. We've long pointed to injury concerns as the Achilles heel of this roster, and that almost proved true against Tulane.
Dangerchong will have to take better control of UConn's offense to mitigate the loss of Nurse. Fortunately…
Temple is Trash
Yea, ok, Temple is ranked (#23), and they beat USF (who is UConn's least trash conference opponent), but Temple is still straight trash. As evidence of this, let's flashback to February 1 when UConn beat the hell out Temple in its own gym, 97-69. Nurse only scored eight points in that game as Collier and Samuelson burned down Philadelphia.
Temple is, at best, what, the ninth best team UConn will face this season? It'd be great if the Weak Eagles (is that their mascot?) could grow their program and develop into a true regional rival for UConn, but for the time being, Temple is just trash.
How UConn Wins
To win, UConn needs to play at least ten percent better than it did against Tulane. Samuelson needs to get some points. Collier needs to stay on the court. Dangerchong needs to do a better job controlling the tempo and getting the ball inside, and Gabby Williams needs to just show up and emanate light and goodness.
Returning home and getting away from New Orleans… during Marti Gras… and NBA All-Star Weekend… should help knock the Huskies back into beast mode.
Prediction
Ain't scurred. UConn wins, 88-67.