It wasn't the senior season Rodney Purvis wanted. In his fifth and final year as a college athlete, the returning leading scorer from the year before, this was the year that everything was supposed to click. Someone, can't remember who, even presumptively declared it "The Year of Purvis."
When the season began with a rash of losses — both games and personnel — those lofty preseason expectations quickly disintegrated. The Huskies were 5-9 in early January following a particularly gruesome four-game losing streak.
In those first 14 games, Purvis averaged an inefficient 12.8 points, shooting 28.2 percent from three and a hideous 37 percent from two-point range. While the Husky guards wrangled with the ball-handling responsibility in the wake of Alterique Gilbert's season-ending injury, Purvis averaged 2.6 turnovers per game.
And then something changed.
The Huskies emphatically beatdown UCF in Gampel Pavilion and have been playing relatively well ever since, going 9-3 in their last 12, clawing their way above .500 and into a tie for third place in the AAC.
- Advertisement -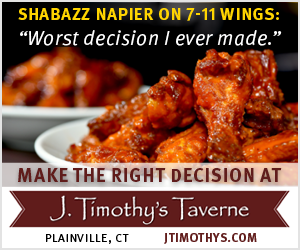 As the team righted course, so did Purvis. In those last 12 games, he's boosted his average to 14.2 points per game. More importantly, his scoring has grown far more efficient.
---
Purvis last 12 games:

2P% = 46.7

3P% = 45.1

FT% = 81.8
---
The explanation for the markedly improved performance is likely threefold.
1. Jalen Adams becoming both a complete point guard and the team's unquestioned star has taken some pressure off of Purvis and allowed him to slide into the sidekick role he played alongside Ryan Boatright in 2015. Similarly, the emergence of Christian Vital has relieved Purvis of most of the ball-handling duties he struggled with — down to 1.4 turnovers per game over the last 12. Throw in a recent hot streak by Vance Jackson and the offensive consistency of Kentan Facey, and Purvis has to be feeling less pressure to put up points in a hurry.
2. His shot selection is greatly improved. It's no secret at this point in his career that Purvis isn't a great finisher at the rim. Earlier in the season, holding the responsibility to be the team's main scoring option, Purvis struggled to get good shots inside the paint as his three-point stroke went cold. Though he was taking more shots, he was making fewer. The more complete version of the UConn offense that has emerged recently has allowed Purvis to stop forcing the issue. He's taking a higher percentage of three-pointers now, but is less likely to take a contested shot. The reliance on the three makes life difficult when they're not falling (like in UConn's consecutive loses to Georgetown and SMU), but overall, Purvis is adequately filling a role as the Huskies' go-to outside shooter.
3. He was in a slump. It happens. Purvis endured the death of a close friend ("He was basically like my brother.") in the offseason. It's easy to forget that college players are not only amateurs, they're kids. He'd be forgiven if his personal travails affected his play on the court. Bad games also have a way of snowballing. Regardless of the reason, what matters is that Purvis appears to have freed himself of the poor play that marked the beginning of his season.
With only four regular season games left on the schedule, Purvis finally looks relaxed on the court (when he's not flexing). His final year as a college student might not have gone how he planned, but as he rounds into form to close the season, he can still go out on a high note.
[Ed. Note: it's very possible that this post will provoke some sort of curse on both Purvis and UConn (remember this?), so please turn to the dark arts to counteract. Thank you.]